Trinity Beach is one of the most world-renowned beaches on the coast of Australia. With its pristine white sands and clear waters, this beach attracts a variety of tourists and residents. Throughout the summer months, the beaches stay warm and offer events and shows to keep tourists entertained while they lounge and bask in the beauty that is Australia. Lie out and enjoy the rays of the sun, or take a walk down the shore to the famous Coastwatcher's Shopping Centre for anything your heart may desire. If you are planning your next international vacation and have chosen Trinity Beach as your preferred vacation destination, choose only the best in accommodations to make your experience an unforgettable one. Trinity Beach hotels vary in cost, size and amenities. Do your research and experience the best in luxury and beauty.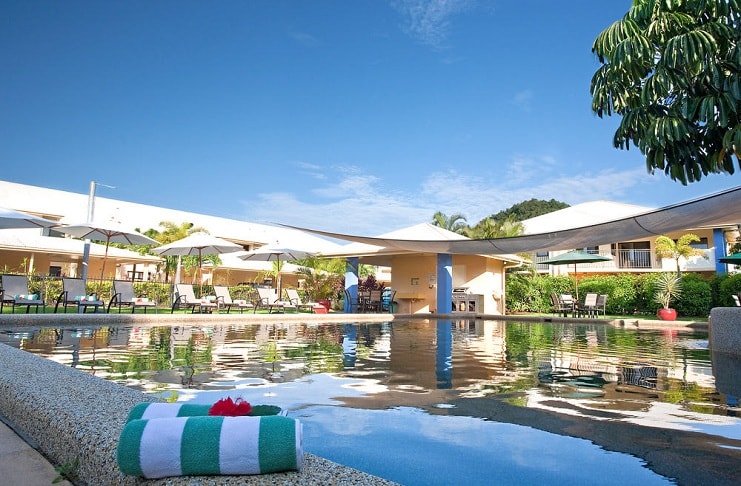 The Marlin Cove Holiday Resort is one of the top picks referred by loyal returning guests and locals. For a refreshing tropical holiday celebrated in elegance, look no further than this romantic retreat. With perfect placement along the coast, guests are minutes away from the Great Barrier Reef and an array of natural attractions that interest tourists. With private balconies available in every room, guests can enjoy the breeze and brilliance of the tropical bliss that is Trinity Beach.
The rain forest corridor and beach front cafe leads guests directly to the shore, for easy and quick access to the white sands. As if the convenience factor was not enough, rooms come in one, 2, and 3 bedroom apartment options with in-room air conditioning that is privately controlled. The modern decor brings a warm atmosphere to the already warm climate, and gives guests a feeling of being at home within the tropical paradise. This 4-star resort caters to families and couples and has two separate swimming pools for children and adults.
Rooms, no matter what size, are decorated and furnished, including a 26-inch LCD television with premium channels and free cable TV. DVD Players, WiFi and direct dial phones are included in the lodging costs, to stay in-touch with the virtual world while on vacation. Rooms are both clean and comfortable and come with a mini kitchenette that includes a full-size refrigerator, microwave, stove top and oven so that families can prepare intimate dinners from the comforts of their own room.
The Marlin Cove Holiday Resort has received rave reviews from recent guests who boast about their customer-oriented staff and their beautiful decor. With all of the amenities included in your stay, the rates are extremely competitive ranging from $98 to $134 per night during summer months.
A familiar name in Choice Hotels International, The Comfort Inn & Suites Trinity Beach Club is a popular choice for cheap Trinity Beach Hotels. This facility is 100 % non-smoking and is located conveniently amongst all of the area attractions you can imagine including the Reef, Scenic Railway, Tjapukai Aboriginal Cultural Park and Kuranda Village.
Located on-grounds, the Comfort Inn sports a seasonal outdoor pool and a beautiful garden display inspired by the surrounding tropics. Guest rooms are spacious in size and include a microwave, refrigerator, air conditioner, iron, and television for guests. In this relaxed atmosphere, guests feel welcome and comfortable around the friendly staff and service employees. Guests could not ask for more with the affordable pricing and friendly environment, and will be impressed by the value.
Yet another Trinity Beach Hotel, the Amaroo at Trinity is a beach front self-catering hotel given a four out of four star rating. Nestled right by Palm Cove Beach in Trinity, Amaroo has several recreational amenities including tennis, swimming and nearby golf ranges. Each guest room has both a patio and balcony, for the best scenic experience possible.
Choose between either the Ocean View Studio or Ocean View Family rooms, which vary in both size and pricing. The studio guest rooms are furnished with a queen bed as well as a sofa bed for sleeping additional guests. The private bathroom and kitchenette are included in all studios, as well as Cable TV, Dial-up Internet and air conditioning. Ocean View Family rooms include sleeping room on one queen, two single, and two sofa beds with ocean and rain forest views. These larger suites are 100 square meters in size, which is more than enough to house the entire family. With two bathrooms in-room, no longer worry about waiting for showers and toilet time with multiple guests in the room. Rates vary, check online to book or reserve your room at a discounted price.
Trinity Beach is a beautiful tropical paradise that can be enjoyed by visitors of all ages. Take time out from the busy hustle of day to day life, and enjoy the relaxation that the coast of Australia has to offer. Check out the reviews of previous guests and rates online, and book an affordable Trinity Beach hotel for the best bargain.