Are you also a Delhite and fed up from the hectic schedule of the week? If yes, then this article is for you as it enlists some spectacular weekend destinations where you can unwind all your frustrations and tiredness of the week. Most importantly, these weekend destinations fall under the budget of every common man. My reason behind writing this article is that what I have observed many of the travelers are don't take a break from their harsh office schedule due to high travel cost and so I have compiled up those destinations where traveling costs you as much as you spend in shopping or savoring delicacies. Let's not waste time here and check the list of such budgeted weekend destinations near Delhi.
Agra, Uttar Pradesh
The city known for housing the monument marking the deep love of Shah Jahan, Agra comes first in this list. Agra is located at a distance of almost 232 km from Delhi and it takes a maximum of 4 hours to reach this wonderland. The city has numerous things to allure its tourists like Agra Fort, Sikandra, Panchii Petha, and yes Taj Mahal for what the city is mostly famous for. Fatehpur Sikri is also an important iconic attraction of the city which one can explore as per their schedule. If you have planned a little long weekend and time allows you then you can also head towards Mathura and Vrindavan to gain some spiritual experience. Even exploring these two places is not going to make a huge change in your budget.
Key Attractions: Taj Mahal, Agra Fort, and Fatehpur Sikri.
Average Trip Budget: maximum 4,000 per person per day including all expenses like food, accommodation, transport, and entry charges of the monument.
Rishikesh, Uttarakhand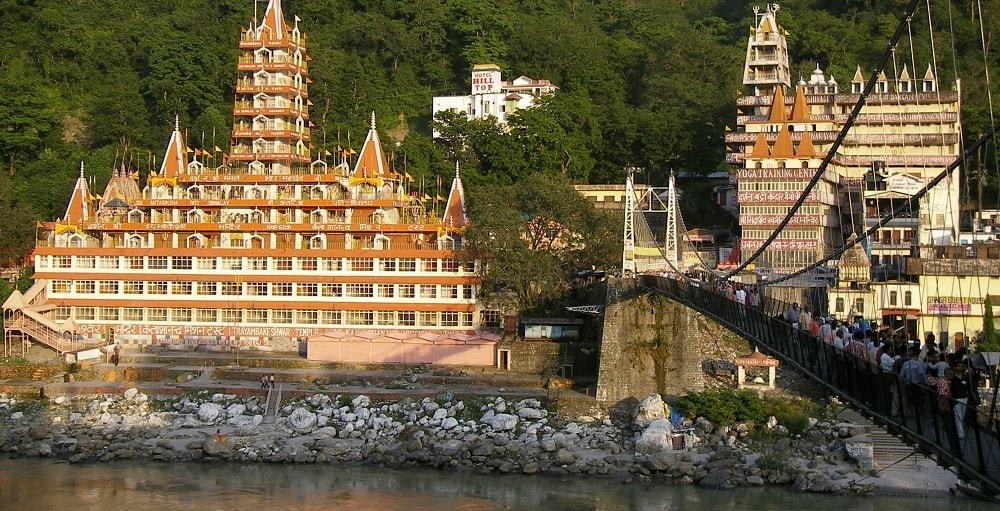 One of the best budget weekend getaways near Delhi, Rishikesh is called as a real paradise where one can seek chill, thrill, adventure, and many more. It is one of the most preferred budget weekend destinations near Delhi especially for Youngsters to enjoy white water rafting, camping, other adventurous activities, and many more. Few foreigners also visit Rishikesh for doing meditation and Yoga as the serene and tranquil ambiance and also the surreal scenic beauties make it a perfect place for attaining peaceful and enriching experience. Spirituality describes the beauty of this place in much appropriate way as the holiest Hindu River Ganges flows here and the aura of the city is entirely sanctified with the tinkling of temple bells.
Key Attractions: Bungee Jumping, River Rafting, cliff jumping, and other adventurous activities. Enjoy the lip-smacking delicacies of Garhwali cuisines.
Average Trip Cost: INR 3500 per head for 2 days including all expenses of food, transportation, accommodation, and also the rafting charges.
Jaipur, Rajasthan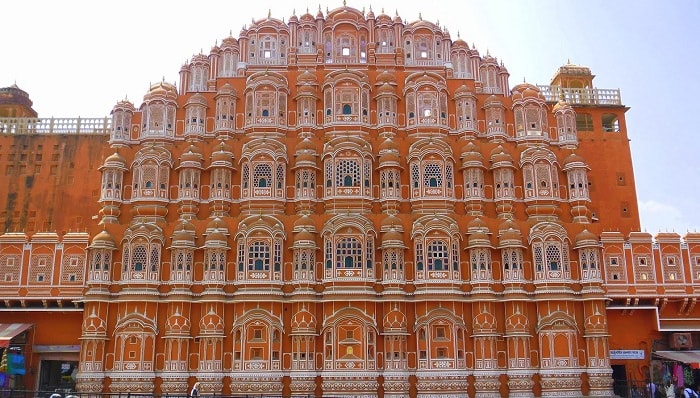 Also called Pink City, Jaipur is the capital city of Rajasthan which is pretty popular for its mouth-watering cuisine and rich cultural heritage. This city with a glorious past is one of the most enchanting weekend destinations located near Delhi and falls under the budget of every normal person. Situated almost 290 km away from Delhi, Rajasthan is one of the best budget weekend destinations which is studded with various magnificent wonders. Amber Fort, City Palace, and Hawa Mahal are some of the most admirable wonders in the city. Hawa Mahal which is constructed with red and pink sandstone where the elaborate façade depicts a crown. This huge palace is the iconic attraction of Jaipur which is adorned with 1000 tiny windows from where the ladies of the palace used to observe the daily happenings and the fairs and festivals organized on the street and that also without being visible from outside. Jaipur City Palace and Amber Fort are the other attractions of this city.
Key Attractions: Nahargarh Fort, Amber Fort, Jaipur Palace, Hawa Mahal, and Jai Mahal.
Average Trip Cost: INR 3000 per head per day including food, accommodation, and transport.
Mcleodganj, Himachal Pradesh
Nestled beautifully in the Kangra district of Himachal Pradesh, Mcleodganj is one of the most preferred weekend destinations near Delhi. This beautiful destination is adorned with panoramic landscapes and intensified surreal beauties. Mcleodganj is adorned with surreal scenic beauties, picturesque landscapes, and iconic attractions. Library of Tibetan Works, Monasteries, Tibetan Archives, and Tibetan Institute of Performing Arts. As the city is also called as Little Lhasa, one can even witness the culture of Tibet by visiting the local cafes. This amazing weekend destination is located at a distance of almost 500 km and can be explored under the budget of 5k.
Key Attractions: Café-hopping, exploring the monasteries, shopping, doing Yoga, and enjoy the trekking trail to Triund.
Average Trip Cost: INR 5k for 2 persons which include all the expenses like transport, sightseeing, transport, and sightseeing destinations.
Almora, Uttarakhand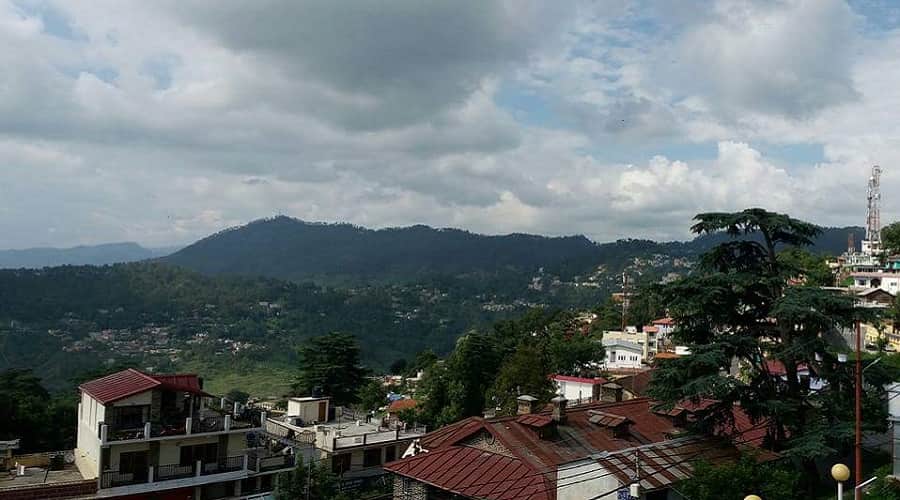 An amazing destination in Uttarakhand, Almora is one of the most popular weekend destinations near Delhi that falls under the budget. Located almost 65 km ahead of Nainital, Almora is popular for its appealing and inviting landscapes, ancient temples, and also the Vantage Point. This stunning place is frequented with a huge number of tourists throughout the year but trust me crowd never spoils your plan. The destination is located almost 370 km away from Delhi and your weekend trip becomes more enjoyable if Ranikhet and Binsar are also included in your itinerary.
Key Attractions: Zero Point, Bright End Corner, Martola, Katarmal Sun Temple, Kalimath, Jageshwar Temple, and many more are there in the list.
Average Trip Cost:  Under 5k for 3 days
Jim Corbett, Uttarakhand
Uttarakhand is a land of magical wonders and Jim Corbett is one of those iconic and alluring wonders. Located almost 250 km away from Delhi, Jim Corbett is an ideal weekend destination for all kinds of tourists, especially for wildlife enthusiasts. This huge national park is home to almost 580 species of birds and almost 50 species of mammals. Also called as home to Royal Bengal Tigers, Jim Corbett is also enlisted in the best weekend destination near Delhi where you can spot various other wildlife animals including Indian Elephants, Himalayan Black Bear, Leopard Cats, Spotted Deer, Golden Jackal, etc.
Key Attractions: Corbett Falls, Corbett National Park, and Corbett Museum are the major attractions of the place.
Average trip cost: Per head, it costs around 4,000 for 2 days.
Shoja, Himachal Pradesh
Himachal tops the list of most liked destinations of Delhites. Shoja was known to very few people earlier but now in recent years, it has been emerged out as a popular weekend destination near Delhi. Located almost 500 km away from the capital city of India, Shoja is pretty popular for Jalori Pass which is adorned with picturesque landscapes including gorgeous waterfalls. Jalori Pass and its surrounding areas are believed to be the perfect place where you can unwind yourself and can enjoy drinking rum and wine to rejoice your mood after a tight week schedule.
Key Attractions: Jalori Pass, Thick dense forests and alpine meadows, etc.
Average Trip Cost: the budget falls under 4k for 2 days including all basic expenses.
Orchha, Madhya Pradesh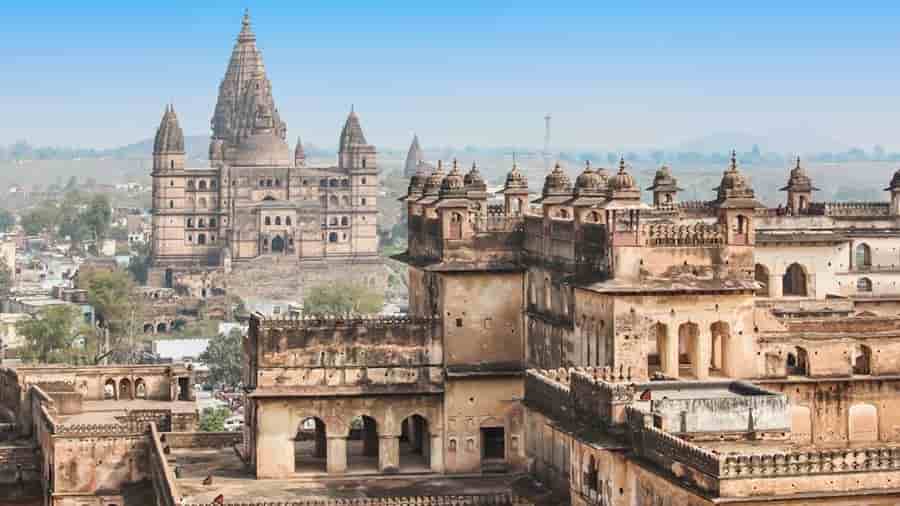 The city studded with magnificent temples adorned with intricate carvings, grand palaces, and various striking forts. Situated on the riverbank of Betwa, Orchha is a city rich with historical significance and is a paradise for a photograph. Thousands of tourists throng here from different corners of the world to explore its beauty and to learn about its glorious past. Witness the beauty, sheer significance, and charm of the architectural grandeur of the palaces and the temples established in the city. Orchha holds great importance in Indian history as it had served as the city had served as the capital city of one of the most powerful dynasties of Indian history- the Bundelas.
Key Attractions: Havelis, Chaturbhuj Temple, Raj Mandir, Dauji Ki Haveli, Lakshmi Temple, and various others are the places to explore in Orchha.
Average Trip Cost: 4000 per head including all basic needs
 Varanasi, Uttar Pradesh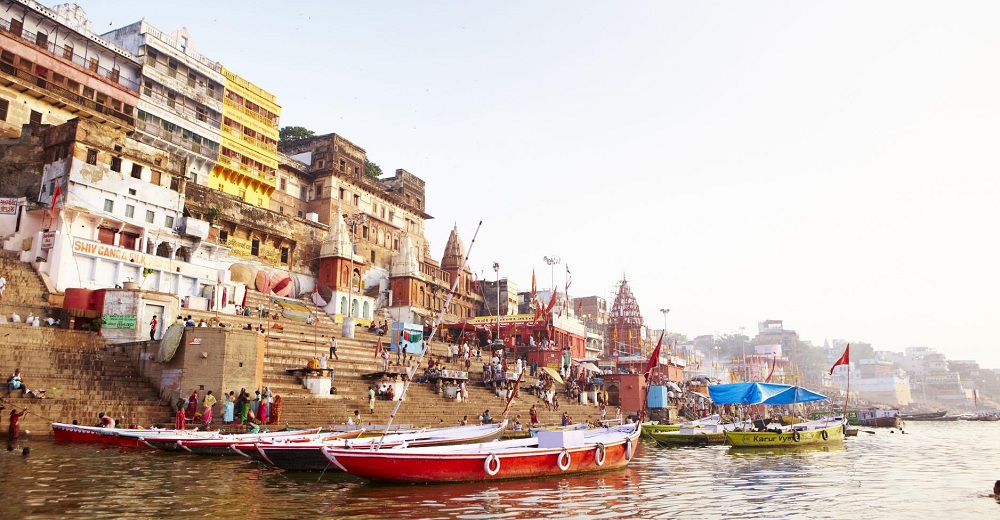 The oldest city in India, Varanasi is another popular weekend destination near Delhi that falls under the budget range of every common earning person. Also called as City of Ghats and sacred temples, Varanasi is home to various ancient temples that is situated on the bank of River Ganges. This ancient city is flocked by a huge number of tourists coming in the urge of attaining purification and salvation. Participate in the grand celebration of evening Ganga Aarti ceremony and also the puja rituals organized at the temples and the Ghats. Do not miss out the charm of sunrise and sunset by enjoying the boat ride at Manikarnika Ghat.
Key Attractions: Exploring the majestic temples including Kashi Vishwanath Temple, Ghats, participating in the puja rituals, Varanasi Paan, Banarasi Saree, and silk emporium.
Average Trip Cost: 1200 per head for one night.
Amritsar, Punjab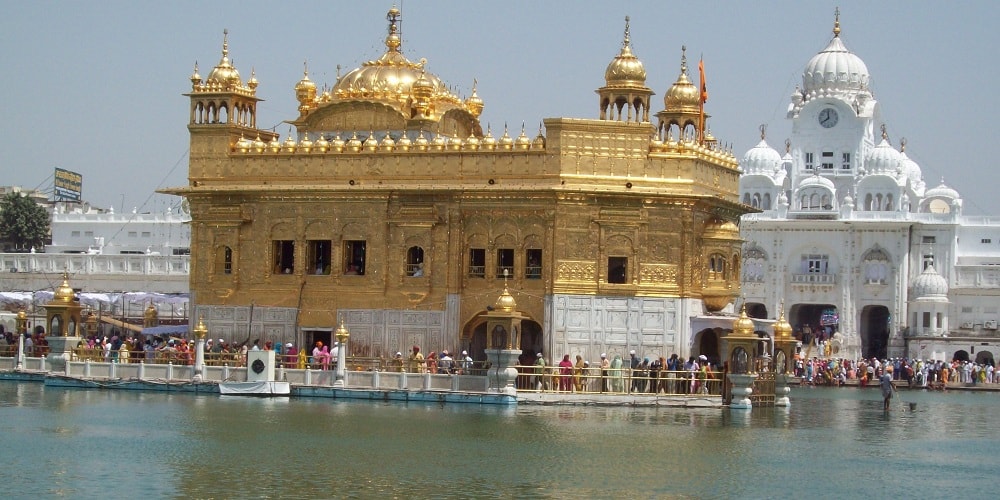 One of the most frequented travel destinations in North India; Amritsar is widely popular among tourists for Golden Temple. After covering an overnight journey for almost 8 hours one reach this beautiful weekend destination near Delhi. Besides being popular for the Golden Temple, the city holds a great significance in Indian history. Jallianwala Bagh is the other attraction of this place which had played a great role in Indian independence and is worldwide famous.
Key Attractions: Jallianwala Bagh, Golden Temple, Wagah Border, etc.
Average Trip Cost: INR 1500 per head for 1 night.