The Char Dham Yatra of Uttarakhand is one of the most pious pilgrimage journey taken up by devout Hindus who aim at attaining their salvation. The four main centres of pilgrimage which are devoted to Lord Shiva and Lord Vishnu are located in the following locations: Kedarnath, Badrinath, Gangotri and Yamunotri. Devotees in number of millions throng these shrines when the gates of the temples are opened up for darshan after remaining closed for the winter. All the dhams are located amidst the lush greenery showcasing different shades of green which is set against the majestic, stark background of the snowcapped Himalayas. The yatris are expected to cover a perilous and challenging trek in order to reach the main shrine and offer their prayers. It is believed that the yatra should be covered in a clockwise manner from West to East, which means that you will be starting your journey from Yamunotri then heading on towards Gangotri, then Kedarnath and concluding at Badrinath. The yatra usually commences from April / May and carries on till October / November. Considered to be one of the most spiritual yatra in Hindu religion, Chardham Yatra is the journey of a lifetime.
Yamunotri Route Map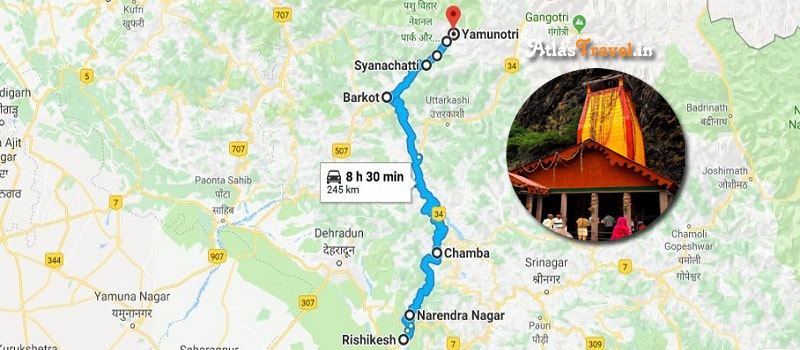 Located on the lap of the Garhwal Himalayan mountain ranges, Yamunotri is perched among the unmatched greenery and breathtaking exuberance. A trek to this place needs stamina and lots of courage to reach since the narrow trail is carved out on the side of the mountain. This is one of the most scenic and thrilling treks among the 3 other dham sites. The surroundings are magnificent and each turn showcases the raw beauty of nature. Yamunotri Dham is situated at a distance of 13 kms from Hanuman Chatti and 6 kms from Janki Chatti. The motorable road heads up till Janki Chatti via Syana Chatti, Rana Chatti and Hanuman Chatti which is located at a distance of 50 kms from Barkot. Ponies, palanquins and mules are available as a means of alternative transportation method.
Road Map: Rishikesh – Narendra nagar (16 km) – Chamba (46 km) – Brahmkhal (15 km) – Barkot (40 km) – Syana Chatti (27 km) – Hanuman Chatti (6 km) – Phool Chatti (5 km) – Janki Chatti (3 km) – Yamunotri (6 km).
Gangotri Route Map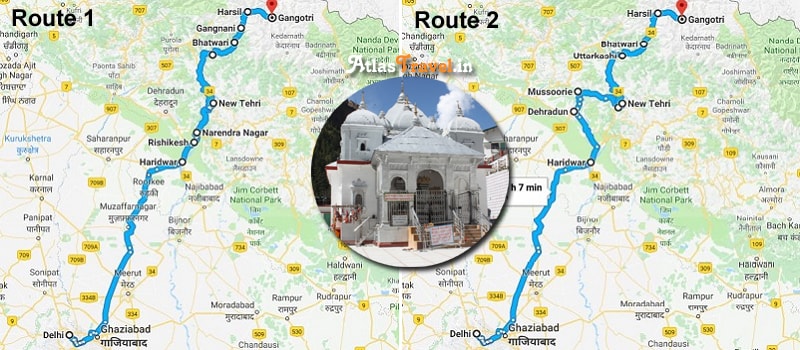 Located in the Uttarkashi district of Uttarakhand this Hindu pilgrimage spot is located by the holy River Bhagirathi which is supposed to be the origin of the holiest river in India, River Ganga. Set atop at an elevation of 10,200 feet above sea level, legend has it that this is the place where Goddess Ganga had descended after Lord Shiva had released the mighty river from the locks of his hair. Gangotri is extremely well connected with a network of roadways connecting to all major sites. The name 'Gangotri' radiates a feeling of immense purity, divine love and extreme peace which every Yatri can undeniably experience on their visit here. There are two routes leading up to Gangotri which are:
Route 1: Delhi – Haridwar – Rishikesh – Narendra Nagar – Tehri – Dharasu Bend – Uttarkashi – Bhatwari – Gangnani – Harsil – Gangotri
Route 2: Delhi – Dehradun – Mussoorie – Chamba – Tehri – Dharasu Bend – Uttarkashi – Bhatwari – Hangnani – Harsil – Gangotri
Kedarnath Route Map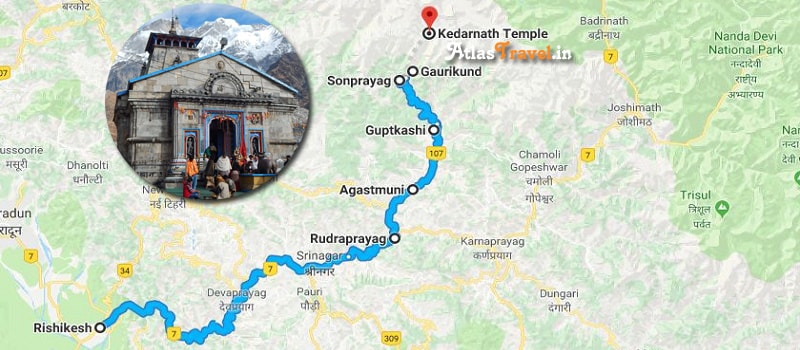 The main shrine of Kedarnath is located on the Garhwal Himalayan region by River Mandakini among the enthralling nature of Uttarakhand. Dedicate to Lord Shiva the temple is one of the prime hubs of religious activities in India. Devotees flock here during the summer months in order to offer their prayer to the presiding deity with the hopes of attaining moksha or salvation. Perched at a whopping height of 11,755 feet above sea level, Kedarnath is also included in the 12 Jyotirlingas of India. The routes and trails leading up to the main temple shrine are in extremely good conditions.
Road Map: Rishikesh (213 km) – Devprayag (74 km) – Srinagar (35 km) – Rudraprayag (33 km) – Tilwara (9 km) – Agastyamuni (10 km) – Kund (15 km) – Guptkashi (5 km) – Phata (11 km) – Rampur (9 km) – Son prayag (3 km) – Gauri kund (5 km) – Rambara Bridge (7 km) – Lincholi (5 km) – Kedarnath (4 km)
A new route has been created post the 2013 flash flood which devastated the temple's surroundings.
Badrinath Route Map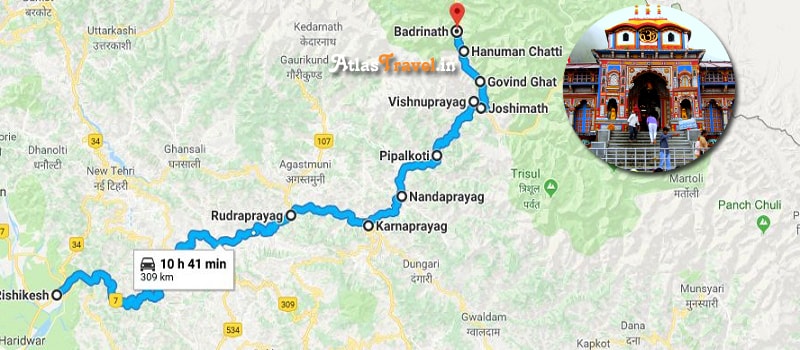 Situated at an elevation of 10,279 feet above sea level in Chamoli district of Uttarakhand, Badrinath Mandir is considered to be one of the most pious centres of pilgrimage for Hindus. Dedicated to Lord Vishnu this temple is also one of the 108 divya desam along with being a centre for the Chota Chardham Yatra. Sitting by the banks of River Alaknanda among the lush green Garhwal Hills and surrounded by snowcapped Narayana Parbat, Badrinath springs to life during the darshan seasons. A well-connected network of roads makes the access to this temple convenient to reach. There are regular buses which operate in regular intervals connecting Rishikesh and Badrinath.
Road Map: Rishikesh – Devprayag (71 km) – Kirti Nagar (30 km) – Sri nagar (4 km) – Rudraprayag (34 km) – Gauchar (20 km) – Karnaprayag (12 km) – Nandprayag (20 km) – Chamoli (11 km) – Birahi (8 km) – Pipalkoti (9 km) – Garur Ganga (5 km) – Helang (15 km) – Joshimath (14 km) – Vishnuprayag (13 km) – Govindghat (8 km) – Pandukeshwar (3 km) – Hanuman Chatti (10 km) – Badrinath ji (11 km)
Char Dham Yatra Complete Route Map
The overall yatra distance is of 1,607 km which commences from Haridwar and concludes at Rishikesh.
Here is the entire route map:
Haridwar – Barkot – 220 km (6 hours)
Barkot – Yamunotri – 36 km drive (7 hours)
Barkot – Uttarkashi – 100 km (4 hours)
Uttarkashi – Gangotri – 100 km (4 hours)
Uttarkashi – Rudraprayag – 180 km (7 to 8 hours)
Rudraprayag – Kedarnath – 74 km of drive along with 20 kms od trekking on the new route
Rudraprayag – Badrinath – 160 km (6 to 7 hours)
Badrinath – Rishikesh – 297 km (10 to 11 hours)
Rishikesh – Delhi – 230 km (6 hours)
Remember that driving on the hills is not permitted from 8 pm to 4 am.