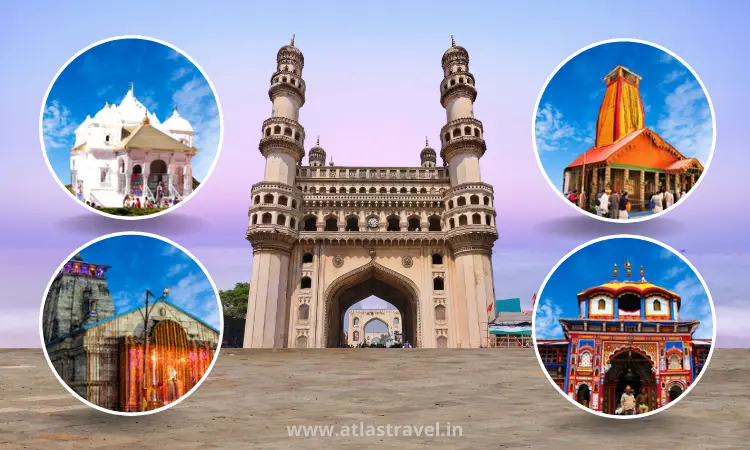 Tour Overview
The ultimate pilgrimage into the sacred heights of Himalayas. Sacred abodes of River Goddesses Yamuna and Ganga at their origins in Yamunotri and Gangotri respectively. Combined with Shiva's Jyotirlinga at Kedarnath and Vishnu's Divya Desham at Badrinath. Sacred shrines of Shakti, Vishnu and Shiva strung together in a single pilgrimage trajectory of Char Dham. Have you been searching for the ideal travel itinerary for Chardham Yatra from Hyderabad? Well, your search ends here.
Are you worried how you hailing from Hyderabad would get acquainted with the unique topography, climatic conditions and travel requirements of the Himalayan trajectories? With the many years of our expertise in having lead myriads of pilgrims on Chardham Yatra from Hyderabad, we can assuredly bring you the best travel experience of Char Dham at affordable prices. Our travel itineraries are carefully designed to include not just the sacred shrines at Yamunotri, Gangotri, Kedarnath and Badrinath, but also the many equally reverent holy abodes and picturesquely beautiful tourist attractions that fall en route. Also, we place the spiritual sanctity of the trip at the highest, and leave no stone unturned in ensuring that the pilgrimage leaves you spiritually fulfilled.
Trip Highlights
Complete darshan at char dham temples
Evening/morning aarti experience
Scenic drive in the garhwal himalayas
Panch prayag visit en route
Additional sightseeing (if any)
Chardham Yatra Itinerary from Hyderabad
Day 1 :Hyderabad – Delhi, Delhi – Rishikesh (230 km / 7 hr)
Greetings on the day of initiation of Chardham Yatra. We await your arrival at Delhi by flight/train from Hyderabad The scheduled coach for our first junction at Rishikesh will leave Delhi at 9.30 PM. Overnight journey.
Day 2 :Rishikesh – Barkot (200 km / 7 hr)
Well, where else can we begin the pilgrimage to sacred shrines in Garhwal Himalayas than from Rishikesh, the famed gateway to Garhwal Himalayas? We would have reached Rishikesh by early morning. After enjoying a light breakfast, let us proceed to enjoy the many marvels of the holy city like Laxman Jhula, Ram Jhula, Swarg ashram, Geeta Ashram, Sivananda Ashram etc. After sightseeing of Rishikesh, we will move towards Barkot. On the route, we will have you halt at Kempty falls in Mussoorie. On the enchanting road-trip, you will be accompanied by panoramic vistas of Himalayan ranges and its picturesque valleys. Once we reach the hotel in Barkot, we will check-in for a comfortable overnight stay.
Day 3 :Barkot – Yamunotri – Barkot (45 km Road / 6 km Trek)
Today we will visit the first of the four dhams – Yamunotri. Pilgrimages are to begin quite early in the morning. The earlier, the better. We will drop you at Janki Chatti, the base-camp for trekking till Yamunotri shrine. If you wish to trek the rest of 6 km till Yamunotri shrine, proceed. If not, you may hire pony/palki at own cost.
Approximate charges for hiring Pony – Rs 800- 1200 per head
Approximate charges for hiring Doli – Rs 2500 – 3500 per head
Once you ascend till Yamunotri shrine, you may pay respects before Divya Shila. This rock pillar is celebrated as the site from which Yamuna sprung forth initially.
Then you can proceed to have the Prasadam of boiled potatoes/rice prepared from their being dipped in the boiling waters of Surya Kund. Surya Kund is the thermal water-spring at Yamunotri named after the Sun God Surya considered to be Yamuna Devi's father.
Yamunotri Temple celebrates the origin of River Goddess Yamuna at Yamunotri. The shrine is built about a kilometer downhill the physical origin of the river from Champasar glacier. The temple has been subject to recurrent destructions due to the many avalanches that region is at risk of. The temple worships two idols of River Goddesses, a black idol of River Yamuna and a white one of River Ganga. After a blissful darshan of Yamuna Maa, trek downwards to Janki Chatti. Overnight stay at Barkot.
Day 4 :Barkot – Uttarkashi (90 km/4 hrs)
After enjoying a delicious breakfast at the hotel, we will proceed towards from Barkot to Uttarkashi. Prakateswar Mahadev Temple would be our stopover in between. Once you freshen up at the hotel in Uttarkashi, you may pay obeisance at Kashi Vishwanath Temple of Uttarkashi.
The sacred town of Uttarkashi located along the banks of River Bhagirathi truly emulates Kashi. Lord Shiva is said to have stayed in its blessed soil once. The major pilgrim attractions in the holy city are its Kashi Vishwanath temple and Shakti Temple. The massive Trishul in Shakti temple is said to be an embodiment of Shakti herself. That both the temples, those of Shakti and Shiva, face each other is noteworthy. Procure blessings of Shakti and her divine consort Shiva at this holy town.
Enjoy your overnight stay at the hotel in Uttarkashi.
Day 5 :Uttarkashi – Gangotri – Uttarkashi (100 km / 4hr)
We will begin early for our visit to the second dham at Gangotri. The fifth day is our favorite day of road-trip. The mesmerizing scenery as one drives along the banks of River Bhagirathi is the reason behind this. Take Harsil as an example. The serene, silent and idyllic hill station has largely escaped the reaches of commercialization, and thus presents a picture-perfect abode of beautiful apple orchards, myriads of birds and hundreds of scenic spots. Some pilgrims insist on taking a dip in the holy waters of Bhagirathi in spite of its temperature being icy cold. You may perform puja or rituals upon its holy banks as well.
Gangotri Temple shines akin to a milky pearl, quite congruent with what is expected of a temple venerating abode of Maa Ganga, a symbol of purity and sacredness in millions of Indian minds. Just being in its premises lets one breathe in the purity and spiritual sublimity. After the blissful darshan, we will drive you back to hotel in Uttarkashi. That would mean one gets to enjoy the scenic wonders of the road-trip twice! Enjoy a cozy overnight stay at Uttarkashi.
Day 6 :Uttarkashi – Srinagar (205 km/ 8 hr)
We will bid adieu to Uttarkashi and move towards our next stopover at Srinagar in the morning. On the route, we will let you enjoy seeing Tehri Dam as well, provided the pathway is clear. It is to be noted that we aren't referring to Srinagar of Jammu and Kashmir, but of Uttarakhand. Once we reach Srinagar, we will let you check-in at the reserved hotel.
Day 7 :Srinagar – Sitapur (80 km / 4 hr)
We will drive towards Phata/Sitapur early in the morning. Along the way, we will halt at Dhari Devi Temple located at Kalyasaur. The fierce form of the Divine Mother is considered as the guardian deity of the Char Dham shrines. Also, we will halt at the first of the five confluences of Panchprayags we will encounter on the way. This is at Rudraprayag, which witnesses the merger of rivers Alakananda and Mandakini. ('Panchprayags' refers to the five holy confluences of rivers in Garhwal Himalayas.). At Rudraprayag, worship at the Gauri Temple that adorns the banks of the confluence. Also, witness the revered Narad Sila at which saint Narad is said to have been blessed with the gift of music by Lord Shiva after his sincere tapasya.
Then, you will be taken to Guptkashi. Guptkashi and Uttarkashi are considered equivalent in sacredness to Kashi. These also house Kashi Vishwanath Temple and Manikarnika Ghat, emulating the sacred Varanasi.  Once at Varanasi, you will be assisted with being registered for Kedarnath Trip. Once at the hotel, enjoy a comfortable overnight stay.
Day 8 :Sitapur – Kedarnath – Sitapur (19 km Trek / 6 hrs)
We will visit the third dham at Kedarnath on this day. Wake up early so that we can drop you at Sonprayag/Phata in the early morning. If you choose to visit Kedarnath by helicopter, you will be dropped in at Phata. You may need to arrange helicopter ticket at own cost. Helicopter tickets are priced at about Rs 8000 per person provided the body-weight falls under 90 kg. If you get down at Sonprayag, you will be dropped in by motor-vehicle till Gaurikund. It is from Gaurikund that the perilous trek to Kedarnath shrine begins. One can employ the services of dolly/palki at own cost as well.
The trek to Kedarnath is an ultimate test of one's physical endurance as well as spiritual faith. Carry necessary medication, first-aid, wollen clothes etc. before you embark on the trek.
One cannot explain the sheer joy of witnessing the Jyotirlinga at Kedarnath. There are 12 jyotirlingas across India. These are considered especially potent sites where Lord Shiva's essence remains highly focalized. In fact, it is believed that the spiritually advanced amongst us would be able to witness the intensely divine radiation that pierces earth from these Shivlingas.
Also, Kedarnath forms the chief among the five temples clustered together as Panch Kedar. Panch Kedar Temples are said to have been built by Pandavas so as to seek reparation for their committed sins in the Kurukshetra war. It is believed that a certain body part of the bull whose form Lord Shiva wore as to disguise himself from the five brothers appeared at each of the five spots. The bull is said to have dived into the ground at Kedarnath, and its exposed hump left the remnant of Shivlinga on the surface.
After procuring blessings of Lord Shiva at Kedarnath, one may proceed to trek downwards so as to reach the base-camp well before dusk. This is because there is not much provision for accommodation near the sacred premises of the Temple.
Day 9 :Sitapur – Badrinath (230 km / 9 hr)
After a blissful darshan of Kedarnath, we will move towards our next destination at Badrinath. Along the scenic road-trip we will halt at three confluences of Panchprayags at Karnaprayag, Nandprayag and Vishnuprayag and the Narasimha Temple at Joshimath. At Karnaprayag, the waters of rivers Pinder and Alaknanda merge. At Nandprayag, one gets to witness the holy merger of Mandakini and Alaknanda. At Vishnuprayag, Alaknanda meets Dhauliganga.
The sacred town of Joshimath rests along the banks of Dhauliganga and Alaknanda. It carries one of the four maths established by Adi Shankaracharya. Its name Joshimath evolved out of this 'Jyotirmath'. Narasimha Temple is another of its pilgrim attractions. One interesting feature is noticed in the idol of Narasimha, the fierce form of Lord Vishnu. Its hand keeps getting withered away. It is believed that on the day the hand is totally withered away, the entire valley would be destroyed and the gods would take abode at Bhavishya Badri.
Once we reach Badrinath, we will have you check-in at the hotel for overnight stay.
Day 10 :Badrinath – Pipalkoti (80 km / 4 hr)
Indeed, only the blessed amongst us can enjoy the holy morning pooja of Badrinarayan.  One ought to take a holy dip in the waters of Tapt kund before worshipping at Badrinath Temple. Located at a whopping altitude of 3,133 m above sea level, Badrinath Temple is considered prime among the Vishnu shrines in the whole world. In fact, Skanda Purana exalts its position to be the highest amongst all Vishnu shrines in the universe. The peaks of Nar, Narayan and Neelkanth form the idyllic backdrop of Badrinath. It is said that the region used to be covered with forests of wild berries (Badri) in the past, its name of Badrinath a remnant of the same.
The temple has idols of Lord Ganesh, Goddess Lakshmi, Narada Muni, Kubera, Nar-Narayan, Hanuman etc. You can procure the holy water (Abhishekam ja/Charnamrit) from the temple premises. At Brahma Kapal situated nearby, religious rites meant to bring in peace to one's deceased ancestors are performed. Brahma Kapal is a raised platform upon the holy banks of River Alakananda. One can also witness Narad Kund, the recess in River Alaknanda from which the idol of Badrinarayan is said to have been discovered by Adi Shankaracharya. After one enjoys the holy environ of Badrinath to heart's delight, you may proceed to enjoy the many wonders of India's last village of Mana.
A stroll across the many contours of Mana village makes one feel as if one has landed in one of the prehistoric sites of Mahabharata era. The many remnants of the epic strewn across its terrain act as catalysts for the same. Take Bhim Pul for instance. The natural bridge formed of a boulder across the gushing waters of Saraswati is attributed to Bhim, the strongest of Pandava brothers.
Did you know that Vyas Gufa revered as the site in which the epic of Mahabharata was written is in this very village? One also comes across Ganesh Gufa, the seat at which lord Ganesha was seated transcribing the words of Ved Vyas.
After a blissful darshan of Badrinath and an exploration of Mana village, one will be driven to hotel in Pipalkoti.
Day 11 :Pipalkoti – Haridwar – Delhi (220 km /6 hr)
We have covered all the four dhams by now. We will drive you to Haridwar. Along the way, we will halt at the most important of all the confluences of Panchprayags, Devprayag. It is at Devprayag that waters of Alaknanda and Bhagirathi merge to form Ganga. In fact, it is from Devprayag that the river earns its holy name as well.
Once we reach Haridwar, we can proceed to take the holy dip at Har-ki-Pauri. Enjoy the sublime pleasures of witnessing Ganga aarti before leaving towards Delhi. Overnight journey.
We will reach Delhi in the early morning. How easily has the past 12 days slipped away, we can hardly recollect. But the memories gifted by this spiritually enlightening trip have been a true blessing and would stay with us throughout our lives.
Our heartfelt gratitude in choosing us to lead, guide and accompany you along the blessed trajectories of Chardham Yatra. Hopefully, the Divine wills our Chardham Yatra from Guwahati to be a blessed, successful and spiritually fulfilling experience for you as well.
Package Includes
Driver allowance, toll tax, parking charges etc.
Accommodation services
Meals as mentioned in the itinerary
Additional sightseeing (if any)
Pick up and drop off service
Package Excludes
Any air fare or train fare
Monument entrance fees, camera charges etc
Any personal expense
Meals other than the ones mentioned in itinerary
Anything not mentioned in the inclusions section
Frequently Asked Questions
Q.What are some must pack essentials for char dham yatra?
A. Here are some essentials that should be packed: warm clothing, medication, reusable water bottle with water purifying tablets, goggles, hat, good walking shoes etc.
Q.Which char dham temple should I visit first?
A. Yamunotri is traditionally the first temple that needs to be visited in the circuit.
Q.Which car is perfect for char dham yatra by road?
A. A 4 by 4 car or any car with a high ground clearance is perfect for a char dham yatra by road.
Q.What is the situation of Kedarnath after the 2013 flash floods?
A. Kedarnath is safe to travel now after major restructuring, reformation and renovation projects.
Q.Why is yamunotri important?
A. Yamunotri dham marks the origin of yamuna river and it also used to be the place where sage asit muni used to reside.
Tour Description
| | |
| --- | --- |
| Duration | 12 Days / 11 Nights |
| Destinations | Hyderabad → Delhi → Rishikesh→ Barkot → Yamunotri → Gangotri → Uttarkashi → Srinagar → Sitapur → Kedarnath → Badrinath → Pipalkoti → HaridwarRead More |
| Tour Price | ₹ 32,500 /- |
Chat with our Trip Advisor