Chennai with Pondicherry Tour Package
Home » India » Tamil Nadu » Chennai with Pondicherry Tour Package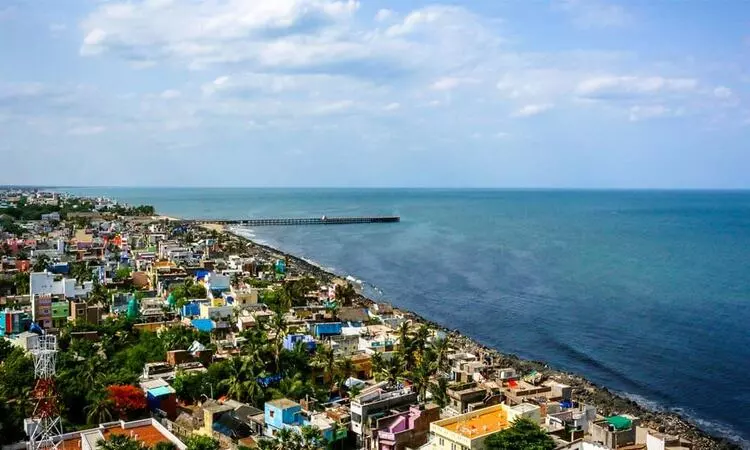 Tour Overview
South India is dotted with mystifying and unique destinations that offer breathtaking and memorable experiences. This Chennai with Pondicherry tour package takes you on a journey through some of the most holy and picturesque places in India, which will leave a mark in your heart. For 6 days and 5 nights, you will be drenched in exotic culture, unique divinity and extreme sacredness.
Trip Highlights
Chennai local attractions sightseeing
Marina beach visit
Kanchipuram excursion
Visit to the UNESCO world heritage site of shore temple
Tiruvannamalai and pondicherry full day sightseeing
Tour Itinerary
- Chennai with Pondicherry Tour Package
Day 1 :Arrival in Chennai
Post-arrival, our allocated tour representative will transfer you to your allotted hotel, where you will prepare for the next day.
Day 2 :Chennai Local Sightseeing
Your day will be reserved for a local sightseeing of the region which will kick start with a visit to the famous Kapaleeshwarar temple which is constructed as a dedication to Lord Shiva and Goddess Parvati. Located in one of the busiest parts of Mylapore, you can have a fulfilling trip to the temple. Considered to be the Kashi of South, and built-in 12th century AD, the temple has been taken care of extremely well by the authorities. Being the center of attraction for visitors and devotees from across the globe, you have to be aware of the so-called guides and conmen who may flock you. Visit the temple early in the morning between 6 AM and 8 AM to witness a glorious morning time, where as the general visitation timings are, 5:30 am – 12:00 pm and 5:00 pm – 9:00 pm.
After a divine darshan here you will be escorted to your next location of Gandhi memorial which was built in the memory of India's late Prime Minister Rajiv Gandhi, and it also contained the ashes of Mahatma Gandhi before a part of it was immersed in the water. This is the exact spot where Rajiv Gandhi was assassinated while giving his election speech. The entire complex is decorated in towering pillars and carpeted green lawns, however, they are not meant for picnic or other recreational activities.
As the day concludes you will be taken to the longest beach in India, Marina beach. This beach is among one of the most visited beaches in India, where you can enjoy delicious foodstuff from the nearby stalls and a walk here will rejuvenate your mind. With a well-connected transportation service available here, Marina beach is easily reachable and is the ideal picnic spot for families and children.
Your day will conclude on a relaxing note and you will head on to your hotel after a fruitful day.
Day 3 :Chennai – Kanchipuram – Mamallapuram
On this day you will head towards Mamallapuram by road, while stopping on the way to visit some of the most famous sites of Kanchipuram. Kickstarting with a visit to, Devi Kamakshi Temple, which is one of the most important temples in all of Chennai, wholly dedicated to women. The entry to this temple is free and remains open from 6:00am and 11:00pm. The inside of the temple is extremely quiet and serene and you will be made to perform the Sahasranama Puja ritual.
Your next destination here will be Varadharaja Perumal Temple, which is one of the 108 Divya Desam, making it an important pilgrimage location for Vaishnavites. Built in a typical south Indian, Dravidian architecture the temple offers its visitors a taste of the rich Hindu culture.
Finally, you will head on towards your destination of Mamallapuram or popularly known as Mahabalipuram, whereupon your arrival you will be successfully checked in to your hotel where you will freshen up before heading out for a local sightseeing expedition of the city.
Starting by visiting the famous, shore temple which was constructed in the 700 AD, and built with massive granite blocks this UNESCO world heritage site is located by the shore and a prime center of visitation for pilgrims from all over the world. Be sure to carry a cap with you since there are no shades available here.
Your next stop will be the famous cave temples of Mahabalipuram also known as Varaha cave temples. Known for its spectacular carvings and detailed sculptures of mythical creatures which hold immense importance in Hindu religion this UNESCO world heritage site is carved out of a rock.
End of the day you will be assisted back to your hotel.
Day 4 :Mamallapuram – Tiruvannamalai – Pondicherry
Your day will commence with a hearty meal, post which you will proceed on towards Pondicherry.
On your way you will be stopping at Tiruvannamalai for a short sightseeing expedition of the area, starting with Annamalaiyar Temple, which is dedicated to Lord Shiva on the base of Annamalai hills. Covering over 10 hectares, this temple complex with towering gopurams is among one of the largest complexes in India. With six puja rituals taking place on a daily basis between 5:30 am and 10:00 pm, one gets to experience the sheer divinity of the lord.
Your next stop will be the holy hill of Arunachala (literally meaning the mountain of knowledge and fire/light), which is considered to be extremely sacred for Shaivites owing to its lingam shape.
Your next stop will be Perur Pateeswarar temple, which is a 7th-century temple dedicated to Lord Shiva which remains open every day. With numerous gopurams, halls and intricately carved pillars, this temple radiates divine energy which can be felt from the moment you step into the temple premise.
You will then finally leave for Pondicherry, where you will be checked in and spend the night.
Day 5 :Pondicherry Sightseeing
Pondicherry is known for its whimsical way of life and very obvious European influence. It represents the beautiful amalgamation of the bygone western world and the rich Hindu heritage. Your day will start off with a visit to the famous Sri Aurobindo Ashram, which is located at a walking distance from the beach.
The entire ashram is adorned with flowers and also contains a bookshop inside making it extremely serene and peaceful. Make sure to turn off your cell phones while paying a visit here since it is a quiet place meant for meditation.
Your next stop will be the relaxing Rock beach, which is bustling with life and vibrancy. Walk along the pavement or carefully sit on the rocks present at the beach. This beach is known for being extremely serene and greets the visitors with a cool breeze.
You will then be headed to your next stop of Arulmigu Manakula Vinayagar Temple. This temple is dedicated to Lord Ganesha which houses hundreds of images of the Lord. The temple remains closed for visitors and darshan in the afternoon, you will be going there during the evening.
You will then be escorted to your hotel where you will be spending the night.
Day 6 :Pondicherry – Chennai (Departure)
You will be driven back to your airport or railway station hence concluding your trip.
Package Includes
Guided sightseeing tour
Pick up and drop off service
Meals as per itinerary
Accommodation as per itinerary
Driver allowance, parking charges, fuel price
Package Excludes
Any expense of personal nature
Extra charges in case of an emergency
Shopping, laundry, tipping, portage
Monument entrance fees, camera charges
Anything not in the inclusions section
Frequently Asked Questions
Q.What is the distance from Chennai to Pondicherry?
A. The road distance is 151 kms and its takes about 4 hours to reach.
Q.What is the quickest way to reach Pondicherry from Chennai?
A. The quickest way to reach Pondicherry from Chennai is via a cab journey by road.
Q.Which beach is best for swimming in Pondicherry?
A. The Auroville beach is the best beach for swimming in Pondicherry.
Q.Which are the best beaches in Pondicherry for some peace?
A. Serenity beach, mahe beach, quiet beach, repo beach are few of the best peaceful beaches in Pondicherry.
Q.Can I swim at Marina beach in Chennai?
A. No. due to associated dangers, swimming in MArina beach is prohibited.
Tour Description
| | |
| --- | --- |
| Duration | 6 Days / 5 Nights |
| Destinations | Chennai → Kanchipuram → Mamallapuram → Tiruvannamalai → PondicherryRead More |
| Tour Price | ₹ 23,900 /- |
Chat with our Trip Advisor