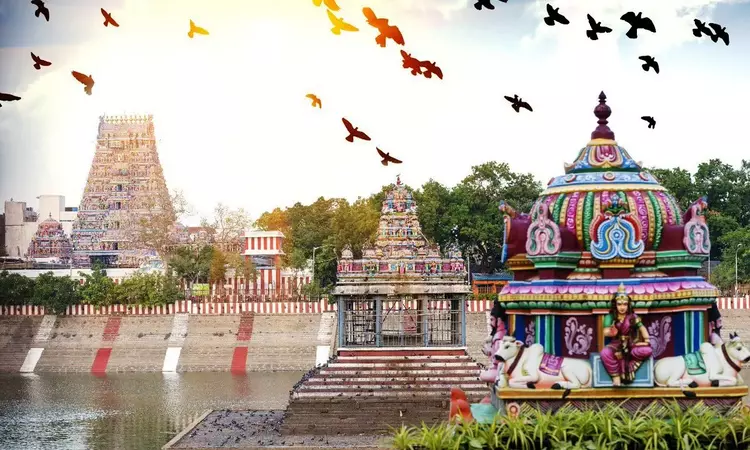 Tour Overview
Southern India is known for its magnificent and impressive temples that decorate this region. The Deccan area is also known for its air of extreme spirituality and vibrations of divinity. All the temples here are not only towering and magnificent but are also impressively adorned with sculptures, carvings and engravings.
Trip Highlights
Complete tourist attractions and sightseeing in Chennai.
Birla planetarium visit
Church visit in Chennai
Excursion to the temple town of Kanchipuram
Temple hopping in Mahabalipuram
Tour Itinerary
- Chennai with Temple Tour
Day 1 :Arrival in Chennai
Once you arrive in Chennai our tour representative will guide you to your allotted hotel, where you will freshen up and relax for a while. After this, you will set out for a full day of local sightseeing tour which will commence with relaxing a visit to Marina Beach.
Panning till 6 kms, this is the longest natural urban beach in the subcontinent. However, bathing and swimming inside the beach is prohibited pertaining to safety measures (violent undercurrent). The sandy beach remains clustered with tourists and locals throughout the year who visit this wonderful beach to perform various activities like adventure sports, walking, jogging among others. Chennai visitors make it a point to pay this beach a visit.
After relaxing your stress and frustration away you will be headed towards one of the most spiritual destinations in Chennai, which is the Parthasarathy temple. This 8th-century temple, which was built by the Pallavas, this temple is dedicated to Lord Krishna and a prime pilgrimage destination for Vaishnavites.
Your day's final sightseeing destination will be the famous Fort St. George which is the first English fortress in India and dates back to 1644. Constructed on an initially uninhabited land, the fort construction boosted trading activities and other settlements along the radius of the fort. Visitors can visit the church and the museum present within the premises of the fort.
Next, you will be made to visit the famous Birla planetarium which is situated close to Anna University. You will be made to witness the regular audio-visual presentations and programs related to astronomy which can pan from topics like sky, seasons, cycle of stars and the solar system. The highlights of this centre include an interactive science park and traffic park.
Your day of sightseeing will conclude on a spiritual note by a visit to the magnificent St. Thomas Cathedral Basilica. This 16th-century church was brought to life by Portuguese explorers and boasts of wonderfully classic British and neo-gothic architecture. This church is visited by everyone who is on a Chennai tour package.
Finally, you will be escorted back to your hotel where you will be spending the night in comfort.
Day 2 :Chennai – Kanchipuram – Mahabalipuram
Early in the morning your journey towards Mahabalipuram, by road, will commence after breakfast. En route you will be making a stop at the famous holy town of Kanchipuram. This place is well known for its beautiful collection of high quality, hand-woven silk sarees and for housing more than 1000 temples that makes this place one of the prime pilgrimage destinations for devout Hindus. Each temple here is adorned and decorated with highly detailed sculptures and designs on the temple walls. Each temple has its own magnificence that holds its visitors and pilgrims in awe. You will be made to shop for the famous Kanchipuram silk and visit a number of temples.
Finally, after a time well spent, you will head on your journey towards Mahabalipuram. Upon your arrival in Mahabalipuram, you will be taken straight to your hotel for an overnight stay.
Day 3 :Mahabalipuram – Chennai (56 Kms / 1 Hour 35 Mines)
After having your breakfast in the morning, you will head on towards a local sightseeing tour of this enchanting place.
This local sightseeing tour will kick start with a memorable visit to the Mahishasuramardini Cave Temple. This date back to the time of the Pallavas i.e. 7th century and is known for its wonderful Indian rock-cut architecture. This rock cut temple is located atop a hill by the lighthouse and is one of the finest examples of Vishwakarma sculptures. The entire temple is carved out of granite rock with images of Lord Vishnu engraved and sculpted all along the temple walls. The temple is a classic representation of the Pallavas creativity and power.
You will then be taken to shore temple, which dates back to 700 AD – 728 AD. Overlooking and towering over the magnificent Bay of Bengal, during the time of its construction this temple was one of the prime spots of overseas trade activities. Built using huge blocks of granite rock this temple is a UNESCO world heritage site and a must visit for people who appreciate architecture, history and their religion. Once you have gone through this temple complex with numerous shrines you will be headed to your next destination of Krishna Mandapam.
Known for being the largest rock-cut Hindu temple in Mahabalipuram, this cave temple is also one of the oldest structures in Mahabalipuram. Each part of the cave is elaborately decorated with fine sculptures of the presiding deity. From the pillars to the walls, the cave is adorned with impressive works of art.
Your last destination for temple tour in Mahabalipuram will be the famous Panch Rathas, which is one of the prime examples for a monolithic rock-cut architecture. Located on the Coromandel Coast and dating back to 7th century this temple complex houses 5 sacred temples, hence the name. This complex is also a UNESCO world heritage site where each of the temple structure resembles a chariot (Rath) and is dedicated to the five Pandava brothers along with their common wife Draupadi.
Finally, your temple tour day will end with you heading towards Chennai by road where you will be boarded your flight / Train.
Package Includes
Guided sightseeing tour
Pick up and drop off service
Meals as per itinerary
Accommodation as per itinerary
Driver allowance, parking charges, fuel price
Package Excludes
Any expense of personal nature
Extra charges in case of an emergency
Shopping, laundry, tipping, portage
Monument entrance fees, camera charges
Anything not in the inclusions section
Frequently Asked Questions
Q.Which is the largest temple in chennai?
A. Kapaleeshwarar temple is the largest temple in Chennai.
Q.Who built the parthasarathy temple?
A. The parthasarathy temple was built by king narsimha 1 during the 6th century.
Q.Can i swim in Marina beach?
A. No. due to the dangers associated, swimming is strictly prohibited at the marina beach.
Q.When was the shore temple built?
A. The UNESCO world heritage site of the shore temple was built during the 7th century.
Q.Which is the oldest temple in south india?
A. The oldest temple in south India is Saluvannkuppan murugan temple.
Tour Description
| | |
| --- | --- |
| Duration | 3 Days / 2 Nights |
| Destinations | Chennai → Kanchipuram→ MahabalipuramRead More |
| Tour Price | ₹ 15,900 /- |
Chat with our Trip Advisor