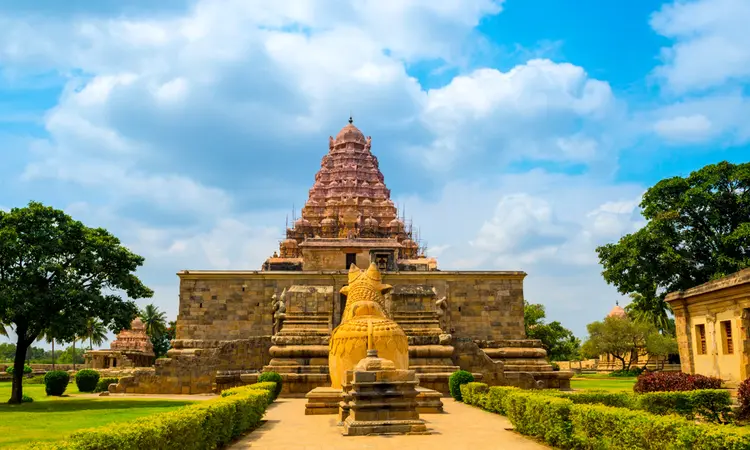 Tour Overview
Southern India is packed with rich and opulent heritage and is the birthplace of numerous unique styles and designs which sets it apart from the rest of the continent. There are numerous towering temples, quaint ashrams and irreplaceable palaces that represent the bygone era of immense culture.
Trip Highlights
Chennai sightseeing and beach visit
Famous shore temple visit in Mahabalipuram
Ekambaranathar temple visit in Kanchipuram
Brihadeeswarar temple visit (UNESCO world heritage site) in Tanjore
Ranganathaswamy temple darshan in Trichy
Tour Itinerary
- Classical Tamil Nadu Tour
Day 1 :Arrival in Chennai
You will be arriving in Chennai and comfortably checked in to your hotel after which your local sightseeing will commence starting with a visit to Santhome Church, which was built by Portuguese explorers in the 16th century. This neo-gothic ivory white structure complete with colorful glass stained windows is one of the most visited sites in Chennai.
Your next destination will be Kapaleeshwarar Temple, which is dedicated to Lord Shiva and was built around 7thy century BC. The temple is known for its magnificent and brightly colored gateway as well as its majestic opulence that it radiates. Generally visited by the devout Hindus from across the globe, this temple has become one of the most religious and spiritual centre for people in the Shaivite community.
Your day will end on a relaxing note with a rejuvenating visit to the longest natural urban beach in the world, Marina beach.
Day 2 :Chennai – Kanchipuram – Mahabalipuram
Your morning time will commence by driving to Kanchipuram and paying a visit to the spiritual Kailasanathar temple, which is the oldest structure in Kanchipuram being built in 685 AD, and dedicated to several deities, scattered across the temple premise. The detailed carvings, engravings and sculptures that adorn the temple structure and complex makes this place a prominent and important tourist destination.
Your next destination in Kanchipuram will be Ekambaranathar Temple, another magnificent temple structure which was built in the 7th century and panning over an area of 25 acres, making it one of the largest temples in India. The temple is also known for its classical architecture, quaint patterns and the 11 storied towers makes it one of the tallest one in India.
After gaining your spiritual vibrancy you will be headed to Mahabalipuram where you will be made to visit the famous Shore temple, which was built in 700 AD, overlooking the Bay of Bengal and a UNESCO world heritage site. This temple is considered to be as one of the oldest rock cut structures in South India and its location gives the pilgrims a panoramic view of the surrounding, never-ending sea.
You will then be taken for a visit to the magnificent mid – 7th-century giant rock relief structure known as Arjuna penance. This place is a true representation of spirituality said through impressive artwork.
You will finally be directed to your hotel where you will be spending the night.
Be sure pack a pair of sports shoes, sun screen lotion and a cap since all these sites are extremely walking intensive and requires you to remain exposed in the sunlight for long hours.
Day 3 :Mahabalipuram – Pondicherry (99 Kms / 2 Hours)
You will be headed towards the quirky town of Pondicherry where upon your arrival you will be checked in and immediately head out for a refreshing sightseeing tour of the city.
You will begin this local sightseeing tour by visiting the famous Aurobindo ashram, which is a gleaming white structure that looks extremely humble but is of extreme importance for Sri Aurobindo followers since it not only houses the remains of Sri Aurobindo but there is also a museum dedicated to him and contains several of his daily use items.
You will then be taken to the enchanting Manakula Vinayagar temple which is an extremely popular tourist and pilgrimage destination for Lord Ganesha's devotees. You can witness the evening aarti procedures and the famous 10 feet high golden chariot.
You will be ending your local sightseeing on a relaxing note by visiting the famous rock beach (named so due to the presence of big rocks on the seashore) and witnessing the glorious sunset, while eating some of the famous locally available food like, coconut curry, prawns, seafood, curried vegetables and more, since there are eating joints surrounding the area.
Day 4 :Pondicherry – Tanjore (166 Kms / 4 Hours)
Early in the morning, post your breakfast you will be guided to the famous tourist destination of Tanjore while stopping over en route at the extremely spiritual temple of Gangaikonda Cholapuram. The massive temple is an unbelievable work of art with towering and well-sculpted engravings adorned all over the temple premise.
When you finally reach Tanjore you will be taken for a brief sightseeing tour of the city after getting you checked in which will start off with a visit to the famous UNESCO world heritage centre that was built in the 11th century, Brihadeeswarar temple. It is home to one of the tallest towers in South India and is also known for being home to one of the largest shiv lingas in India.
After a spiritual expedition you will be taken to the famous and architecturally magnificent Thanjavur palace. Till this day this palace remains a prime centre of classical design and unparalleled architectural brilliance.
You will then be taken back to your hotel where you will prepare for your next day of exciting fun.
Day 5 :Tanjore – Trichy (59 Kms / 1 Hour 10 Mines) – Madurai
You will be driven to Madurai which is also popularly known as the 'Athens of the East' while stopping on the way for a sightseeing visit to Trichy.
While in Trichy you will be made to visit the holy Ranganathaswamy temple, which has the largest temple compound in India and is considered to be one of the extremely religious complexes in the world. Dedicated to Lord Vishnu this temple also houses one of the 108 divya desams in India.
Your next stop will be Jambukeswarar Temple, which is a famous Shiva temple during the reign of early Cholas and there are various sculptures scattered all around the temple's enclosures and the temple itself is covered in vibrant colors and radiates intense spiritual vibes to its visitors.
You journey towards Madurai will then continue after a visit to two of the most highly revered Hindu temples in the world. Since there won't be any time for a sightseeing tour of Madurai on your arrival you will be free to try out some local delicious cuisines like, Onion Uttapam, prawn biryani, mutton kola, Nannari sherbet and so much more.
Day 6 :Madurai Local Sightseeing – Departure
Be sure to wake up early in the morning in order to reach for the morning temple aarti at Meenakshi temple which commences at 5:00 AM. This temple is dedicated to a form of goddess Parvati, Meenakshi, and I well-known not only for its high reverence but also for its classical Dravidian architecture style that went into its making.
You will then be taken to one of the grandest Palaces in Southern India, Thirumalai Nayakkar palace, which represents the beautiful and classic fusion of Rajput and Dravidian styles. This palace was built in 1636, and the current remainder palace showcases the palace that it really was once in the bygone era, before most of its parts were pulled down.
You will finally be taken for departure to your preferred departure point hence ending your classical trip of Tamil Nadu.
Package Includes
Guided sightseeing tour
Pick up and drop off service
Meals as per itinerary
Accommodation as per itinerary
Driver allowance, parking charges, fuel price
Package Excludes
Any expense of personal nature
Extra charges in case of an emergency
Shopping, laundry, tipping, portage
Monument entrance fees, camera charges
Anything not in the inclusions section
Frequently Asked Questions
Q.When is the best time to go to Marina beach?
A. November to February is the best time to have a gala time at the Marina beach.
Q.How old are the shore temples in Mahabalipuram?
A. The shore temples were built between 700-728 AD.
Q.Suggest a peaceful beach in Pondicherry?
A. The Mahe beach in Pondicherry is one of the most beautiful and peaceful beaches in Pondicherry.
Q.What is the distance between Tanjore and Madurai?
A. The road distance between the two places is just 3 hours.
Q.What is famous in Kanchipuram?
A. Other than being a temple town, Kanchiuram is famous for its sarees.
Tour Description
| | |
| --- | --- |
| Duration | 6 Days / 5 Nights |
| Destinations | Chennai → Kanchipuram → Mahabalipuram→ Pondicherry → Tanjore → Trichy → MaduraiRead More |
| Tour Price | ₹ 18,900 /- |
Chat with our Trip Advisor