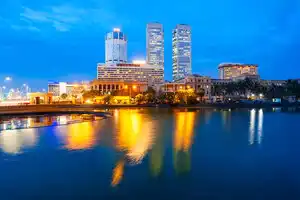 The capital city of Sri Lanka, Colombo is one of the most scenic holiday destinations in the world. The name is derived from the traditional Sinhalese name 'kolon thota' which literally translates into a port on the river Kelani or in simpler words a harbour with leafy mango leaves. The place represents the wonderful mingling of the rich cultural heritage, local traditions with the modern wave of cosmopolitan. Having being colonised by the Portuguese, Dutch and the British empires Colombo boasts of incredible past and has attracted tourists from all over the world. You can get a taste of the vibrant culture of the place through its architectural marvels and awe-inspiring surroundings. This guide comprises of everything you need to know before and during your travel to this wonderful town of colour, vibrancy and spectacle.
Location:
The busy town of Colombo is a combination of modern life and colonial ruins and because of its strategic location all along the eastern and western trading routes, Colombo had served as a major trading route for the ancient traders to as early as 2,000 years ago. It is the biggest city in the western region of the Sri Lankan island and is located on the coastal region which makes the beaches here very scenic and beautiful.
How to Reach:
By Air – Bandaranaike international airport is the one and only international airport of Sri Lanka which is situated in Katunayake here. this is situated around an hour's drive away from the town of Colombo and it caters to flights from India, southeast asia, Europe, Australia, middle east etc.
By Bus – The airport in international airport is well connected with various local buses that takes the tourists to various different places of attractions an accommodation etc. these buses are run under the Sri Lanka Transport board throughout the country. The central bus stand of Colombo is the primary point for all the buses that goes to and fro here.
By Train – Colombo is well connected with a wide range of railway network connecting numerous places of interests and tourist destinations like Matara Badullam Kankesanturai and Talaimannar. Trains are not only the cheapest transportation options in Sri Lanka but they are also very crowded and offer good views of the surrounding areas through which it makes its way.
Weather Conditions and Best Time to Visit:
Did you know that Colombo weather conditions remain pleasant throughout the year which makes it eligible for travel throughout all months. But there are some months of the year which are perfect for vacation plans to Sri Lanka. Here is a detailed month wise breakup of the weather conditions in this wonderful town of Sri Lanka.
January to March – The weather is mostly sunny during this time of the year and the tourists flock this place. If you plan your trip in a well manner then you will be able to be a part of the famous Duruthu Perahera festival and experience the Sri Lankan culture in a deeper manner.
April to October – April marks the oncoming of the monsoon and rainy season in Colombo and the months of June to September are considered to be the wettest months of the year. From May onwards the amount of tourists in Colombo starts declining drastically and the natural beauty of this place is displayed in a more thriving and colourful manner.
November to December – The weather starts getting hot and humid starting from November and the winter sun seems like a boon during this time. However, the climate is suitable for sightseeing and other such outdoor activities. Be a part of the Diwali celebrations here which will be very fun and entertaining time.
Best Time to Visit – January to March is considered to be the best and the most appropriate time to visit when the weather is pleasant and complete with cool breeze. Exploring the hill stations during the months of November to February is another best time when you can explore this place.
Accommodation Facilities:
Colombo is accommodating to all types of travellers which is why you will get to see a huge variety of vacation goers. It is the perfect place to go for solo budget backpacking trip or even for a luxurious resort stay experience with your family you will be able to choose from a huge plethora of stay options. You can stay right across the beaches that may cost you from Rs. 9,300/- to Rs. 1,000/- but not more or less than that. The hotels in the town regions can cost you anywhere from Rs 13,000/- to Rs. 700/-. You can choose an accommodation depending on your budget and requirement. All the hotels are equipped with English speaking staff, good quality of amenities like bedding, wifi, room service etc. all the Sri Lankan hotels in general are very clean, safe and comes with an efficient group of hard working and good natured staffs so your stay here will be guaranteed memorable even if you go alone or with your family.
Shopping:
Colombo and in fact Sri Lanka as a whole is truly a delight for shopaholics. Indulge in buying souvenirs for your loved ones back home, shopping for memorable local items and so much more it really is an experience. You will get to pick from an array of items on display like – tea leaves, batik, handicrafts items. For the jewellery lovers there are several locally produced jewellery in true sri lankan style as well as gem stone studded items like blue sapphires which are known as the king of Sri Lankan precious stones. Some of the best and the most unique places to go shopping in Colombo are – barefoot garden café and shop, paradise road – for minimalistic house linen, printed canvas bags etc; good market – for locally grown organic items like bags, purses, baskets cases etc; India and co for clothes shopping; jewel arena for jewellery shopping etc. once you go there you will get to know about many more hidden market places that will provide you shopping opportunities.
Adventure Activities:
Blue Whale Watching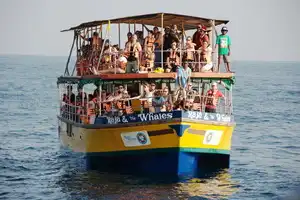 Do you consider 2 to 4 hours of riding the unending blue ocean seas and spotting blue whale early in the morning? Then going for blue what watching in Bentota and Koggala via Mirissa harbour is something that will not disappoint you in any way. You can even further go to the turtle hatchery point and observe the hatching of the turtle eggs and welcome them into the world. I don't think anything could get more unique and special than this.
Sea Plane Ride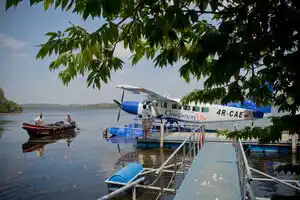 Get to the skies and experience the city of lush greenery from above. You may have explored the city on foot and by ground and now it is the time for you to get an aerial view of 360 degree which will be a serene experience itself. You can even get a view of some of the most iconic townships and cities from above here while even exploring some scenic islands from above looking like a beautiful oasis. This will be a journey of around 20 minutes and will be a very scenic journey on a smooth sea place which will create lifetime worth of memories for you.
Dive Into the Indian Ocean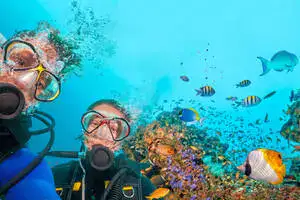 If you are the one for some deep-sea adventure and exploring the blue world then this deep diving amidst the colourful fishes is something that should be on your Colombo unique travel list. You can go on some serious exploration under the ocean as well and have a wonderfully thought evoking experience. You will be given some important diving gear and if needed a professional and an instructor will accompany you to ensure a safe diving trip. This will truly be a memorable and a one of a kind thing to do.
Bike Tour With Tea Tasting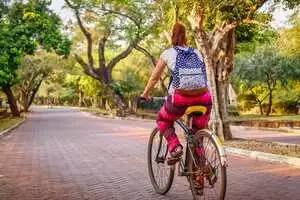 Have you ever explored any place on a bicycle? Then this is the perfect opportunity for you to go on a fun filled adventurous biking tour amidst the lush greenery of the border of Galle. It is the perfect option for anyone seeking some unique and a different kind of adventure than the ones already made famous. The trip usually begins at 7:30 am in the morning with the riding beginning at the beautiful Galle fort. Cross the paddy fields and coconut farms while going for authentic and traditional Sri Lankan tea tasting during lunch time.
Exciting Trek to Kirigalpoththa Mountain Peak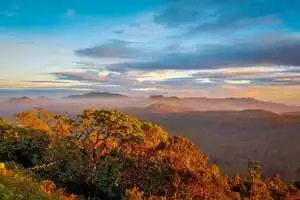 if you wish to go on a hiking and trekking expedition then going on a fun filled journey to the 2nd highest mountain peak in Sri Lanka is just the thing for you. The 7 km trail is simple in its approach and consists of travelling through rolling green meadows, lush surroundings and wide-open spaces. This trekking trail starts from Horton national park and takes around 5 hours to complete the entire trail. There are several places where you may halt and relax in between your journey while also savouring some picturesque vistas.
Tourist Attractions:
Diyatha Uyana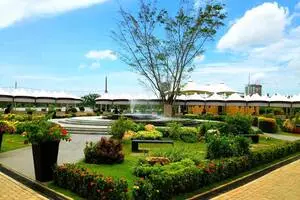 This has to be undoubtedly one of the most attractive tourist places in Colombo which should not be missed out on. This place is like a magical place where creativity meets natural beauty which makes it an overall a phenomenal experience. This place houses numerous amazing lakes, an aquarium that will be perfect for the kids, local eateries and food joints offering delectable food, locally made stalls for handicrafts item and so much more. The most defining feature of this place is the wonderful 3D art installation by the local artists.
Days: Monday to Sunday
Timings: Open 24 hours
Entry fee: Free entry
Beddagana Wetland Park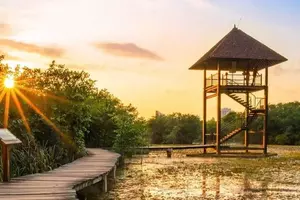 This wetland park has been created by the government of Sri Lanka in an attempt to protect the land from flood situations and help in the improvement of the local quality way of life. This place is filled with colourful flowers, greenery and scenic wetlands radiating surreal beauty. This is also one of the most romantic things to do in Sri Lanka where you may also explore the unparalleled green beauty, wildlife and impressive vegetation.
Days: Monday to Sunday
Timings: 6 am to 6 pm
Entry Fee: Rs. 50/-
Bellanwila Rajamaha Viharaya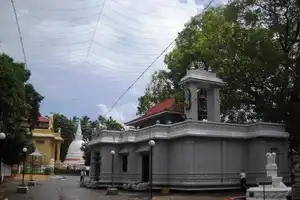 Sri Lanka in all is a land dotted with innumerable temples and places of worship with Bellanwila Viharaya being one of the major points of interests in Colombo. The bodhi tree present within the premises of this temple is believed to have been dated back to the 3rd century BC and is considered to be a relevant part of the 32 different saplings which is situated in the holy city of Anuradhapura. It remains flocked throughout the year with devotees from across the globe.
Days: Monday to Sunday
Timings: open 2 hours
Entry Fee: Free entry
Seema Malaka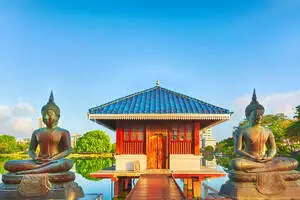 Temples are the places where one goes to seek for some peace of mind and clarity in the thought process. This temple is one of them and offers some much-needed relaxation and peace from the bustle of the teeming city life. The place consists of formal and neat gardens, tall statues sitting in peaceful form, quiet water bodies surrounding the temple structure that offers some serene respite. This temple marks the perfect balance between Indian, Chinese, Thai and sri lankan style of architecture ensuring peace within all cultures.
Days: Monday to Sunday
Timings: open 24 hours
Entry Fee: Free entry
Colombo Dutch Museum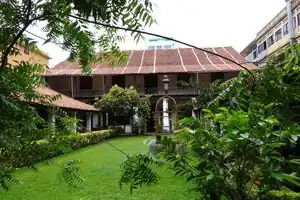 Situated right in the heart of Pettah market area (a famous shopping place in Colombo), this is a unique and one of the most unusual looking Dutch museums. This place comes as a surprise for people looking to get to know more about the culture and traditions as well as the history of Sri Lanka. Showcasing the charm of authentic Dutch architecture this place used to serve as the residence for the Dutch governor here which was later on converted into a museum.
Days: Tuesday to Saturday
Timings: 9 am to 5 pm
Entry Fee: Rs. 300/- (per child); Rs. 500/- (per adult)
Famous Beaches
Hikkaduwa Beach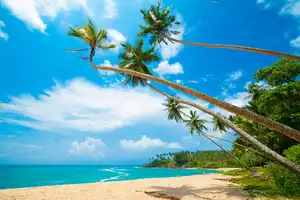 Situated at a distance of around 100 kms from the main town of Colombo is one of the most popular beaches in Sri Lanka. This beach is one of the most highly acclaimed tourist locations complete with a thumping night life a range of restaurants, bars and luxury resorts. If you are going with a group of friends then you must attend the 3 days of beach music festival which is a hub for party goers and music lovers.
Fun Activities: Snorkelling, scuba diving, surfing, beach parties etc.
Getting There: Take the southern expressway from Colombo
Negombo Beach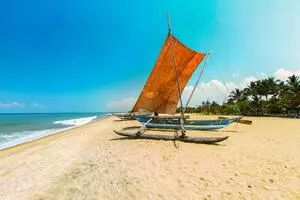 Looking to take a break from all the hectic tourist sightseeing and adventure activities then spending a day lazing under the soothing sun just listening to the crashing of the ocean waves then Negombo beach is the place to be with your friends, family and loved ones. This is one of the most lively and vibrant of all the beaches in Sri Lanka and even in Colombo. You can go for a beach walk or take to the ocean amongst doing a range of other things which will make spending a day here totally worth it.
Fun activities: water sports, exploration of quaint surrounding shops, trying delicious local cuisines, witnessing the glorious sunset etc.
Kalpitiya Beach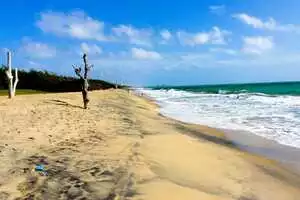 This is probably one of the most unique and one of a kind beaches located in close proximity to Colombo. Start your day by going on an early morning soothing boat ride while watching the sun rise on the horizon and being accompanied with whales, dolphins and other sea creatures which I guarantee you may have never experienced anywhere else in the world. This trip is definitely worth all the efforts and time it takes to reach there.
Fun activities: Ocean safari, windsurfing, kite surfing, canoeing, kayaking, scuba diving, snorkelling and so much more.
Unawatuna Beach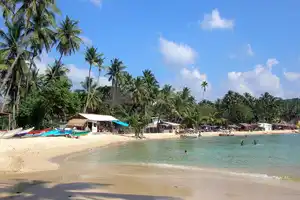 Once in Colombo a visit to the old town and the fort of Galle (both UNESCO world heritage sites) is a must visit. On your way a visit to Unawatuna beach should also be included. This is a very beautiful beach surrounded by lush green palm trees offering a postcard like image. You may even catch a glimpse of the cute little sea turtles scuttling around while watching the sun rise above the horizon.
Fun activities: watch sunrise / sunset, have some peace of mind, take a refreshing stroll by the beach side etc.
Bentota Beach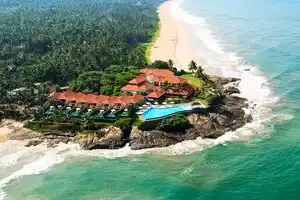 In case your idea of going for a beach includes staying in a luxury beach resort as well and even indulge in some awesome water sports while also having time to relax then this beach is the place for you. The travellers can stay in one of the several available range of hotels and accommodation who mostly come here to make the most of the perfect skiing conditions on the ocean water. It is definitely a must visit destination for you.
Fun activities: windsurfing, water skiing, deep sea fishing, sailing, kayaking, canoeing, snorkelling, scuba diving etc.