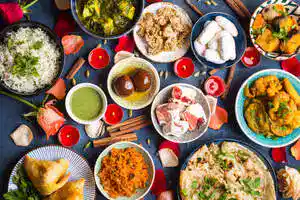 Just like its temples, historical sites, art and culture the food of Varanasi is also very unique, special and one of a kind. Every alley and Gali here is dotted with numerous big, small, ancient food stalls offering delicious locally made snacks, sweets and other delicacies. A food trail of Varanasi will make you taste some of the most delectable items. The moment you step in to Varanasi you will be engulfed in a mesmerising and mouth-watering fragrance of freshly prepared food stuff here like Jalebis, Chaat, Lassi, Samosas, Pakoras and so much more.
Every food item here carries a distinct type of taste which sets its food apart from the rest of the foods of India. People have added a hint of their personality and charm into their food and use Shudh Desi Ghee to make these delicious dreams come true. The smallest corners will have crammed up Lassi Spaces, Kachoru Sabji Stalls, Dahi Chutney Eateries, Baati Chokha and so much more that you will never feel hungry when you are in Varanasi. Food is an inseparable part of the culture and traditions of Varanasi and people take great pride in being a part of it in any way.
Eating out in Varanasi is another one of the must have experiences for a curious traveller looking to create some memories that are sweet, sour as well as savoury. If you have a sweet tooth then the plethora of sweets here will be enough to boggle your mind. A must visit for every avid foodie and traveller looking to explore and interact with the locals in a more personal manner. Food is what brings one and all together and if it is good food like the ones in Varanasi then it will be the holiday of a lifetime.