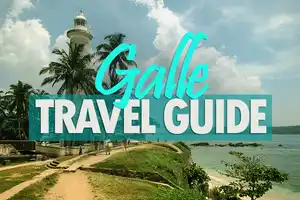 The historic city of Galle is probably one of the most precious jewels of Sri Lanka and its beauty remains untouched and well preserved. This UNESCO world heritage site was constructed by the Dutch starting from the year 1663 with a strong fort as its core. Although tourism is at its peak in Galle all year round but this unique city has managed to maintain its aura of spirituality and pristine natural beauty which is the dominating feature in this part of not only Galle but all over the country as well. The city is a quaint site and a sure treat to the eyes and mind. The ambience of this place is something that mesmerises the visitors in every possible way. If you are planning on visiting this place with surreal beauty then here is a travel guide which will be perfect of you are going there for the first time or not:
History
As per James Emerson Tennent – A British politician and an avid traveller – mentioned that Galle was the ancient seaport from where King Solomon used to get exports of ivory, exotic birds like peacocks amongst other valuable ornaments and items. The port here has been functioning ever since the 1400 BC when cinnamon was being exported to Sri Lanka and was also among one of the most prominent entrepot of various spices. It was an important port way before the western rule in the country and they were actively involved in maritime trade with Persians, Arabs, Indians, Romans, Greeks, Chinese, Malays etc. 1502 was the year that had marked the official time starting of modern history. This was the time when some Portuguese ships were blown off course and stayed for a brief while in Galle. These ships were forced to surrender to the Dutch East India Company. The British then took over the country from the Dutch stronghold in the year 1796 before gaining independence on 4th February 1948.
Culture
Owing to its rich background Galle has always been a cultural epicentre of Sri Lanka. Most of the traditional and culture of this place is owed to the colonial eras of Portuguese, Dutch and the British. All these influences by their colonial rulers with the age-old Sri Lankan beliefs has created a special and a whole different type of culture, unlike anything else in the world. These cultures have created some of the most memorable and majestic buildings and temples as well as sightseeing places in Galle making it a great place for spending your holiday in Sri Lanka. The people here are bug cricket fans and can be seen playing this sort on the streets and beaches. It also houses the Galle international cricket stadium (one of the most beautiful stadiums in the world). People of Galle not only celebrated their religions with great zeal and enthusiasm but it also celebrates food festivals, art and music which makes this place a vibrant holiday destination.
How to Reach
By Flight – Koggala airport is the nearest airport for Galle which only caters to domestic and military flights. The nearest international airport is the Bandaranaike international Colombo airport which is situated in Colombo and is located at a distance of around 2.5 hours from Galle. Flights are available from New Delhi, Mumbai, Chennai and Bangalore. They also cater to international flights from Europe, Australia, United states etc. a car can be rented or you can avail the services of a hired taxi to reach Galle which will be rightly priced as well. From Colombo to Galle the best way is to reach via a flight journey from Katunayake.
By Train – This is probably one of the most scenic and picturesque way of travelling from Colombo to Galle. The entire route of the train is blessed with pristine natural and lush green beauty. Not only is this one of the most beautiful ways of travelling but it is also extremely pocket friendly way of getting around. Believe me the experience will be worth it and should definitely be given a chance. These 2 hours of train journey will be one of the most refreshing experience you will ever have.
By Road – There are several cab services available from Colombo to Galle. You can get a taxi from anywhere but it won't be a cheap affair. The car ride will take you via the expressway which is also a very scenic route. Another route of reaching Galle from Bentota or Colombo is via a bus journey there are a number of buses that make their way on a daily and even on an hourly basis. This will be a journey of 3 to 4 hours of complete scenic and breath-taking beauty while travelling all along the coast line. An air-conditioned bus for Galle from Colombo will cost anywhere from 400 to 550 LKR.
Getting Around:
The best way of travelling in Galle is on Tuk Tuk (3 wheeled vehicles) or on foot. The tourist and sightseeing places are close by and there are barely any heavy-duty vehicles or cars speeding around which makes walking here a pleasant experience. All the old town places in Galle and the fortifications and market places are all situated in close proximity with each other. You will even be able to have a closer look at the lifestyle of the locals here while making your way from one place to another. Buses are an easy and the cheapest way to get to tourist places and sightseeing around Galle like Unawatuna, Matara and Hikkaduwa. You can even hire bicycles to get around and cycle your way through the quaint streets with ocean on one side and the historical brilliance on the other. Do make sure to visit the tea gardens while on a cycling tour, it will definitely be one of the most adventurous and fun journeys you will ever have in Sri Lanka in all.
Weather Conditions and Best Time to Visit:
Summer Season – The dry summer season conditions lasts from December to May and the temperature averages between 29 to 31 degree Celsius. rain showers are also a common occurrence during this time of the year. However this is an ideal time if you wish to go on exploring the outdoor adventures in Galle. If the sunshine is not your favourite then this time should be avoided.
Spring Season – The months from February to April is the peasant spring time in Galle. Spending your days poolside or by the beach seems like the perfect thing to do this time of the year. However you must avoid sightseeing during the afternoon and morning times since the sun may get to you as April is one of the driest months of the year.
Monsoon Season – May to November forms the monsoon and rainy season in Galle. The monsoon brings the temperature down drastically providing relief to the locals and the visitors. May and June are 2 of the rainiest months. October and November also experiences heavy rainfall episodes. The unpredictable and random rainfall makes it difficult to sometimes even step out of the hotel.
Best Time to Visit – November to April is considered to be the best time to visit since the weather is cool and pleasant accompanied with some rainfall or even snowfall this time around. The monsoon during this time would be weaning off from the region and the surrounding environment will be very lush and beautiful to look at. Taking a train ride or a coastal road journey will guarantee to be one of the most picturesque routes you may have ever been.
What to See:
Colonial Streets of Galle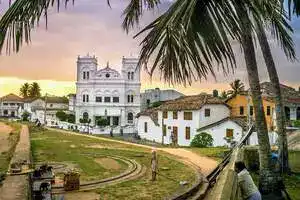 The entire region of Galle is divided into 2 parts – the bustling yet very non-descript new town where all the bus and stations are located and the old Dutch town where the Galle fort and towering bastions were enclosed. The contrast can be closely observed through one of the walking tours in Galle which will take you through the imposing walls and just watch the pace of life change complete with old villas, churches and other structures dating back to the Dutch era.
Dutch Reformed Church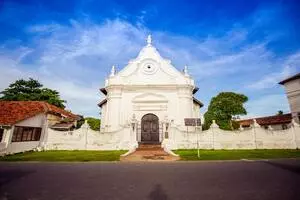 This church in Galle is famed for being the oldest place of protestant worship in Sri Lanka which can be dated back to 1755. However, excavations show that the church structure may even be 100 years ago. This place is rather humble to look at and consists of a rather plain and uncomplicated interior features. The floor of the church is lined with gravestones belonging to the former Dutch citizens with finely carved out pulpits and various wall tablets which record the lives and deaths of the late British settlers.
Historical Mansion Museum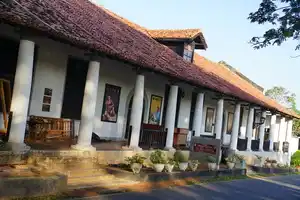 This structure is an unusual museum with a gift shop which also displays a vast variety of a diverse collection of things that have been accumulated over a period of time and belonging to the colonial era. Mr. Gaffar is its owner and has been owned by him over a period of the past 3 decades. Here you will get to check out various elements that make this place special like the Olanda warehouse shop, old Dutch building filled with colonial style of furniture.
Things to Do:
Visit the Galle Fort and Lighthouse
This magnificent fort with a lighthouse and framed on all sides with stunning palm tree cover this place looks just like a post card. This is one of the most breath-taking landmarks of Galle and the current standing structure was built in 1939 but the original structure dates back to 1848. This is a UNESCO world heritage site this place gives fantastic views of the surrounding, unending and glimmering ocean. The Dutch museum inside the fort is a must visit and showcases a diverse range of images, paintings and furniture among other elements depicting the Dutch culture in Galle.
Watch Sunset at Flag Rock
Located on a rock structure facing strategically outward toward the sea this place is perfect for unwinding after a day of fun and frolic. Sit there and gaze at the play of colours across the sky and don't forget to take pictures. The rock is a very peaceful place where the locals and tourists visit to relax for a while and forget the bustle of the city.
Maritime Archaeology Museum Visit
Located inside the fort of Galle and showcasing the maritime life of Sri Lanka. On display there are various different types of boats, artillery and relics along with a plethora of statues and relics. The video presentation here also gives a clear picture of what it was like in the past. The museum was hit by a devastating tsunami in 2004 it was rebuilt and made ready for tourist visit later on.
Shop in Pedlar Street
Situated in close proximity to Galle fort the streets are lined with various remarkable boutiques, art galleries, handicraft stores etc. here you can bargain for the best price on items here and is definitely not a disappointment for the visitors and shopaholics. Here you will get to shop for all the Ceylon artwork, textiles, linen apparels, sri Lankan printed clothing, gems studded jewellery and so much more. There won't be a single boring moment while you are browsing through these quirky little shops and stores.
Relax at Unawatuna Beach
Located at a distance of 20 minutes from Galle fort Unawatuna is one of Sri Lanka's finest beaches. Spend the evening here and feel your tension melt away surrounded by thriving lush greenery and a peaceful ambience. This is a good thing to do after you have spent a day in the fort of Galle and want to just sit by the ocean and hear the wave crashing while watching the sun go down in the horizon. You could also visit the small distinct hill which is home to a big Buddha statue and provides stunning views of the surrounding natural beauty.
Where to Stay in Galle:
Galle offers a number of budget stay options near the beach ranging from merely Rs. 400 to Rs. 1000/- only. However these places do not come with a comfortable stay option and a lot of amenities. If you are a solo backpacker or a constant traveller then staying in these accommodations will be the perfect option for you. In case you are travelling with your family then you must choose to stay ay some nice villas or hotels that are mostly present in the outskirts of Galle like in Hikkaduwa or Bentota. These accommodations range from Rs. 2,000 to Rs. 10,000/- but they come with comfortable amenities like pool, spacious rooms, luxurious bedding beautiful interiors, parking facilities, garden etc.
Food Facilities:
Galle is a paradise for food lovers and explorers. This partly looks like Puducherry in India (which was also under the Dutch and Portuguese influence for quiet some time) where the charming green streets are flanked by quaint and aesthetic cafes serving delicious local and international food and cuisines. The restaurants and eating joints in Galle offer a relaxed atmosphere and a peaceful vibe (especially the ones situated by the ocean) which is the only thing you need after a day of hectic sightseeing and exploration. You can go for a food trail in Galle and discover the diverse range of cuisines available here from crabs and prawns to coconut soup and traditional Lamprais.