The holy town of Gangotri is located in the Uttarkashi district of Devbhoomi, Uttarakhand. Located at an elevation of 3,415 metres above sea level, this town sits comfortably among the ravishing greenery. Situated by one of the holiest River Bhagirathi (the origin of River Ganga) and on the lap of the snowcapped greater Himalayan range, Gangotri is also one of the prime pilgrimage destinations in India and also a part of the Chota Chardham yatra in Uttarakhand. According to legend goddess, Ganga had descended on earth from Lord Shiva's locks at this point. The popular trek to Gaumukh and Gangotri glacier is located only at a comfortable distance of 19 km.
Dedicated to Goddess Ganga this historic temple was built during the 18th century by a Gorkha Commander, Amar Singh Thapa. During the winter months when the temple routes are buried deep in a thick snow covering, the presiding deity is transferred to Mukhba which is located in the small town of Harsil. Devotees and pilgrims complete their pilgrimage journey here when the main shrines are not reachable. Encapsulated in breathtaking untouched, natural beauty and filled with captivating sights on ever bend a trip to Gangotri is one of the most spiritual and unique journey anyone can take.
If you are planning on a visit to this pious shrine then this Gangotri route map will definitely be of use: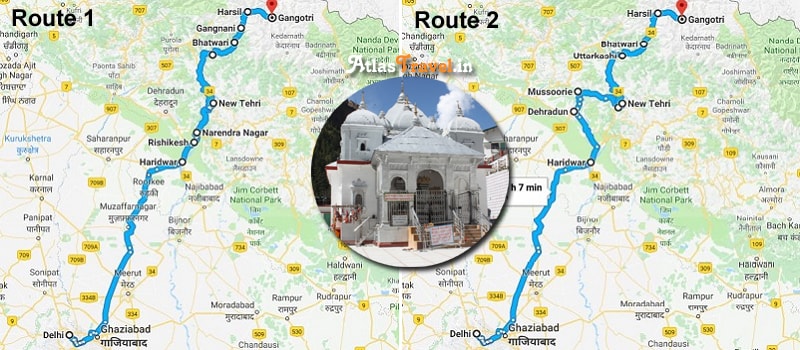 Your journey will commence from the capital city of Delhi and head on towards the holy town of Haridwar which is considered to be the gateway to the char dham yatra and is also considered as a gateway towards Lord Vishnu. You will then head onwards toward Rishikesh which is located at a distance of less than an hour. River Ganga gushingly runs between the twin holy towns making both the destinations extremely sacred. From Rishikesh, you will head on towards Narendra Nagar which is situated at a distance of one hour from Rishikesh. Your next destination is located at a distance of 2 hours from here which is Tehri. The next location from Tehri will be Dharasu bend which is located at a distance of 2 hours. From Dharasu bend the lush green Uttarkashi district is located at a comfortable distance of 50 minutes to 1 hour. From Uttarkashi, you will head on towards Bhatwari which is located at a distance of 1 hour 5 mines. Your next destination which will fall en route will be Gangnani which is at a distance of 30 mines. Harsil, which is located at a distance of half an hour will be your next destination on your way to the holy shrine. From Harsil, Gangotri is located at a distance of 25 mines to 30 mines.
Here is a Brief Summary of The Gangotri Route Map:
Delhi – Haridwar – Rishikesh – Narendra Nagar – Tehri – Dharasu bend – Uttarkashi – Bhatwari – Gangnani – Harsil – Gangotri
Travel Tips to Gangotri Dham Yatra:
Hire a guide who will make your journey hassle free till the main temple shrine.
You can also opt for alternative methods of transportation like palanquins and mules, if you don't feel like walking or are too tired.
Carry a first aid kit with all the important medications which will help you during the high altitude trek.
Be sure to cover yourself up in woollen clothing items, gloves, muffler and cap.
We hope our attempt to provide you with valuable information on Gangotri route map has been met. Our primary focus is to make your Gangotri Dham yatra as memorable as possible.