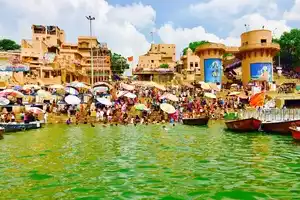 The holy city of Varanasi is also lovingly and rightfully known as the 'spiritual capital of India' which witnesses a large amount of pilgrims on a daily basis from India as well as abroad. The entire city is set right at the centre of two of the most holy rivers of India Varuna and Assi. Apart from its deeply spiritual appeal Varanasi is popular for its more than 100, vibrant and teeming ghats that line the entire city. Most of these ghats are used as sites for performing various puja rituals every day. Some of the ghats are replete with ancient mythological and historical stories that make a visit to these places even more spiritual.
Here are a few of the many ghats that you should not miss out on during your visit to Varanasi:
1. Ahilyabai Ghat
Earlier known as Kevalagiri Ghat and rebuilt under the careful patronage of queen Maharani Ahilyabai Holkar of Madhya Pradesh who was also responsible for the building the Kashi Vishwanath temple along with numerous other temples across India, the ghat was renamed after her to honour her memory. Devout Hindus prefer to take an early bath at this ghat since it remains relatively free of crowd. Pilgrims make it a point to visit Ahilyabai at really early in the morning where you can enjoy an early cup of tea and peacefully witness the glorious sunrise. There are two different temples along with one temple dedicated to Lord Hanuman located in the premises of the ghat that are set against a dual colored entryway which adds to the beauty of this ghat.
2. Assi Ghat
Known for being the southernmost ghat of this holy town, this is a prestigious and one of the most popular ghats of Varanasi. You have the option of witnessing a majestic morning and evening aarti which radiates incredible spirituality. This ghat is also popular for its cultural activities since it is a hub for foreign students living on a long-term basis along with tourists and researchers. People choose to perform their yoga sessions here and one can also savour some morning classical music concerts that take place here. Generally, on a daily basis, almost 300 devotees visit this ghat during morning hours while during some festivals this number increases to 2,500 people. One should make it a point to visit this ghat during their visit to Varanasi.
3. Dashashwamedh Ghat
Located in close vicinity to the holy Vishwanath temple this ghat is popular for being incredibly spectacular and is the main ghat of Varanasi. There are two Hindu legends associated with it which include a story about how Lord Brahma had created it to welcome Lord Shiva and the other being how Lord Brahma had performed the sacrificial ritual of sacrificing ten horses also known as Das Ashwamedha Yagna. The current Ghat was rebuilt by Peshwa Balaji Bajirao during 1748. The mesmerizing and extremely famous Ganga aarti that takes place in the ghat is truly a sight to behold. Placed on the ghat is an idol of goddess Ganga that is decorated and worshipped every day. Along with being an important Ghat, it is also one of the most crowded ghats of Varanasi where you can experience a great feeling in deep devotion.
4. Tulsi Ghat
As the name suggests, Tulsi ghat is named after the great writer Tulsidas who lived here to write the famous Ramcharitmanas. Earlier known as Lolark ghat, the ghat was cemented and made stronger by the popular industrialist Baldeo das Birla in the year 1941. A popular story about this ghat is that once while writing the great epic his manuscripts fell into the river and rather than sinking inside it kept floating on top and Tulsidas was able to retain his works. Located close to the ghat is a temple dedicated to Lord Ram that consists of relics and antiques belonging to Tulsidas like his wooden clogs, pillow, a Lord Hanuman idol that he used to worship daily among others. The stairs and structure of this ghat showcases a typical Hindu architecture which makes it look like it has been frozen in time.
5. Ganga Mahal Ghat
Famous for being one of the main ghats of Varanasi, this holy ghat was built in 1830 CE by the famous kings of the Narayan dynasty. This was originally built as an extension to the Assi ghat and the palace was called Ganga mahal which explains how this ghat got its name. The two ghats are separated by a series of stone steps which represents the bygone era. Currently the palace is being used as an educational centre where the first floor is occupied by the 'world literacy program of canada', while the upper floors are utilized by the 'indo – Swedish study centre'. This ghat remains relatively free of crowd and can be a good place for peace seekers.
6. Chet Singh Ghat
Originally named as Khirki Ghat this fortified and historical ghat is more like an extension for the fort to the holy river. This site has a historically important past where the troops of the British Warren Hastings had collided with the troops of Chet singh during 1781. Maharaja Prabhu Narayan singh has taken back this fort from the British during the latter half of the 19th century. The water in this riverfront ghat is clear and invites a number of visitors for a holy dip in the river. This ghat is also known for being relatively cleaner and free of garbage as compared to the other ghats of Varanasi. The Budhwa Mangal festival takes place here where for 7 days this ghat is filled with unmatched vibrancy and spiritualism.
7. Harish Chandra Ghat
Named after the legendary truthful king Harishchandra, this ghat is one of the two constantly burning ghats of Varanasi other than Manikarnika ghat and is often referred to as Adi Manikarnika Ghat. This ghat is chosen mostly by the pundits and Brahmins of Tulsi and Assi ghat to be cremated here. People from far off places visit this ghat to cremate their loved ones since it is a popular belief that a person getting cremated here will attain their moksha or salvation. Apart from being a part of the cremation practices one can take a quiet walk along the river front and watch people going about their daily chores and various puja rituals.
8. Manikarnika Ghat
Being cremated here is believed to bring peace and moksha to the souls of the departed and it is a common sight to witness the ghat being thronged by elderly and senior citizens who visit this place every day and spend their last days here with an aim of making death insignificant and less feared. Flanked by Dashashwamedh Ghat on one side and Scindia ghat from the other end, this is also one of the oldest ghats in Varanasi with its mentions being found in the 5th-century inscriptions of Gupta dynasty. This is also a famous Shaktipeeth and is believed to be the place where her ear's ornament had fallen after she had sacrificed herself in the Yagya that was being performed by raja Daksh and Lord Vishnu had cut her body in 51 different pieces to end the never-ending mourning of Lord Shiva.
09. Mansarovar Ghat
Built during 1585 by Raja Man Singh of Amber along with Manmandir Ghat, this ghat also consists of a pool in its vicinity which is known as Mansarovar kund. This kund is given equal status for its sacred relevance as the original lake Mansarovar in Tibet. Now as a result of constant reconstruction work being done at this ghat in order to make it Pakka, this kund is now as narrow as a well and is renamed as Mansarovar Kupa. The ghat's upper regions were bought by Kumaraswamy Matt in the year 1962 and have now constructed a structure consisting of shrines and pilgrim rest houses. The ghat is famous for its ethereal sanctity and quiet aura which is maintained due to less presence of crowd and Pilgrims.
10. Rewan Ghat
This ghat of Varanasi is known for being an extension to the main ghat of Assi and holds immense historical importance as compared to its religious and social importance. This ghat is said to have been built by the royal priest of Maharaja Ranjit Singh of Punjab and was initially named as the Lala Mishir ghat. The architectural form utilized in the creation of its stairs is in the Ashta Pahal form that ensures the longevity of the stairs from the currents of river Ganga. This ghat was later on donated to Benares Hindu University (BHU) during the 20th century by the King of Rewan.
11. Jain Ghat
Earlier named as Vaccharaja Ghat this holy ghat was purchased by the people belonging to the Jain community during 1931 and was later on fortified and its name was changed to Jain ghat. This ghat is also named after the 7th Jain Tirthankara Suparshvanatha who is claimed to have been born in its neighborhood. A temple is constructed to honor the memory of Suparshvanatha which is located on the upper ends of the ghat in the year 1988. This ghat is also done to encourage visits by the holy Jain monks. There is a huge red swastika painted right in the centre of the ghat and is inhabited by the local boatmen of the area.
12. Raja Ghat
Built by Bajirao Balaji in 1720 the ghat is divided into sections where the northern end consists of a palace and the southern end consists of an Annapurna matt which is divided by a series of stairway. Earlier the traditions of this ghat used to be to feed the Brahmins, Sanskrit student as well as ascetics but this ritual has sadly vanished over a period of time. A refectory is also built close to the ghat area as a special entry for the Brahmins which are in the form of a two-storied building along with a terraced roof. Every day the Ghat witnesses a spiritual Ganga Aarti ritual in great zeal and enthusiasm to honor the holy river Ganga.
13. Nishad Ghat
Initially this quaint ghat was a part of the famous Prabhu ghat until the 20th century and later on this Ghat was separated and occupied by the families of boatmen whose presence is made obvious by the presence of small and colorful boats as well as various nets. There is also a sacred temple known as Nishad Raj Temple located on the ghat which is dedicated to Nishadraj. Nishadraj is the famous boatman who was responsible for ferrying Lord Ram across the river during the time of his exile and has earned the status of being a primary god of all the boatmen community of Varanasi.
14. Niranjani Ghat
Initially a part of the famous Chet Singh Ghat, this famous riverfront was established by the Naga saint in 1897 and was also named as Niranjani Akhara. There are four different shrines located inside the inner region of the Akhara which were built by the king of Nepal. The ghat is home to four of the most prominent temples and is popular for featuring the footprints or the charan paduka of Niranjani Maharaj along with various images of the river Ganga. This ghat is not utilized for bathing purposes and is only utilized as a spot for performing various puja Rituals
15. Mahanirvani Ghat
This ghat is named after the holy naga saint Mahanirvani and as per the reliable oral sources, it is told that this ghat was the resident place for sage Kapila. This is also believed to be one of the spots where Lord Buddha is said to have taken a holy bath. During and after the holy Kumbh mela the Nagas are said to use this ghat as a resting stop. There are four different temples dedicated to Lord Shiva here by the Maharaja of Nepal which makes it even more religious and sacred.