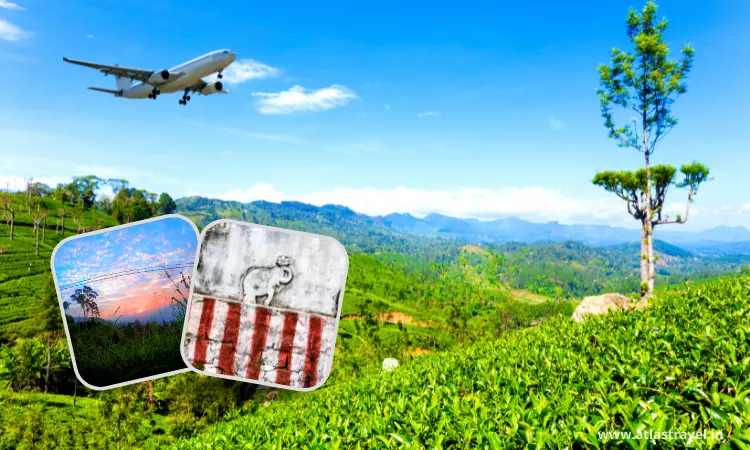 Tour Overview
Haputale is a beautiful hill-side town in Sri Lanka which is majorly occupied by the Tamil community people. The town is beautifully surrounded by long, towering mountains which is why people come here to spend their days in the solitude of the mountains. And the tea plantations estate is another appealing part of this town. Wandering in this town for some days would surely relieve any running soul and you can also realize nothing is worth than appreciating the beauty of nature thus, traveling is what makes life beautiful.
With our one-day Haputale city sightseeing tour from Nuwara Eliya, explore this misty hillside town and maybe if it's a clear day, watch the mesmerizing view of the Southern Coast and the shimmering light beaming from the lighthouse of Hambantota.
Trip Highlights
A thorough journey of the English-style Buddhist Monastery.
See the mesmerizing view of lush green Sri Lanka from Lipton's Seat.
Witness the beautiful wonder of Diyaluma Fall.
Taste different types of tea at Dambatenne Tea Factory.
Tour Itinerary
Full Day : Haputale City Sightseeing Tour
As per the scheduled departure, you will be picked up from your hotel room in Nuwara Eliya early in the morning and after hopping on your privately-shared vehicle, you will follow an eye-catching road trip to Haputale which is only 47 km away from here.
Places you will Visit in Haputale
1) Adisham Monastery
Adisham Monastery is a regal English architecture that accommodates a fruit garden, monastery, and two meditation rooms. The monastery is a pride of this town as it generally boasts an English architectural style to further address the monastery ritual. The monastery also shares a spectacular view with its visitor of several laid-back mountains covered in the arms of the misty clouds. This is a place for all those seeking peace amidst the mountain area and also meditate to the tunes of Buddha spiritualistic hymns.
2) Lipton's Seat
Lipton's Seat is another beautiful attraction in Haputale and it gives a stunning view of seven different provinces of Sri Lanka. In the colonial era, the Scottish tea baron Sir Thomas Lipton used this view to oversee his sprawling empire which is now counted as seven provincial areas. Now, tourists come here to enjoy a hot cup of tea and look at the mesmerizing view which flattered Sir Thomas during his years. You will also see local tea pickers working on the estate.
3) Diyaluma Falls
Diyaluma Falls is a mesmerizing natural beauty of Haputale where you can look at the wonderful creation of nature. It is a 220 m high fall and second highest in Sri Lanka which beautifully creates different levels and pools on the top. Before reaching the top to explore its beauty at the surface, you can also see its wonder at the downside where water falls at a high-speed and creates a picturesque moment. On reaching the top, you will see a new and exciting adventure.
4) Dambatenne Tea Factory
Dambatenne Tea Factory sits upright in the Lipton's Seat vicinity as the foundation of this factory was laid by Sir Thomas himself. Here, you can experience the traditional actuality of how tea is processed and manufactured. You can explore the whole factory mechanics here and can also see how centuries-ago machines are used here. The factory will also serve you different kind of tea to experience its authenticity.
Tour Description
| | |
| --- | --- |
| Duration | 1 Day → Full Day |
| Destinations | Adisham Monastery-Lipton's Seat-Diyaluma Falls-Dambatenne Tea Factory |
| Tour Price | 11,900 /- |
Chat with specialist who can help plan your tour!
Package Includes
Pick-up and drop will be from your hotel room in Nuwara Eliya.
Breakfast, Dinner in Sri Lankan style.
All the transfer in and around the city will be via a privately shared vehicle.
Package Excludes
Any personal expense like camera fee, baggage fee, etc.
Any type of partake in activity at these places.
Frequently Asked Questions (FAQs)
Q.How much does a hotel in Haputale cost?
Q.What are some must visit places in Haputale?
Q.When is the best time to visit Haputale?
Q.What are some popular things to do in haputale with kids?
Q.What can i expect from a Haputale visit?
Tour Description
| | |
| --- | --- |
| Duration | 1 Day → Full Day |
| Destinations | Adisham Monastery-Lipton's Seat-Diyaluma Falls-Dambatenne Tea Factory |
| Tour Price | 11,900 /- |
Chat with specialist who can help plan your tour!