One of the most highly revered spiritual journeys in the subcontinent is on 'devbhoomi' Uttarakhand. The Chota Chardham Yatra is taken up by a number of devout Hindus each year who are seeking for salvation or 'moksha'. This pious journey takes you across takes you across the lap of the mighty Himalayas which includes sacred centers of worship of Kedarnath, Badrinath, Gangotri and Yamunotri. When the temple doors are opened for worship during the time of Akshaya Tritiya, devotees in number of millions flock to these pilgrimage destinations with an aim of cleansing their souls.
If you are looking to avail the Char Dham Yatra Packages and take up this journey towards the almighty lord, then the following guide will be of immense help to your plans:
How to Reach Yamunotri: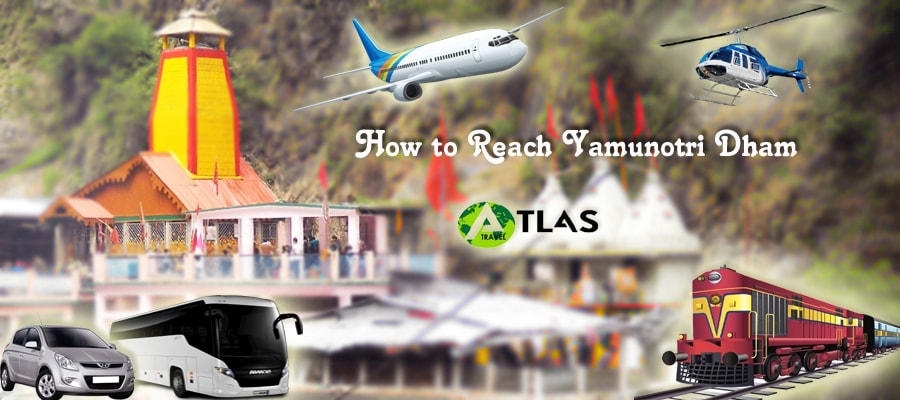 Situated at a height of 3,293 metres above sea level this temple is one of the holiest shrine since it is the seat of Goddess Yamuna. This is also the westernmost shrine in the Garhwal Himalayas and sits among the cascading waterfalls and lush greenery. The main temple shrine of Yamunotri witnesses numerous pilgrims during the pilgrimage season looking for the goddess's blessings.
By Road: The most preferred route to Yamunotri heads on through Dehradun and Barkot. In case you board a bus at Haridwar or Rishikesh then the road heading towards Yamunotri diverts away from the Dharasu bifurcation point. Yamunotri is extremely well connected to some of the major pilgrimage locations of Haridwar, Dehradun, Chamba, Tehri, Barkot, Hanuman Chatti and Janki Chatti.
By Railway: Train connectivity is only up till Rishikesh after which you will have to hire a cab, taxi or a bus which will be heading towards Yamunotri via Dharasu, Barkot, and Janki Chatti. If you opt for a jeep ride then you will be required to go from Hanuman Chatti to Phool Chatti which are located at a distance of 5 km apart and then from Phool Chatti to Janki Chatti can be covered on foot. From Janki Chatti, an 8 km trek will finally lead you toward the main temple shrine of Yamunotri.
By Air: The closest nearby domestic airport is Jolly Grant which is located in Dehradun.
How to Reach Gangotri: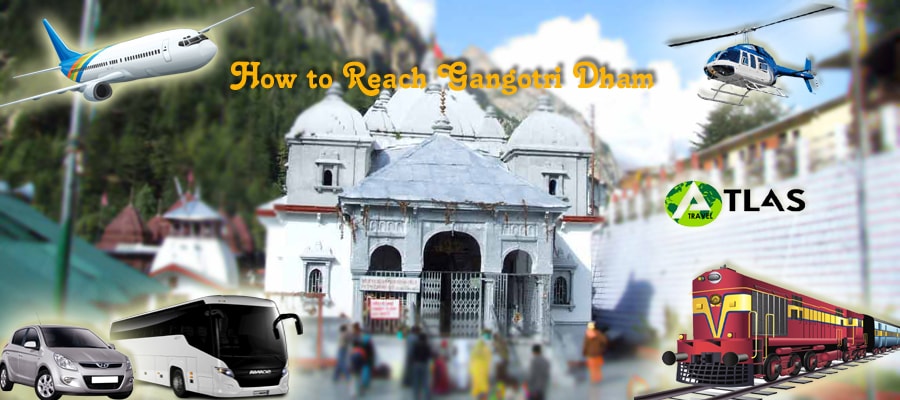 Situated at a height of 3,100 metres above sea level in the Uttarkashi district, Gangotri is one of the prime pilgrim towns in Uttarakhand. Located by the holy River Bhagirathi this is the place where Goddess Ganga is said to have descended from the locks of Lord Shiva.
By Road: The holy town of Gangotri is well connected to a number of Uttarakhand states from inside out. You can easily board a bus heading towards Gangotri from Tehri, Mussoorie etc. taxi service and cabs are available for hire which will take you to Gangotri via Harsil and Bhairon Ghati.
By Railway: The closest railway station is situated in Rishikesh which is located at a distance of 250 km from Gangotri. Upon arriving at the railway station there will be numerous cabs available for you to hire and head on toward your destination.
By Air: Jolly Grant domestic airport in Dehradun is located at a distance of 226 km from Gangotri which caters to regular flights from numerous major cities.
How to Reach Kedarnath: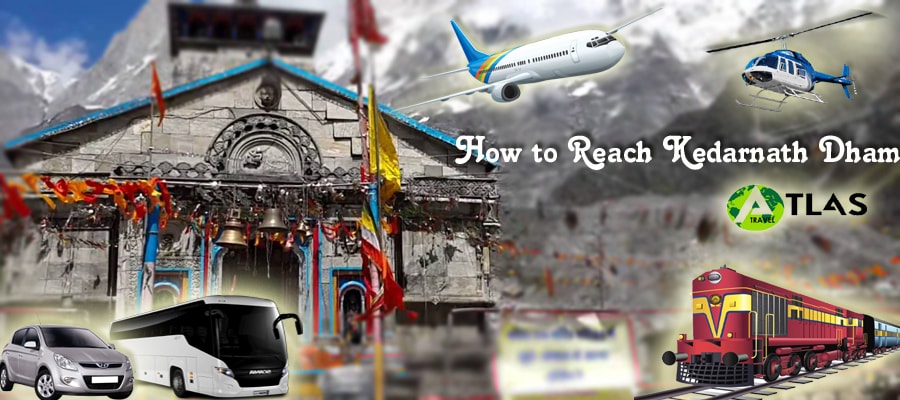 Located at a height of almost 3,583 metres above sea level, and sitting majestically on the lap of Himalayas the holy temple of Kedarnath which is dedicated to Lord Shiva attracts numerous devotees during the open season. During the winter season when the temple closes its doors, the presiding deity is moved to Ukhimath where the pilgrims can easily access the Lord without causing any hindrance to their divine journey.
By Road: For a road journey your pilgrimage will commence from the holy town of Rishikesh where you will be made to board the bus heading onward towards Gaurikund which is the last motorable road till Kedarnath. There are plenty of options to choose from like AC sleeper, non AC sleeper and Volvo AC etc. Gaurikund is located at a distance of 7 – 7.5 hours from Rishikesh. From Gaurikund you will be required to trek your way upwards till the main Kedarnath dham temple. You can also choose from a range of taxi services which run between Dehradun and Kedarnath.
By Air: The closes airport to Kedarnath is situated at Jolly Grant Airport in Dehradun and is located at a distance of 239 km from Kedarnath dham. The airport is host to a number of commercial flights running across the major cities in India like Delhi, Mumbai, Kolkata, Chennai and more. Once you reach Dehradun airport you have the option of booking a bus or hiring a cab heading on towards Gaurikund from here you will be required to trek till the main temple shrine of Kedarnath Dham.
By Railway: There are no railway stations in Kedarnath and the closest railway station is located in Rishikesh. This railway station is connected to a wide network of trains running across some of the major cities in India. Gaurikund is located at a distance of 210 kms from Rishikesh which can be reached via road. After you exit the train in Rishikesh there is a number of buses, cabs and taxis available heading on towards Gaurikund.
How to Reach Badrinath: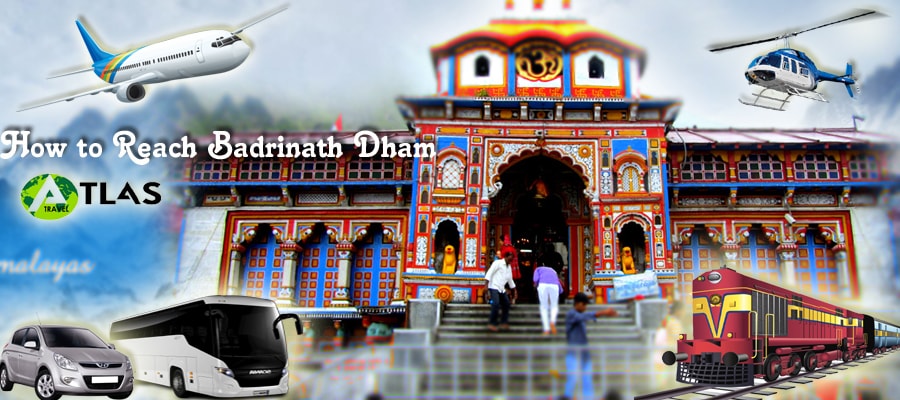 The holy town of Badrinath is situated in the scenic district of Chamoli at an altitude of 3,300 metres above sea level. Badrinath temple was re-established by Adi Shankara during the 7th century with an aim of instilling a sense of deep spirituality. Badrinath Dham is also one of the dhams included in the all India char dham yatra making this place one of the prime centers of devotions among Hindus from across the globe.
By Road: Badrinath can be reached via a bus or taxi service which can be hired from either Haridwar or Rishikesh the major pilgrimage holy towns and serve as the starting point for the Chota Char Dham Yatra. The roads heading towards Badrinath are well connected to its neighboring places. After covering some of the prime places of interest like Srinagar, Rudraprayag, Karnaprayag and Joshimath you will finally be reaching Badrinath.
By Air: The closest airport to Badrinath is located in Dehradun i.e. Jolly grant which is situated at a distance of 317 km from the main temple shrine. This is the nearest domestic airport from where, after deboarding, you can hire a cab or taxi heading towards Badrinath.
By Railway: Ne closest railway station is located in Dehradun, which caters to a number of trains from the major cities across India. Upon reaching the junction you have the option of hiring a taxi, cab or hailing the bus service heading towards Badrinath Dham which is at a distance of 317 km.
We hope that this article on how to reach Char Dham Yatra was a source of information to you. We hope that you have a successful spiritual venture. If you are looking to set on this holy pilgrimage then you can contact us at [info@atlastravel.in].
Happy Journey from our Team!