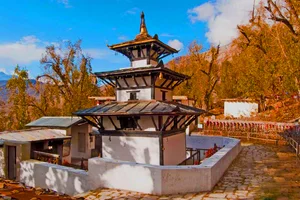 Mukti literally means – salvation and Nath means god or master which makes Muktinath Dham an ancient temple dedicated to the lord of justice, lord Vishnu. A visit here is said to rid you off of all the injustices that you are facing in your life. Taking a bath under the Mukti Dharas located on the backyard of the temple is one of the most soul rejuvenating things you can experience. It is situated in the Mustang valley region of Nepal. It is also located on the foot of Thorong La Mountain pass in close proximity to the village of Ranipauwa. There are several ways through which one can reach this sacred Divya Desam.
Muktinath Location
The region where Muktinath temple is situated is known as Mukti kshetra and is located in the Mustang Valley of Nepal. Sitting on an elevation of 3,710 metres above sea level it is placed at a distance of 24 kms from Jomsom. Can be reached after crossing the Thorong La Pass which is a part of the Annapurna conservation area easily accessible from Kathmandu and Pokhara.
Travel Permits:
Overall 2 main and primary permits are required for you to carry during the journey. People travelling through any means of commute like trekking, by flight or by road should be carrying the following 2 permits:
Annapurna Conservation Area Project permit or ACAP

– can be collected from Nepal tourism board situated at Bhrikuti Mandap, Kathmandu or Pokara.

Trekker's Information and management system permit or TIMS

– can be collected from TAAN situated at Saatghumti, Thamel, Mali Gaun, Kathmandu or Pokhara.
(Note: Do carry 4 passport size pictures per person and a copy of your passport since it will be required with the permits.)
How to Reach:
By Road – This probably one of the most promising and sure shot ways of reaching Muktinath which will start from Kathmandu. From here on you can get a jeep heading for Pokhara which will be a journey of around 6 to 7 hours and you will cover almost 206 kms. Spend an overnight in Pokhara. The next day from Pokhara you will be driven to Jomsom via Beni, Tatopani, Ghasa, Marpha etc which will take another 9 hours to cover. After spending an overnight in Jomsom early next morning you will go for a Muktinath Darshan. After this you will be driven back to Pokhara. Overall it takes 4 to 8 days to complete the Yatra by road.
By Flight – The journey will begin from Kathmandu airport and from here on you will also be transferred via a flight journey to Pokhara which will take a maximum of 30 minutes. You will be required to stay overnight in Pokhara since all the flights for Jomsom fly really early in the morning. The remainder of the distance from the Jomsom airport to the Dham temple will be done via a jeep journey. After Darshan you will go back to Jomsom for a night halt and then leave for Kathmandu early in the morning next day.
By Helicopter – Muktinath Darshan by helicopter is one of the most convenient ways of getting to the Dham. From Kathmandu airport it is a journey of just around 1.5 to 2 hours. After the Darshan you will be flown back to Kathmandu or Pokhara depending on your choice. Helicopter rides are done by just 1 charter that can accommodate only around 5 to 6 people in a single ride so you can gather 5 to 6 people and split the cost for Muktinath tour package.
Muktinath Darshan Route Map:
There are many different ways and modes of transportation for getting to Muktinath. However only those who are ready to undergo physical discomfort and hard work will be able to make the journey. One of the most convenient route for Muktinath is: Gorakhpur – Sunauli – Bhairawa – Pokhara – Muktinath. You can also make the journey via Darjeeling – Siliguri – Kakarbhitta – Pokhara – Muktinath. Apart from this you can always take a flight for jomsom from Pokhara then hike the next 7 or 8 hours. I you are looking for a spiritual adventurous experience you can even trek the entire way from Pokhara to Muktinath which takes 7 to 8 days. You can follow the trekking route famous for Muktinath Yatra. You can even avail the bus or jeep services running from Pokhara to Jomsom via Beni, Ghasa, Tatopani, Tukuche and Marfa which takes around 8 to 9 hours to cover.
Muktinath Road Condition:
The road conditions are in an okay state since the entire path is just loosely clustered rocks. If planning on taking your own care then make sure get a car with a high ground clearance like a land cruiser or Sumo Victa. In case of bikes an offroader would be the right choice to plough through the obstacles. Monsoon makes the situation much worse since there are several road blockages due to unexpected landslides. Here is a brief overview of what kind of road to expect:
Pokhara to Jomsom – Tarmac road till Beni then narrow single off road until Jomsom
Jomsom to Muktinath and Kagbeni – Single narrow off road track
Kagbeni to Tatopani – Single narrow off road track
Tatopani to Pokhara – Single narrow off road track till Beni then tarmac road till Pokhara.
Muktinath Distance Chart:
Delhi to Muktinath – 1,226 km
Kathmandu to Muktinath – 374 km
Patna to Muktinath – 633 km
Mumbai to Muktinath – 2,067 km
Kolkata to Muktinath – 1,166 km
Lucknow to Muktinath – 686 km
Bengaluru to Muktinath – 2,441 km
Surat to Muktinath – 2,025 km
Shimla to Muktinath – 1,422 km
Hyderabad to Muktinath – 1,850 km
Ahmedabad to Muktinath – 1,863 km
Indore to Muktinath – 1,455 km
Pune to Muktinath – 2,046 km
Jaipur to Muktinath – 1,258 km
Chennai to Muktinath – 2,469 km
Vishakhapatnam to Muktinath – 1,829 km
Bhopal to Muktinath – 1,265 km
Bhubaneswar to Muktinath – 1,387 km
Dehradun to Muktinath – 1,111 km