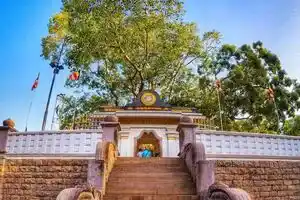 Maha Bodhi Temple is one of the most sacred sites of Buddhism, which is marked as the spot of Lord Buddha. Bodhi Tree is an ancient revered fig tree grown in the Mahamewna Gardens in Sri Lanka which was planted in 288 BC. It is reckoned as the oldest living tree planted by human whose planting date is much known in the world. This divine fig tree is one of the most sacred relics of Buddhists in Sri Lanka and is very much respected by the Buddhists all across the globe. The tree has cared for 23 centuries and the surrounding fig trees protect them from storms and the wild animals such as bats, monkeys etc. Dating back to Aril 2014, the government has passed a strict and banned all the constructions within 500 meters of the tree. If you are in Sri Maha Bodhi Temple, Anuradhapura then do not forget to visit the lamp burning area and the area where the incense sticks get burnt.
History
Dating back to the 3rd century BC, King Sangamitta Theri brought the saplings of the tree to Sri Lanka. Sangamitta Theri was the founder of Buddhist nuns in Sri Lanka and she was also the daughter of King Ashoka. In 288 BC, King Devanampiya Tissa planted a tree 6.5 meter above the ground in the Mahamewna garden in Sri Lanka and encircled them by railings.
Location
The old but a charming temple is located in the Mahamewna Gardens located in Anuradhapura district in Sri Lanka. The Mahamewna Gardens was created by King Mutasiya (367-307 BC). The major attractions of the garden are the magnificent beauty of the Samadhi statue of Buddha and a good number of Stupas. It is opened for all the religions, ages, and nationalities.
Architecture
Sri Maha Bodhi Temple is a revered place of Buddhism where Lord Buddha attained his enlightenment. Besides it, there is a small museum which is used to store old scooped out idols of the king and his seat. There is a very tall statue of Lord Buddha placed inside the temple and the temple encircles the sacred fig tree. There are different inscriptions of Lord Buddha depicted on the walls of the temple. A long staircase leads to the main idol of Lord Buddha.
Temple Timings:
6:30 – 7:00 am.
10:30 – 11:00 am.
6:30 – 8:30 pm.
Places to Visit
Mihintale: A stupendous mountain peak located in Anuradhapura in Sri Lanka. As per the Sri Lankans belief, it is the meeting site of Buddhist monk Mahinda and King Devanampiya Tissa and is the inaugurating site of Buddhism in Sri Lanka. One can spot several religious monuments and the abandoned structures at this place. There used to be a hospital located at the foot of the mountain whose ruin can still be found.
Ritigala Forest Monastery: Experiencing nature beauty along with the historical nature is a much appreciable feeling of this monastery. However, you cannot spot many orchids in the monastery but the chirping of birds can refresh your soul. You can find only the ruins and the rocks inscription of this Buddhist Monastery which was constructed during 1st century BC. It has been preserved by the forest department of Sri Lanka.
Abhayagiri Museum: This ancient museum is built in the remembrance and the honor of the Buddhist Monk Faxien in 5th century BC. It was his accommodation in Anuradhapura where he spent most of the time in squatting plates and religious sculptures. You can also witness some beautiful potteries and admirable handicrafts. You can even witness many Buddhist pieces of literature written by the monk which has been archived in the museum.
Things to Do
If you are at Sri Maha Bodhi Temple then you can experience many things to see, feel, learn, and explore which makes your journey memorable.
See- the temple holds an ancient Maha Bodhi tree which was grown around 2000 years back and has been still preserved by the forest department of Sri Lanka.
Feel- you can feel deep spiritualism and tranquility in this temple as it has a great significance among Buddhists and its divinity appeals all the tourists visiting this temple.
Learn- You must have read the legend of the divine Maha Bodhi Tree but when you visit there you will learn about its origin and significance in detail.
Explore- Besides this sacred Maha Bodhi Temple there are many things to explore in and around the temple including temples to monuments.
How to Reach
You can take a bus to Anuradhapura from anywhere in Sri Lanka. However, if you come from Colombo or Kandy then it would be more convenient as from there you can easily get a bus or a taxi that will directly lead you towards Anuradhapura. From any of the bus or railway station, you can take a taxi or any three-wheeler that will drop you to this splendid Sri Maha Bodhi Temple.
Food and Accommodation
There are many budget-friendly hotels near to the temple which is clubbed with basic amenities. It has many hotels ranging from a simple to a luxurious one. Some of the nearby hotels where you can accommodate are Milano Tourist Rest, Hotel Shalini, Hotel Randiya, Tissawewa Grand etc. If you are a food lover and want to try the different cuisines of Sri Lanka then go and try the lip-smacking dishes offered in the nearby restaurants.
Travel Tips
There are some things which you must keep in your mind if you are at Sri Maha Bodhi Temple like
You need to carry a white dress if you are paying your homage at the sacred fig tree which has been continuing since ancient times.
It is requested to maintain silence inside the premise of the temple.