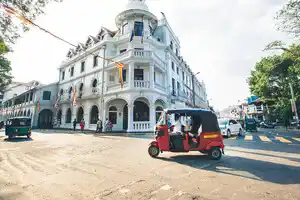 Kandy is another one of the most popular tourist destinations in the island nation of Sri Lanka. Referred to as the cultural capital of the nations this place is also a UNESCO world heritage site and is also the last kingdom of the country. The people here are friendly, lively and are proud of their heritage which is depicted through their lifestyle. Covered with a green foliage of tropical rain forests and consisting of exotic birds and animals the climate here is pleasant throughout the year. The ambience here is extremely pure and the atmosphere is devoid of any sort of pollution making it a prime place to feel all your stress just melt away.
Getting There:
By Air – Kandy doesn't have any airport domestic or international. The nearest airport is situated in Colombo which is the Bandaranaike international airport. Once in Colombo you can avail bus, cab or taxi services for Kandy.
By Bus – There are a number of intercity buses which are air conditioned and comfortable. This is also a cheaper and a budget friendly option of getting to Kandy and they are also easily available. It takes around 3.5 hours to reach Kandy from Colombo and the bus tickets will cost around 150 LKR.
By Train – The train heading for Kandy can be boarded from the Colombo railway station which will drop you off at Kandy railway station after a journey of around 2.5 hours. This is also a great way of getting to know the beautiful environment that surrounds the entire route from Colombo to Kandy along with being an inexpensive yet enjoyable way of reaching Kandy. First class train tickets cost 1,250 LKR and the 2nd class tickets cost 220 LKR.
By Road / Self – Kandy is well connected with a network of good quality roads which allows you to take your private cars as well without any tension. There are several taxi operators and services who can get you to Kandy easily from your point of arrival itself.
Getting Around:
Walking – Any place is the best explored on foot by walking and taking a stroll. This is also a good way of shopping, exploring some sites, temple visits, lake walks etc.
Local Buses – This mode of transportation can be used to go to some nearby sightseeing tourist attractions. There are 3 bus stands in Kandy and accommodate both private as well as government run bus services. the largest bus stand is situated right next to the Kandy railway station. Most of the buses are long distance and you can hop on and hop off at your desired location. The second bust stop is near the clock tower while the 3rd one is near the market and Torrington Park. If possible, avoid bus travel from 6 am to 9 am and from 4 pm to 9 pm which is the rush hour here.
Tuk Tuk Taxis – This is another one of the best and the most hassle-free ways of getting to anywhere in Kandy and Sri Lanka in general. These kind of three-wheeler Tuk Tuks are very convenient and go deeper into places where the buses cannot make it. They are also well priced and a cheap option but you have to be careful not to get ripped off.
Renting a Scooty – What better way of exploring the nooks and crannies of Kandy and avoiding the hassle of booking cars or catching buses than by going everywhere on a rented scooty. This is a very cost-effective way where one can rent a scooty for around 2,000 LKR per day.
Weather Conditions and Best Time to Visit:
Spring (March to May)
The temperature during this time is humid and generally warm in feel where the temperature rages between 32 to 29 degree Celsius. rain may also occur for 6 to 9 days every month. This is also a time when tourism is absent and very slow but is apt for an offbeat experience. The deals for hotels and transport are very cheap and inexpensive during this time.
Summer (June to August)
The middle year months are very comfortable with 7 to 11 days of precipitation. It is also one of the busiest months for tourism in Kandy. Lodging and other prices may also experience a surge.
Fall (September to November)
These are also some of the most comfortable and good times to explore the scenic beauty of Kandy with the temperature ranging in between 30 to 28 degree Celsius. owing to the rains for 10 to 15 days tourism is fairly slow here. This may result in a fall in prices of accommodation and transportation.
Winter (December to February)
This is the perfect time for tourism in Kandy which is very enjoyable due to the warm days and cool nights. The temperature stays between 22 to 30 degree Celsius. on an average it rains for 5 to 10 days on an average making it the 2nd busiest months for tourism in Kandy.
Accommodation:
The accommodation facilities available in Kandy are very well made and comes with a range of efficient amenities. There are a lot of accommodation and you may pick the one according to your budget. From homestays at Rs. 400/- to standard hotels at Rs. 3,300/-. If you are looking for a more luxurious resort stay then there are hotels available ranging from Rs. 5,000/- to Rs. 16,000/-. These are present around the top tourist destinations and market places in Kandy.
Shopping
The culture and traditions of the people of Kandy can be seen through their works of art in the market places. Travelling from one market to another and buying from a huge range of souvenirs and memorabilia will be a worthwhile experience. You can shop at the following places – Laksala – handicrafts made by traditional artisans of the local communities (state owned); Kandy city centre – modern shopping complex with over 400 shops; Waruna antiques – Kandyan masks, coins, jewellery, plates, textiles; Kandy art association – centre for traditional arts; Upali Jayakody Batiks – high quality modern batik; central market – spices, herbal tonics, crafts, textiles, food etc. and are cheaper than the other shopping places.
Things to Do:
Visit a Tea Estate
Sri Lanka is the world's 4th largest producer of tea in the world. Kandy is well known for its massive tea estates producing some delicious quality of tea. You will get to see how the tea leaves are collected from the lawns and then taken to the machinery for further refinement. You will also get to pick your choice and take away with you a taste of Sri Lanka with you.
Traditional Dance Performance
The culture of Kandy is very rich and attending the Kandy dance performance will make you feel closer to the people and help in experiencing Kandy in a closer manner. The locals perform this dance and it is also a very beautiful sight with synchronised dancing steps and moving to traditional Sri Lankan music only adds on to its beauty.
Walk by Kandy Lake
This man-made lake which was built in the centre of this city in 1807 is an awesome place to take a soothing and mind clarifying stroll by the lake. Being free of cost this will be one of the most fun and refreshing things to do. It is also a great opportunity to experience the local life of the people here and witness them involved in their local activities.
Visit Temple of the Tooth Relic
This is the main attraction of Sri Lanka and is one of the most sacred Buddhist pilgrimage sites in the world. The tooth belonging to Lord Buddha occupies the central shrine here and is worshipped by the devotees. Evening time is the busiest for tourist visits and is a great place to experience a deep sense of spirituality.
Cycling
This has proven to be one of the most effective and a unique way of exploring the vibrant culture of Kandy. Cycling through the lush green tea estates and experiencing the local life of the people of Kandy will be something of an offbeat experience in Sri Lanka. The trails are also very scenic and it is not that difficult to do and makes for a very good and healthy activity with your family.
Places of Tourist Attraction:
British Garrison Cemetery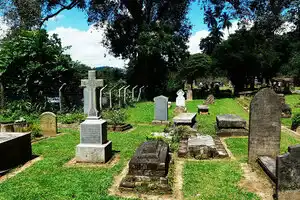 This landmark of Kandy was established in the year 1871 and is a British cemetery where the British nationals who died who died in Ceylon are buried. This European grave yard has become one of the most significant sightseeing places not only in Kandy but also in Sri Lanka. It is the perfect place to get a taste of the history of this fantastic island nation that has been through so much.
Kandy View Point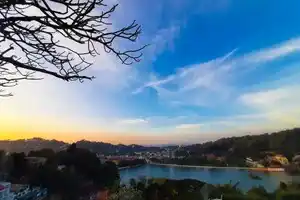 Overlooking the scenic valley below and the lake this place is a fantastic place to just stand there and take a break from the bustle of the busy tourist spots. Get a bird's eye view of the entire picturesque town below. Escape from the traffic and get a breath of fresh air at this stunning view point. It is situated close to royal palace park and young men's Buddhist association in Rajapihilla Mawatha and can be visited anytime of the day.
Bahirawakanda Buddha Statue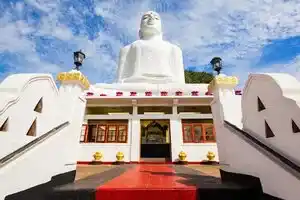 Bahirawa is small and quaint hill town in the magnificent location of Kandy. The Buddha statue here serves as the landmark here which can be seen from anywhere in the city. It truly is a remarkable mark of expert craftsmanship and smart engineering. From Kandy city a Tuk Tuk ride of 1 km will take you to this holy Buddha temple. Walking up the large staircase here will be a refreshing thing to do and the surrounding view of the town below and greenery is simply breath taking.
Lankatilaka Temple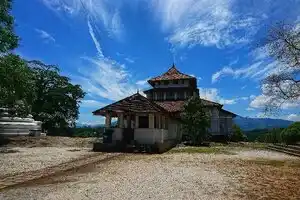 This is the perfect place to check out the Kandyan architecture at its peak. This is a unique and humble looking temple built with cement and wood that also showcases a mixture of south Indian architectural designs as well. The entire place is devoid of pollution, teeming tourists and is covered entirely in lush greenery and wide-open skies. The perfect place for some meditation activities and also as a getaway option.
Ceylon Tea Museum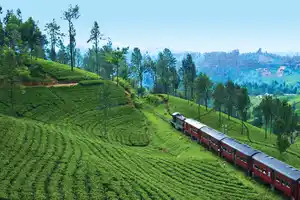 Situated at a distance of 4 km from the main city of Kandy this museum is built inside a 1925 vintage Hantana tea factory. The entire place was abandoned and then later on refurbished into a tea museum in order to attract tourism which worked in its favour. A tearoom in the top floor is where you can sample some teas and choose to buy your favorites and you will guarantee leave with a number of bags of premium quality of tea leaves.
Must Visit Places in and Around Kandy:
Pinnawala Elephant Orphanage – This is an elephant orphanage and a nursery which is the ground for the wild Asian elephants. This place supports healthy captive breeding plans and is located at the Pinnawala village and boasts of having the largest herd of captive elephants in the world. This place was developed to care and protect the several unweaned wild elephants that are founded wandering around the surrounding green forests of Kandy. The mahouts here take care of the young orphaned elephants by feeding and nursing them which even you can do. Coming in close contact to these young giant loving animals will be a very special and memorable thins to do especially if you are travelling with your family.
Nuwara Eliya – This scenic and one of the top tourist destinations in Sri Lanka is Nuwara Eliya which is situated at a distance of 2.5 to 3 hours depending on the traffic conditions. This is also referred to as the little England and the tea culture here is well appreciated by travellers and tea loves from all over the world. The Victorian style of architecture can be observed here clearly in its buildings along with the beautiful Victoria Park. Take a village walk here or opt for one of the most enthralling and scintillating train rides up to Nuwara Eliya. Bale bazaar here is another place where you can shop for souvenirs and memorabilia. A great place to visit all year round and especially during the post rainy season months.
Wellawaya – From Kandy this scenic destination is situated at a close distance of around 4 hours which is entirely encapsulated in the scenic natural beauty and unmatched lush greenery. This is a fantastic place to go the offbeat way in Sri Lanka and a village walk among nature is the best way of experiencing the serenity that surrounds Kandy. The Buduruwagala here is a simple tourist attraction especially for the believers in Buddhism along with interacting with local communities here and observing how they go about with their daily lives. It is also perfect for anybody who loves wildlife and bird watching since you will get the opportunity to check out some remarkable bird collection here as well as unique animals like the flying squirrel and varieties of owls.
Peradeniya / Royal Botanical Gardens – Initially reserved only for the visits exclusively by the royal family currently even the common citizens can explore this magnificent garden. This has to be one of the most impressive and largest botanic gardens in Sri Lanka i.e. 60 hectares. The highlights here include the mesmerising collection of orchids, avenue of royal palms, cannonball fruit tree and the massive tree trunk with umbrella like canopy of branches surrounding it. It is situated at a distance of 6 km from the central town of Kandy and should definitely be included in your sightseeing plans of Sri Lanka. The beauty here on every step is something that will remain etched in your hearts forever.
Kandy Spice Garden – Sri Lanka being one of the prime destinations for spice trade a visit to the spice garden here is a must. The herbs in this garden are grown and processed there which you can see and buy later on. Some common spices and herbs found here are pepper corns, turmeric, cloves, cardamom, nutmeg, cinnamon, cocoa etc. the natural and the beautiful environment here which surrounds the garden here is a peaceful getaway from the busy tourist locations. It surely is a place to be and is dotted with several colourful and attractive looking plants which only adds to its beauty. Get the organic spices from here and take some back home as well so that you have some Sri Lankan memories with you.
This guide for Kandy will definitely come in handy during your visit to this scenic town of unmatched beauty and promising serenity.