Kedarnath Helicopter Tour by Pawan Hans
Home » India » Uttarakhand » Kedarnath Helicopter Tour by Pawan Hans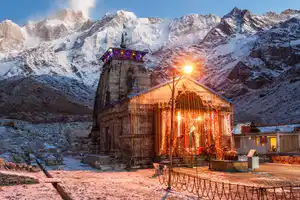 Pawan Hans Limited is a prestigious, iconic and one of the longest-running helicopter service providers to Char Dham and Kedarnath Dham. For Kedarnath Dham the service commences from the helipad located in Phata which takes 10 minutes to reach. This large field that operates as a helipad is located beyond Guptkashi which also has a functioning and strong motorable road. The packages offered by Pawan Hans include one side to round trips options panning between Kedarnath and Phata.
General Instructions:
The Kedarnath helicopter service will be operated from the Pawan Hans helipad located in Phata on a daily basis from the opening of the Char Dham sites in May till the closing dates during November. The helicopter services are temporarily suspended during the monsoon months of July and August when the weather conditions worsen.
In case you opt for the same day return helicopter service you will have overall timings of 4.5 hours at Kedarnath Ji. Visitors will be required to purchase a priority Darshan slip of Rs.1,100/- per person.
The reporting time should not be confused with the time of boarding and the boarding will commence for up to duration of 1 hours after the tie of reporting.
The company will make complete efforts to group every passenger as per their respective age groups however this is not an easy task since this requires weight adjustments while preparing the seats for passengers or in order to accommodate priority seats.
Hand baggage under or till the weight of 5 kg will be allowed on board.
Infants are required to travel only with an adult passenger. Infants and children below the age of 2 years adult ticket fares of 10% will be applicable and children over the age of 2 years a full fare ticket will be levied.
An advance booking is ensured only after you make a full payment for the ticket.
Beyond 85 kgs, passenger overweight charges will be applicable which is subjected to the company not losing a seat during the trip. This factor is generally decided at the office in Phata.
I case of any reason from the company's end the journey fails to take place due to any sort of technical reasons or weather conditions then the company will try to accommodate and shift its passengers to the next or the closest available date of flying.
All operations of Pawan Hans are subject to the approval of Government of Uttarakhand.
Package Prices:
The mentioned prices are not valid for the Char Dham Yatra and are subject to changes and amendments. In order to obtain the latest price quotes for Kedarnath Yatra by helicopter then feel free to contact our travel experts here.
All the rates and prices mentions above are subject to changes without any sort of a prior notice. The helicopter Yatra price may vary depending on the size of the group, hotels and transportation services.