Dedicated to Lord Shiva and located among the Garhwal Himalayan ranges, Kedarnath Dham Mandir is one of the most highly revered temples in India. Situated by the holy River Mandakini this temple is deemed for being one of the most important pilgrimage sites in the subcontinent. Kedarnath is also one of the 12 jyotirlingas and an extremely important part of the Chota Chardham Yatra which takes place in devbhoomi (land of gods and goddesses) Uttarakhand annually. Being situated at an elevation of 3,583 metres above sea level Kedarnath is prone to extremely cold and freezing weather conditions.
It is still not known who had first established the temple but there is a very famous mythological account surrounding it. It is believed that due to the constant requests made by Nar – Narayana, Lord Shiva had agreed to dwell at Kedarnath and make it his home. During 4th century, after completion of the epic Mahabharata battle, Pandavas are said to have visited Kedarnath in order to seek forgiveness from Lord Shiva for killing their kin, the Kauravas. However, the Lord hid himself among the cattle from them by turning into a bull since he did not want to forgive them. But, Bhim recognized him and the bull immediately buried himself head first into the ground and Bhim held the bull by its tail and forcefully pulled him out which made the Lord forgive them. After which the Pandavas are said to have built the Kedarnath Temple.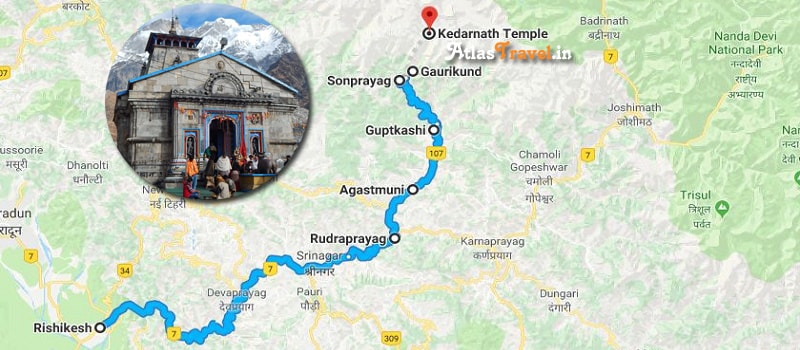 Numerous pilgrims, devotees and devout Shaivites make an annual trip to this holy centre of pilgrimage as a part of their Chota char dham yatra. In case you are planning a trip to this incredibly pious dham site then here is a comprehensive route map:
The old route to Kedarnath was completely destroyed in the 2013 flash flood of Uttarakhand which devastated everything on its way, hampering the pilgrimage. However new routes were developed by the authorities which are now being utilized by the yatris each year ever since. The journey to Kedarnath dham starts from the holy town of Haridwar or Rishikesh. From here the next destination will be Devprayag where Rivers Alaknanda and Bhagirathi converge and take up the name of River Ganga. Your next destination from Devprayag will be Srinagar which is home to the Kamleshwar Mahadev Mandir. You will then proceed towards Rudraprayag which is a holy town situated strategically on the confluence point of Rivers Alaknanda and Mandakini. From Rudraprayag your next stop will be at Gaurikund via Agastyamuni, Guptkashi, Phata, Sitapur and Sonprayag. Gaurikund will mark the starting point for the commencement of your trekking journey towards Kedarnath.
Brief Description of the Entire Route Map to Kedarnath Dham:
Delhi – Haridwar (206 km) – Rishikesh (24 km) – Devprayag (74 km) – Srinagar (34 km) – Rudraprayag (33 km) – Gaurikund via Agastyamuni, Guptkashi, Phata and Sonprayag (74 km) – Kedarnath (14 km trek)
Travel Tip to Kedarnath:
Being situated at a high elevation the temple can be reached after a perilous trek. It is important for you to get yourself checked up 3 months prior to the commencement of the yatra.
There are alternative transportation methods available like palanquins, helicopters and mules which are made available for the convenience of yatris who are senior citizens or physically disabled.
Use Haridwar / Rishikesh as your base camp where you can store your bigger luggage and carry all your important small items with you in order to reduce strains since the routes are narrow which makes it incapable for the yatris to carry large pieces of bulky baggage.
Along with heavy jackets and thick woolen sweaters make sure to also wear mufflers, gloves, sunglasses and comfortable walking shoes.
We hope that this wholesome and extremely informative Kedarnath yatra route map will help you in your journey towards attaining your enlightenment.