Situated in the stunning district of Rudraprayag, close to the glacier of Chorabari, Kedarnath Dham is known for being one of the remotest of all the Chota char dham locations of Uttarakhand. Flanked by the majestic, snow-capped Himalayas and perched on an elevation of 3,583 metres above sea level, the ancient temple of Kedarnath boasts of immense historical as well as unmatched spiritual significance. Seated amongst the lap of thick green natural surroundings along the banks of the holy river of Mandakini, Kedarnath Dham attracts a number of religious Hindus from far and wide during the season when the kapat of the temple is thrown open for darshan.
This place houses an irregular triangular shaped idol of Lord Shiva who is worshipped in the form of Lord Kedar whose history cannot be traced. However a few accounts mention the fact that the Pandavas are to be created with the creation of this holy site which they did on their journey to heaven. Kedarnath is not only one of the most significant jyotirlingas of India but it is also a crucial pillar of the panch kedar yatra as well as the Chota char dham yatra.
Each year people visit this dham as a part of their char dham yatra of Uttarakhand which is done in order to achieve their moksha or freedom from the karmic cycle of birth and rebirth. From Kedarnath you will not only be able to have some of the most charming views of the valley but you will also be able to explore the nearby places that are equally grand and majestic. Sitting against the background of the snow clad mountain peaks this temple has witnessed some of the harshest weather conditions but the way it was built has managed to maintain the glory of this holy site.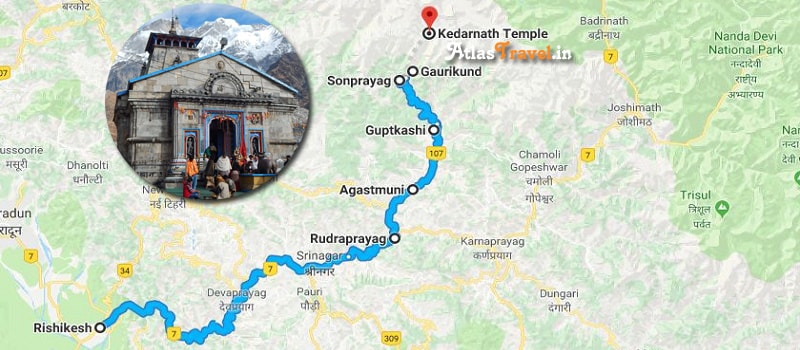 Destinations of Kedarnath