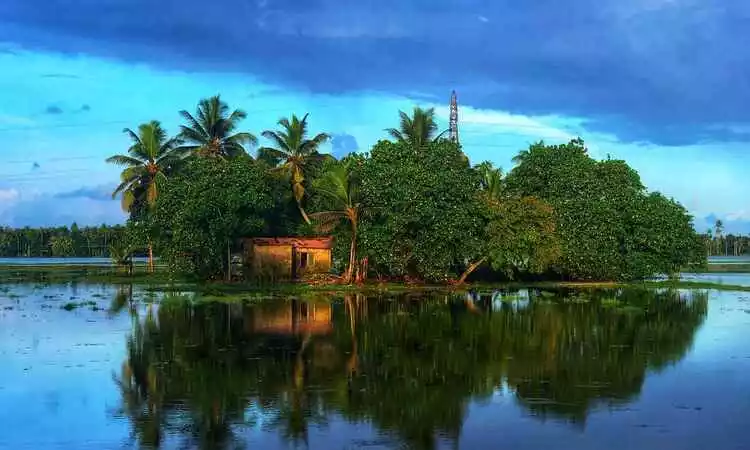 Tour Overview
God's own country Kerala is one of the most scenic destinations in india. Famous for its backwaters and divine holy shrines and temples, the culture of Kerala is absolutely unique and exploring it is a once in a lifetime experience.
Trip Highlights
Sringeri mutt visit
Malayattoor church visit in cochin
Valparai hill station and guruvayur shrine visit
Visit punna thoor kotta and cherai beach
Heritage visit in Cochin
Tour Itinerary
- Kerala divine trails tour package
Places of Visit: Arrival at Cochin, a quick refreshment in hotel; En route to Kodanad, Malayattoor Church, Kalady Shrine, proceed to Athirapally – Vazhachal Waterfalls; check-in to a Resort and overnight stay.
Arrival at Cochin International Airport / Railway station. Guests will be received by AtlasTravel Services representative. Rest and refresh at a hotel in Cochin. Visiting Kodanad (This is a place that takes care of elephants rescued from forests. Grown elephants are also trained here.), Malayattoor (In AD 52 St. Thomas is believed to have landed in Kerala. Malayattoor is where St. Thomas is believed to have spent time in prayer and left his foot prints on a rock on top of a hill while he took refuge from hostile natives. It is therefore a well-known Christian pilgrim center in Kerala.), Kalady (Kalady is known as the birthplace of Adi Shankaracharya.
There is a shrine at Kalady for Shankara run by the Sringeri Mutt. It is situated on the banks of River Periyar or Purna and is a large and partly open structure. There are two shrines here, one dedicated to Sri Sankaracharya and the other to Goddess Saradamba, the main deity of Sringeri. The Samadhi of Sri Sankara's mother, Aryamba, is also here. The Ramakrishna Advaita Ashram includes a spacious prayer hall and a shrine modeled on the Sri Ramakrishna temple at Belur Math. Named as Sri Adi Shankara Keerthi Sthamba Mandapam, this is a tall eight-storied memorial built by Kanchi Kamakoti Mutt. The memorial has on its walls framed relief paintings narrating the story of Adi Sankaracharya.). Travelling by road to Athirapally and check in to resort here and overnight stay. (The two waterfalls, Athirapally and Vazhachal, are located just 5 km apart close to the Sholayar forest ranges.
The Athirapally falls join the Chalakudy River after plummeting down 80 ft. Athirapally is a beautiful location ideal for picnics with the cool spray that covers a large area. Vazhachal waterfall is also a part of the Chalakudy River and is located next to dense forests).
Day 2 :Visit Valparai Hill station
Places of Visit:Visit Valparai Hill station; transfer to Guruvayoor and overnight stay in a hotel.
From Athirapally and Vazhachal waterfalls travelling by road to Valparai hill station. Passing through the dense forests of Sholayar known for the presence of wildlife. Visiting Valparai tea and coffee plantations. Back to Athirapally and proceed to Guruvayoor (Guruvayoor is famous for the temple where the young Krishna is the chief deity. It is one of the most popular Hindu pilgrimage destinations in South India, known for its history and festivals.).
Check in to hotel under Guruvayoor temple town ship and overnight stay.
Day 3 :Early Darshan at Guruvayoor Temple
Places of Visit: Early Darshan at Guruvayoor Temple; visit Punnathoor Kotta Cheraman Masjid, Transfer to a resort at Cherai; an evening at Cherai beach and overnight stay.
Morning Darshan (This is a Hindu religious custom and so entry to the temple is restricted).Visiting Punna thoor kotta (A place which has the rare sight of more than 60 elephants that belong to the Guruvayoor temple.), Cheraman Masjid (This is believed to be the first mosque in India. The story behind this mosque is that as a result of the trade relations between Arab world and Kerala, Cheraman Perumal, the last king of Cheranad (ancient Kerala) grew closer to Islam. He went to Mecca later and converted to Muslim with the name Thajuddin. He settled down in Jeddah and married King's sister. His wish was to propagate Islam in Kerala and as he reached closer to death wrote letters to his relatives in Kerala, informing them of his wish. After he passed away, a disciple of Prophet Muhammed, Malik Bin Dinar, reached Kerala with these letters from Perumal. As a result Islam was spread in Kerala by Malik and his fellow Arab traders with the permission of the rulers in Kerala. Cheraman Masjid, built around 629 AD based on the mixed architecture of Kerala and Arab world, was the first mosque to be established by Malik, who became a Ghasi there.
Later, after appointing his son as the next Ghasi, he travelled around the rest of India, propagating Islam and establishing mosque in different parts of the country. ), Check in to beach resort at Cherai. (This beach stand apart from the remaining ones in Kerala with a mix of sea and backwaters in the backdrop of green coconut palms and paddy fields. Cherai Beach is ideal for swimming, surfing and sunbath as it is very clean and shallow. It has a park for children on the beach. You can hire water scooter and speed boats here and see dolphins occasionally. 'Poyil', a large inland lake forming a part of the calm serene backwaters separated from the ocean by only a narrow sandbar, is the main attraction of Cherai. Cherai is also well known for mouth watering fresh sea food).
Spending evening at Cherai beach and overnight stay.
Day 4 :Visit to heritage places in Cochin
Places of Visit:Transfer to Cochin and Check-in to hotel; visit to heritage places in Cochin.
Visiting Fort Cochin and Mattancherry, the home of different ethnic groups. Check in to Heritage hotel. Visits to St. Francis Church (St. Francis Church is the oldest European church in India constructed in 1503 by Portuguese Franciscan friars. The well-known Portuguese explorer Vasco da Gama was buried here, though his mortal remains were later taken to Portugal. The church still has the original headstone.), Santa Cruz Cathedral (A place of worship for Roman Catholics, this cathedral completed its 500th birthday in 2004. Its history is remarkable. It is believed that it started from a place of worship built and blessed by Francesco de Albuquerque in 1503. Francesco de Almeida, the first Portuguese Viceroy, built the edifice of a church and on May 3, 1505, the foundation stone for the church was laid.
After its completion, this famous church in Cochin was partially destroyed by the British in 1795 and rebuilt in the early twentieth century. The Bishop of Damao consecrated the church in 1905. Later Pope Paul IV raised the status of the church to Cathedral. And in 1984, taking into consideration rich historical heritage of the building, Pope John Paul accorded it the status of a basilica through a special decree. Currently, Santa Cruz Basilica is one of the eight Basilicas in India.), Chinese fishing nets (as their name indicates, these fishing nets are believed to have brought from China by those travelers who came to India from the courts of Kublai Khan, the Mongolian emperor.
These fishing nets are visible from far, with their tips aiming high against the crimson background of the sky. They are the visible proof of the trade relations that once existed between India and China.), Fort Immanuel (Presently you'll see only the remains of this bastion of the Portuguese in Cochin, along the beach. The real fort was built in 1503 as a symbol of the strategic alliance between the Maharajah of Cochin and Ruler of Portugal. Later the Dutch and subsequently the British destroyed most of the its walls and bastions.), Dutch cemetery (this cemetery has the tombstones of the Europeans who came to India to fulfill their countries' colonial ambitions and thus made a landmark in the history of Kerala.
Today this cemetery, after it was consecrated in 1724, is under the management of the Church of South India.), Jewish synagogue (Built at Mattancherry in 1568 AD, this synagogue is the oldest of those present in the commonwealth countries. It is still place of worship for the reducing number of Jews in the region and a historical attraction for tourists. It has the scrolls of the Old Testament as well as the copper plates that record the privileges offered to the Jews by the then rulers of Kochi.
During the wars of 1662 AD most of the synagogue was destroyed, which was later amended and reconstructed by the Dutch. Besides its historical value, the main attraction of the Jewish Synagogue is the blue Chinese tiles, all hand painted and none similar to each other.), Dutch Palace (Built by the Portuguese in the middle of the 16th century, the palace was presented by the Dutch, who took over it in 1663, to the Rajas of Cochin. Besides the improvements made by the Dutch, the rajas also added to them.
Today, it stores some of the best mythological murals in India, such as the entire story of the epic Ramayana on the walls of the bedchambers. It also gives the visitor the rare glimpse of the traditional Kerala flooring that looks like marble but is made of burned coconut shells, charcoal, lime, plant juices, and egg whites.), Bolgatty palace (a quaint mansion built in 1744 by a Dutch trader and one of the oldest existing Dutch palaces outside Holland. The British took charge of the palace on lease in 1909; and till 1947 when India won independence, the palace remained as a British residency. Currently, it is a luxury hotel that offers all the modern amenities to its guests.), evening at Marine drive (Marine Drive is another attraction that Cochin offers. It stretched along the sides of Shanmugham Road. It is the main hangout for the local populace with the excellent view it offers of the backwaters and the harbor. And at night you can enjoy the breathtaking lights from the various ships anchored at the harbor.), night spent for shopping souvenirs.
Back to hotel and overnight stay.
Departure from Cochin Airport / Railway station.
Package Includes
Guided sightseeing tour
Pick up and drop off service
Meals as per itinerary
Accommodation as per itinerary
Driver allowance, parking charges, fuel price
Package Excludes
Any expense of personal nature
Extra charges in case of an emergency
Shopping, laundry, tipping, portage
Monument entrance fees, camera charges
Anything not in the inclusions section
Frequently Asked Questions
Q.What is the average price of a Kerala tour package?
A. Kerala tour package for 6 days and 5 nights costs about 42K rupees.
Q.How much does a honeymoon in Kerala cost?
A. An exotic honeymoon tour in Kerala of 5 days and 4 nights costs 40K rupees.
Q.Which is the most powerful temple in Kerala?
A. Ernakulam temple is considered as the most powerful temple in Kerala.
Q.Which gods are mostly worshipped in Kerala?
A. Lord Shiva and Lord Vishnu are two of the most widely worshipped gods in Kerala.
Q.What is famous in Cochin?
A. Mattancherry palace, princess street, elephant training centre, kathakali centre etc. are some of the most famous places and sites in Cochin.
Tour Description
| | |
| --- | --- |
| Duration | 4 Nights / 5 Days |
| Destinations | Cochin → Kodanad → MalayattoorChurch → Kalady Shrine → Valparai → Guruvayoor → Punnathoor Kotta → Cherai Beach → Cochin → MattancherryRead More |
| Tour Price | ₹ 35,900 /- |
Chat with our Trip Advisor