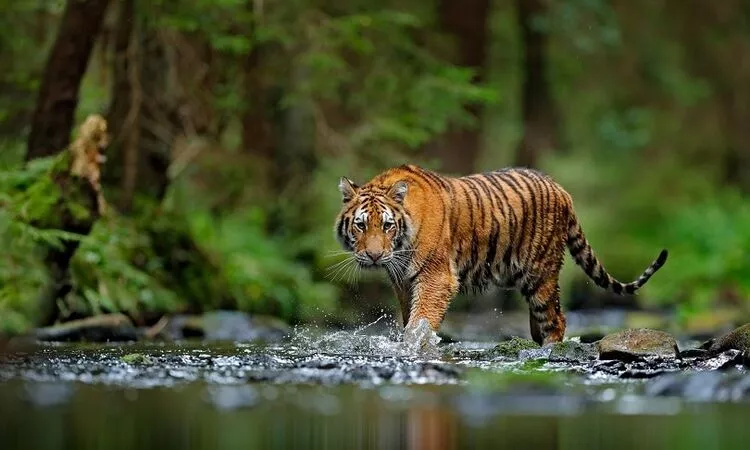 Tour Overview
Looking for an adventure vacation for your family and loved ones? Then going for a wildlife tour in Kerala of 8 days and 7 nights is the package that you need. Explore the southern wilderness of India in a more wholesome manner and go on fulfilling nature treks, jeep safaris and other exploration of the impeccable flora and fauna collection here.
Discover the real meaning of lush greenery, expansive forest lands and so much more. Check out the spice cultivation here and indulge in some of the best and fun filled eco-tourism which will definitely create a lifetime worth of memories.
Trip Highlights
Cheeyappara waterfalls visit
Trekking in the jungles of Thekkady
Periyar lake boat ride
Spice plantations visit
Kumarakom backwaters explorations and visit
Tour Itinerary
- Kerala Wildlife Holiday Package
Arrival at Cochin International Airport/railway station in the morning hours. Guests will be greeted and received by AtlasTravel Services representative. By road to Munnar (140 kms / 4 hrs). On the way visiting Cheeyappara waterfalls (Cheeyappara and Valara waterfalls are located between Neriamangalam and Adimali on the Kochi – Madurai highway).
Check into a resort at Munnar. In the afternoon visit to Mattupetty, Kundala and Echo Point. In the evening visit to flower gardens and Tata Tea Museum.
Back to hotel and overnight stay.
Day 2 :Travel to Chinnar (60 kms / 3 hrs)
Morning visit to Rajamalai. Travel to Chinnar (60 kms / 3 hrs). On the way take a look at the famed Marayoor Sandalwood forest on both sides of the road. After reaching Chinnar wildlife park, 2 hrs of trekking through dense forest to reach log house.
Overnight stay in the forest.
Day 3 :Thekkady (170 kms / 6 hrs)
After breakfast trek back to the road and proceed towards Thekkady (170 kms / 6 hrs). Check into a resort closer to jungle.
Overnight stay in the resort.
Day 4 :Routes for trekking include dense forests
After breakfast nature trail (the routes for trekking include dense forests with grasslands that extend from 4 to 5kms in length, where the visitors get an opportunity to watch birds, butterflies and other wild animals in close quarters. You will be accompanied by a trained tribal guide who is familiar with the area.).Evening boating in the Periyar Lake to watch more wildlife.
Back to resort and overnight stay.
Day 5 :Several kinds of spices are cultivated here
Check out from Lake Palace after an early breakfast. Visiting Spice plantations (several kinds of spices are cultivated here, such as pepper, cardamom, ginger, vanilla and nutmeg, all of which Kerala is famous for. You can have a great time taking a stroll across the plantations. Each spice has a particular section for cultivation in the plantation. By road to Gavi (50 kms / 2.5 hours) (The chief attraction of Gavi is the camping in the forests. These camping sites allow tents to be pitched, which is a rare chance in the forests of India. As it turns darker, you can listen to the voices of wildlife, an experience that can only be felt and never put into words.) Once you reach Gavi the serene eco-lodge 'Green Mansion' awaits you and enclose you in its protective hug. From this place you'll get a fantastic view of the Gavi Lake and the forests nearby (only vegetarian food will be served), boating at Gavi Lake. (Gavi has a few viewpoints like Valley View that offer a spectacular view of the forest and ravine that flows below. Kochi Pampa, another point close to the Green Mansion you can look for the Nilgiri tahrs grazing.) Check in to the tents, dinner and overnight stay.
Day 6 :Kumarakom backwaters (130 kms / 3 hours)
After an early breakfast proceed towards Kumarakom backwaters (130 kms / 3 hours). (the Backwaters include a chain of lagoons and lakes lying parallel to the Arabian coast [known as the Malabar coast]. Travelling backwaters is one of the highlights of Kerala visit.). Check in to your house boat (houseboats are huge, slow-moving, exotic barges used for leisure trips. They are a reworked model of Kettuvallams (Kettu means "tied with ropes", and Vallam means "boat"), which, in earlier times, were used to carry rice and other goods).
The backwater cruise takes you to R block kayal (these are similar to the dykes of Holland and you'll find here one of the wonders of agricultural engineering. You'll get to see habitation four to ten feet below the sea level here where land has been reclaimed from the backwaters and protected by dykes. Passing through many other dykes, coconut groves and paddy fields. Guests may get an opportunity to watch toddy tapping (country liquor), duck farming and village fishing methods (while on a backwater cruise it is possible to watch different methods of village fishing such as choonda – angling, thettali – with bow and arrows particularly for pearl spot fish, a special delicacy of this region (Karimeen), Ottal – fishing by using bamboo baskets, Koodu – with coconut palm leaves basket filled with fish feeds). Houseboat will be anchoring in the banks of canal for night halt. Dinner at houseboat and overnight stay.
Day 7 :House boat will be dropping you at Alappuzha
House boat will be dropping you at Alappuzha (the main attraction of Alappuzha are the many canals criss-crossing the town transporting goods through water. This town is called the "Venice of the East". The famous Nehru Trophy boat race is one of major events that take place here. Boat races are the main part of the harvest season in Kerala. Boat race includes mainly traditional boats like the Chundan vallam (snake boat) Churulan vallam, Iruttukutty vallam, Odi vallamand Veppu vallam. Chundan vallam is about 100-120 feet long and is made of forest wood named "anjili". This boat is huge and carries about 90_110 sailors). Cab will pick you up at the boat terminal and carry you to Cochin (65 kms / 2 hours).
After reaching Cochin, check in to hotel and lunch. Visiting St. Francis Church (St. Francis Church is the oldest European church in India constructed in 1503 by Portuguese Franciscan friars. The well-known Portuguese explorer Vasco da Gama was buried here, though his mortal remains were later taken to Portugal. The church still has the original headstone..), Santa Cruz Cathedral (this is a Roman Catholic church that completed five centuries of existence in 2004. This old church boasts a most impressive history. The place for the church to be built was created by Francesco de Albuquerque was blessed in 1503. The first Portuguese Viceroy, Francesco de Almeida built the edifice of a church and the foundation stone was laid on May 3, 1505. In 1795 the church was partially destroyed by the British to be rebuilt in the early twentieth century and consecrated in 1905 by the Bishop of Damao. It was raised to be status of a cathedral by Pope Paul IV to the status of a cathedral to Basilica in 1984. Currently it is one of the eight Basilicas in India.), Chinese fishing nets (as their name indicates, these fishing nets are believed to have brought from China by those travelers who came to India from the courts of Kublai Khan, the Mongolian emperor. These fishing nets are visible from far, with their tips aiming high against the crimson background of the sky. They are the visible proof of the trade relations that once existed between India and China.), Fort Immanuel (Its remains still seen along the beach, this bastion was built Portuguese in Cochin.
The fort was built in 1503 as a symbol of the strategic alliance between the Maharajah of Cochin and Ruler of Portugal. Later its walls and bastions were destroyed by the Dutch and subsequently the British .), Dutch cemetery (this cemetery has the tombstones of the Europeans who came to India to fulfill their countries' colonial ambitions and thus made a landmark in the history of Kerala. Today this cemetery, after it was consecrated in 1724, is under the management of the Church of South India.), Jewish synagogue (Built at Mattancherry in 1568 AD, this synagogue is the oldest of those present in the commonwealth countries. It is still place of worship for the reducing number of Jews in the region and an historical attraction for tourists. It has the scrolls of the Old Testament as well as the copper plates that record the privileges offered to the Jews by the then rulers of Kochi.
During the wars of 1662 AD most of the synagogue was destroyed, which was later amended and reconstructed by the Dutch. Besides its historical value, the main attraction of the Jewish Synagogue is the blue Chinese tiles, all hand painted and none similar to each other..), Dutch palace (Built by the Portuguese in the middle of the 16th century, the palace was presented by the Dutch, who took over it in 1663, to the Rajas of Cochin. Besides the improvements made by the Dutch, the rajas also added to them. Today, it stores some of the best mythological murals in India, such as the entire story of the epic Ramayana on the walls of the bed chambers. It also gives the visitor the rare glimpse of the traditional Kerala flooring that looks like marble but is made of burned coconut shells, charcoal, lime, plant juices, and egg whites). Evening at Ernakulam marine drive (Marine Drive of Cochin stretches along the Shanmugham road and is considered to be one of the most beautiful parts of the city.
Back to hotel for dinner and overnight stay.
Shopping and souvenirs purchases from Ernakulam shopping centers.Departure from Cochin Air port / Railway station towards next destination or back home.
Package Includes
Guided sightseeing tour
Pick up and drop off service
Meals as per itinerary
Accommodation as per itinerary
Driver allowance, parking charges, fuel price
Package Excludes
Any expense of personal nature
Extra charges in case of an emergency
Shopping, laundry, tipping, portage
Monument entrance fees, camera charges
Anything not in the inclusions section
Frequently Asked Questions
Q.Where can i see tigers in Kerala?
A. Periyar national park is home to a wide range of tigers and elephants.
Q.How long is the boat jungle cruise in Periyar wildlife sanctuary?
A. The boat cruise can be of half day to full day in periyar wildlife sanctuary.
Q.Which is the best time to visit Kerala backwaters?
A. September to March is the best time to visit Kerala backwaters although it can be visited throughout the year.
Q.How far is Thekkady from Munnar?
A. Thekkady is 122 kms away from Munnar.
Q.What is special about Kumarakom?
A. Kumarakom is famous for vembanad lake housing, variety of wildlife collection, lakes and rivulets.
Tour Description
| | |
| --- | --- |
| Duration | 7 Nights / 8 Days |
| Destinations | Munnar → Chinnar → Thekkady→ Spice Plantations → Gavi → Kumarakom → Alappuzha → CochinRead More |
| Tour Price | ₹ 45,900 /- |
Chat with our Trip Advisor