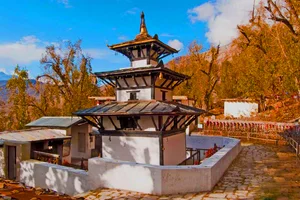 Muktinath Yatra has to be one of the most important and lesser known pilgrimages in India which is located in Nepal. People consider going here a very good luck and is mostly visited after completing the Char Dham Yatra of Uttarakhand. However, going there is not a piece of cake, and people require a lot of pre planning and preparation before visiting this place. We have curated the perfect list of frequently asked questions and pro tips to help you out in the perfect planning and execution of this trip.
Frequently Asked Questions (FAQs)
Q: What are the Temple Timings?
Ans: These are the temple timings for Muktinath Dham – 7 am to 12 noon and from 1 pm to 7 pm in the evening.
Q: What kind of Document is Required for the Flights and Permits?
Ans: All the passengers are required to carry a valid passport but the Indian passengers can also travel with a valid voter ID card / Pan Card / Aadhaar Card etc.
Q: What Kinds of Permit Cards are Required for Muktinath Dham Visit?
Ans: In case you are a Nepali citizen then you don't need permits to travel to Muktinath Dham. Otherwise you will be required to acquire a Annapurna conservation area entry permit from the Annapurna conservation area project office in Kathmandu. You can also get these permits at Pokhara. If you are trekking your way up the temple you will be required a separate TIMS permit available for 10$.
Q: What Type of Accommodation is Available for Muktinath Yatra?
Ans: In big cities around the region like Pokhara and Kathmandu there are several big and small hotels available which would suit your requirement and budget. Deluxe and budget accommodations are also present in jomsom region which comes with all the basic amenities and facilities. If you are in Muktinath then you can either choose to stay in jomsom or Pokhara.
Q: What Type of Food is Available at Muktinath Tour?
Ans: You can get any kind of food at Muktinath ranging from Indian to continental and you can even choose between vegetarian and non-vegetarian depending on your preferences.
Q: How Many Days are Required for the Trip?
Ans: A minimum of 4 days is required for a complete Muktinath Dham Darshan Yatra. If you want to travel more comfortably and peacefully then you can choose to travel for 6 days.
Q: What are the Available Medical Facilities in Muktinath Region?
Ans: A small hospital / medical care centre is present in Jomsom for normal treatment. In case of some serious situation Pokhara is the nearest city for medical treatment. For emergency rescue operation helicopter service will also be available from Kathmandu or Pokhara.
Travel Tips
On flight passengers are requested not to carry more than 15 kg of luggage.
Take precaution by keeping medicines for Diamox or aspirin to deal with altitude sickness.
If you have any health related issues then be sure to carry all your required medication prescribed by the doctor.
Drink a lot of water while trekking your way up to the temple
For a comfortable walking journey make sure to invest in a good pair of trekking or sports shoes.
Carry light luggage and only the necessary items. Do not over pack.
For extra comfort carry along a walking stick.
The weather condition is harsh be sure to carry sun glasses, sunscreen lotion, thick pair of gloves, socks, sweater, jackets, moisturiser, cap, chap stick etc. remember to keep yourself warm and protected.