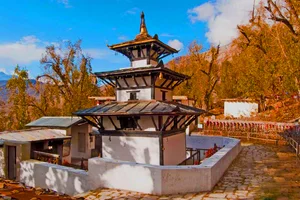 Situated on an elevation of 3,800 metres above sea level within the surreal landscape of Mustang Valley in Nepal Muktinath temple is a sacred place of worship for Hindus as well as Buddhists. The Vishnu Avtar of Mukti Nath sits majestically as the presiding deity and the presence of a Muktidhara that comes out of 101 spouts is the primary attraction here in the temple's backyard. Bathing under this water is believed to provide the devotee with moksha and is also said that visiting here after the Holy Char Dham Yatra is a must. The surroundings are unlike any other pilgrimage destination in the world with rocky barren expansive fields, wide open spaces and a mesmerising surreal beauty that makes a journey here well worth it.
Legend:
There are several legends related to this elegant temple 2 of the primary are related to Vaishnav and Tibetan Buddhist traditions:
According to the Tibetan Buddhist traditions Guru Rinpoche – the founder of Tibetan Buddhism is said to have meditated at Muktinath when he was on his way to Tibet. The presence of Buddhist architectural monastery style confirms this legend that initially this temple was a monastery.
The temple has found its mention in Vishnu Puran and a number of saints and sages have also praised this particular temple in their verses. The river flowing past the temple of Gandaki has found to be the source of all the Shaligram shrines of Lord Vishnu making it very important for Vaishnavs.
As per Vaishnav philosophy this place which is praised by Thirumangai Alvar is one of the most sacred places of worship. It is also said that only the very blessed and the gifted ones get the privilege to have a darshan of the deity of Lord Vishnu Mukti who is believed to give Jeevan Mukti or salvation.
History
One of the most significant Muktinath historical legends relates to how Muktinath Dham is actually an important Shakti Peeth. It is believed that sati's mouth or much had fallen right here and hence it got the name of Muktinath. There are numerous historical stories surrounding this iconic temple. Later on in 1815 the entire structure of the temple was dedicated to lord Vishnu along with Chenrezig by Queen Subarna Prabha. Saints have also graced this temple with their presence include Padmasambhava and Mahasiddhas at different times.
Architecture
The central shrine of lord Muktinath is also famous among the Vaishnav community for being one of the eight Srirangam. The temple in its stature is very small and simple to look at owing to its ancient legacy. It is also famed for being one of the most ancient temples for lord Vishnu. The Murti of the presiding deity is as tall as the height of a full-grown man and is made out of gold. The defining feature of this temple is the Parakram or the outer courtyard which consists of 108 bull faces out of which the holy water flows through it and devotees take a holy ritualistic bath under it even in the freezing weather conditions. A Buddhist monk is always present to conduct Buddhist rituals. Pilgrims go there to offer prasad or religious food offering to the deity as a part of their ritual. The surrounding beauty of this place is very grand and majestic which consists of vast barren field lands of the mustang valley which seems like a dream come true and is crowned by the snow-capped mountain peaks. Going there feels like a complete rejuvenation for mind body and soul.
How to Reach
By Helicopter – A helicopter journey takes around 1.5 hours to cover on either side from Kathmandu which is probably one of the easiest and comfortable options. After darshan and completing the puja rituals at the temple the chopper will fly you back to Kathmandu or Pokhara depending on your choice. For 1 helicopter 5 to 6 seats are available for travel and it is a good idea to get as many people with you as possible so that you could split the cost for Muktinath tour packages.
By Road – A simple road journey of Muktinath will occupy around 5 to 8 days in all. Thus journey can be covered in a jeep whose route goes like this – Kathmandu – Pokhara – Jomsom via Beni – Tatopani – Marpha. After Muktinath Darshan you can drive back to Jomsom and you can also stay overnight there.
By Flight – You can get off at the airport in Kathmandu and from here you can fly on to Pokhara which is barely a journey of around half n hour. Remember that the flight journey from Pokhara or Jomsom takes place really early in the morning and requires you to stay the night. The easiest and the most convenient way of travelling to Muktinath is from Kathmandu.
Best Time to Visit
Due to the temple's location on the foothills of thorong La the best time for you to visit will be between March to May and September or October. Avoid travelling during the harsh and cold weather conditions or even rainy season when the temperature and weather changes are unexpected. Summer time is also not a good time to visit since the sun is scorching hot and accompanied with uncomfortable changes. Since the yatra requires a certain amount of trekking and walking journey so it is vital for you to check the weather conditions before you leave otherwise you will encounter harsh weather changes.