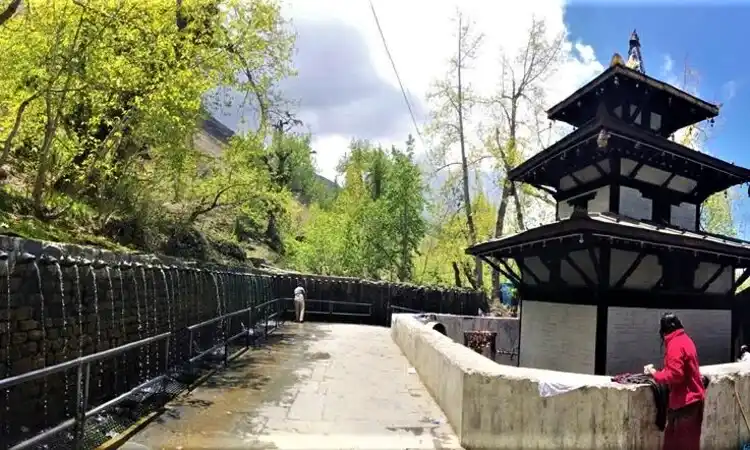 Tour Overview
Muktinath is one of the world's highest Vishnu temple and is located at the foothills of Thorong La mountain in Mustang, Nepal. People of Hindu community worship in this temple with great fervor and thousands of devotees embark on its journey every year to pay their homage to the reclining statue of Lord Vishnu.
Trip Highlights
Walk the spiritual tour of Kathmandu with places like Pashupatinath temple, Budhanilkantha Temple, etc.
Enjoy driving through the lush green beauty en-route to Pokhara.
A swift Jeep journey to Jomsom.
Worship Lord Vishnu at the Muktinath Temple and also pay homage at Jwalamalini Temple.
An elephant safari through the wilderness of Chitwan National Park.
Tour Itinerary
- Muktinath Yatra Packages
Day 1 :

Delhi – Arrival in Kathmandu
As per package guidelines, you will be informed to report at the Delhi Airport from where you will embark on this spiritual journey. When you will be briefed about the rules and regulation that you have to abide by in Nepal then, you will board a flight to Kathmandu.
You will be greeted by your tour representative I at the Kathmandu Airport who will tag along with you for the whole journey. He will help you in your transfer to your hotel room where you will first go through some formalities and later, will have the whole day at your own leisure.
Day 2 :

Sightseeing Journey of Kathmandu – Drive to Pokhara
Around 7 am, you will gather in the hallway for your sightseeing tour of Kathmandu and today you will visit places like Pashupatinath temple – an old temple of Lord Shiva which is built alongside the river Bagmati, Garden of dreams – a garden filled with beautiful amenities like amphitheater, urns, causeways, etc., Budhanilkantha Temple – an open-air temple where a reclining statue of Lord Vishnu is worshipped.
Afterwards, you will proceed towards a picturesque journey to Pokhara and on reaching there, you will enjoy an overnight stay.
Day 3 :

Fly to Jomsom from Pokhara and Darshan of Lord Vishnu
Today, you will catch an early morning flight to Jomsom and when you will reach there, first, you will check-in to your hotel room and then, you will walk up to the Jeep point from where you will hail a jeep to Muktinath Temple. For hailing a jeep, you will have to walk about 20 minutes and once, you reach at the temple parking point. You will enjoy a 15-minute trekking to the gates of the temple and will enjoy a VIP Darshan of Lord Vishnu there.
After Darshan, you will walk back to your Jeep and will be driven back to your hotel room.
Day 4 :

Fly to Pokhara from Jomsom and Its Sightseeing tour
Today, you will once again catch up an early morning flight to Pokhara and on reaching there, you will firstly check-in to your hotel room and later, enjoy a sightseeing tour.
In Pokhara, you will visit places like Gupteshwar Mahadev Cave – a famous Lord Shiva temple found in a 3 km long cave from where river Seti emerges, Davi's Fall – which is 500-feet long underground fall that beautifully stretches itself alongside the lush green beauty of Pokhara, Barahi Temple – a two-storey pagoda temple which can be reached through a boat ride on Phewa Lake.
Day 5 :

Pokhara – Sightseeing in Chitwan
After breakfast, you will be driven to a beautiful exotic location of Nepal famous for its wildering beauty – Chitwan. First, you will check-in to your hotel room and also have lunch.
Later, your tour guide will help you to proceed towards Chitwan National Park. On reaching there, you will be appointed your own Elephant ride which will takes you through the forest and you will also spot various exotics species here.
Day 6 :

Chitwan – Drive back to Kathmandu
After breakfast, you will resume your journey back to Kathmandu which is about 157 km away from Chitwan. You will also take a halt at Manakamana Temple where you will worship the Hindu Goddess Bhagwati and for this temple, you will also enjoy a cable car ride.
Upon reaching Kathmandu, you will be escorted to your hotel room for the night and dinner will also be served to you.
Day 7 :

Kathmandu – Departure for Delhi
After having breakfast, you will be transferred to Kathmandu Airport from where you will board a flight back to Delhi. And on that not, our representative will say his goodbye to you.
Package Includes
Roundtrip flight tickets from Delhi to Kathmandu.
All three meals in a nice Indian restaurant.
Pick-up and drop to Delhi Airport.
Accommodation will be in a three-star hotel with fine amenities.
VISA assistance before the journey.
Package Excludes
If you wish to choose a different meal plan then charges may apply.
Extra baggage cost will be handled by yourself.
Any personal expense like camera fees, shoe-keeping charges, etc.
Frequently Asked Questions
Q.What is the importance of Muktinath dham?
A. A char dham yatra remains incomplete without a visit to Muktinath dham.
Q.Which months are best to visit Muktinath?
A. September, October and november are the best months to visit Muktinath.
Q.Does muktinath have snow?
A. Muktinath experiences very little snowfall. During the peak snowfall season, it snows about 1 to 4 times.
Q.What is the flight duration from Pokhara to Jomsom?
A. The helicopter ride from Pokhara to Jomsom is 15 minutes long.
Q.How to reach Muktinath temple from Jomsom helipad?
A. From Jomsom helipad, the passengers will be taken to Ranipauwa on a 1.5 hours long jeep ride. From here the pilgrims will walk the final 20 minute long stretch to reach the temple.
Tour Description
| | |
| --- | --- |
| Duration | 06 Nights / 07 Days |
| Destinations | Kathmandu ➝ Pokhara ➝ Jomsom ➝ Muktinath Temple ➝ Chitwan ➝ KathmanduView More |
| Tour Price | ₹ 35,900 /- |
Chat with our Trip Advisor