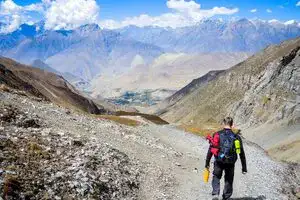 Muktinath trek is one of the most off beat spiritual trek tucked away in the Mustang valley of Nepal. It takes you through a very unique landscape of a cold desert that extends up to as far as the eyes can see. The barren mountains and plains are the dominant features through which this jagged trekking path is carved out. Going on this journey means braving the uncertain weather conditions, travelling in the most minimalist manner along with exerting yourself on such a high altitude, but no matter how testing the journey is the end destination of Muktinath Dham is totally rewarding. Bathing under the 102 Muktidhara is a soul rejuvenating moment that you can experience here. Cradled by the towering snow-clad peaks this place looks like something right out of a fairy tale book. No matter how difficult it may seem from the outside this pilgrimage can be easily done if you follow this guide to trekking Muktinath closely:
Starting point – Kathmandu / Pokhara
Ending Point – Kathmandu / Pokhara
Destination – Muktinath
Trip Duration – 10 days
Maximum Altitude – 3,800 metres above sea level
Extra Activities – Paragliding, Camping, Cycling, city sightseeing tour for Pokhara and Kathmandu
Trekking Itinerary for Muktinath:
If you decide on taking this journey via trekking (which is one of the best ways) then you can follow the given itinerary:
Day 1 – Arrive in Kathmandu
Day 2 – Kathmandu to Pokhara (6 hours scenic drive)
Day 3 – Pokhara to Ulleri (drive 1.5 hours; 6 hours of trekking)
Day 4 – Ulleri to Ghorepani (5 hours of trekking)
Day 5 – Ghorepani to Tatopani via poon hill (7 hours of trekking)
Day 6 – Tatopani to Ghasa (7 hours of trekking)
Day 7 – Ghasa to Marpha (9 hours of trekking)
Day 8 – Marpha to Kagbeni (7 hours of trekking)
Day 9 – Kagbeni to Muktinath (6 hours of trekking)
Day 10 – Muktinath to Jomsom (6 hours of trekking)
Note that the hours given depend on a variety of factors and are there to give you an approximate idea which you may take to cover the distance on foot.
Things to Remember for Trek:
Remember that you will be walking on a very rough terrain under unexpected weather conditions so carry a down jacket since you may face some cold winds by evening.
Walking poles will be a good addition to your must carry things since even if you don't need them, they will definitely come in handy in providing some extra support while walking on this difficult landscape.
While walking remember to cover your face with the help of a muffler since being a cold desert region there is a dearth of shelter here. Also remember to apply good quality of sunscreen before leaving for the trek.
Invest in a good pair of trekking / walking shoes which will prove to be very helpful in the long run and to deal with this rough and difficult terrain of the hills.
Include some essentials like a liquid hand wash, lip balm, water bottle with purification tablets, torch light with extra pair of batteries etc.
Lookout for symptoms for high altitude sickness since being located at such a height people may experience this sickness. Symptoms may include vomiting, dizziness, insomnia, dehydration etc. in this case you must make your way back immediately.
You can keep yourself safe from high altitude sickness then you should drink tea / coffee / hot soup etc.
Best Time to Go for Muktinath Yatra
Due to the unexpected behaviour of the weather conditions in Mustang valley it would be ideal for you to go for trekking in Muktinath during the months of September, October and November. You can even visit the temple during the time of monsoon since the valley lies on the rain shadow region of Nepal so it remains unaffected during the monsoon months of June, July and August. Avoid going there during the winter season since due to the snow fall during this time it gets difficult to go on ta trekking expedition. Another set of premium trekking month to Muktinath is during the spring time of March, April and May. This is also the time when tourism in Muktinath and Nepal is at its peak.
Permission Required for Muktinath Trek:
Since the temple is located in a heavily protected region within the Annapurna conservative each and every trekker is required to carry the permits named ACAP and TIMS, the cost of which are Rs. 1,000 NPR and Rs. 600 NPR respectively. This is in case you are travelling without the help of any travel agency since these permits are taken care of if you are travelling with an agency. In case you are not carrying the said permits you will be fined double these amounts n case a checking takes place.