Tamil Nadu, a state having the Kerala's back waters on one side, and the vast Bay of Bengal on the other. The state with such strategic location to naturally to be host to forests and parks, has all the rights to call itself the king of National parks and Wildlife sanctuaries. But when you are visiting such a vast empire of wildlife richness, the main question is, which places to visit? While each national park and wildlife sanctuary has its own uniqueness and beauty that no other can replace, we have compiled together a list of national parks and wildlife sanctuaries that are bound to make your next visit to Tamil Nadu an experience full of memories and joys.
1- Mudumalai National Park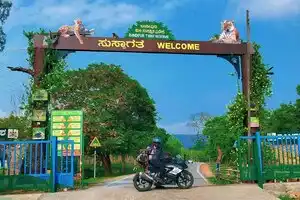 Located on the foothills of the beautiful and exotic Nilgiri hill range, this national park was established way back in 1940, and was the first national park of southern India. It is famous as one of the few places which house the royal Bengal tiger, as its roars echo across the national park. It also houses rare animals like leopards and vultures and various species of birds. With so many ferocious animals, the park officials do not allow trekking in the national park and allow private vehicles only on the outer peripheral of the national park. But to replace these they have a fun way, they have elephant safaris that take you through the national park in a 1 hour long journey, and can be used to accesses any of the guest houses which are present deep inside the rainforest. To enjoy these without waiting in the line too long, you can pre-book them.
Best Season to Visit– During the colder months of the year from December to March
Nearby Attractions- Wayanad national park, Bandipur Tiger reserve, Gopalaswamy Hills.
2- Indira Gandhi Wildlife Sanctuary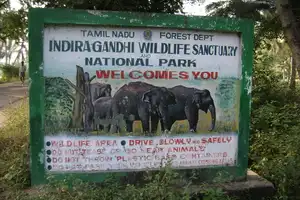 Named after one of the greatest PMs of our nation, it is also known by many as Anamalai Wildlife Sanctuary, derived from the mountain hills it is located on. It is one of the largest and most developed national parks in the country. You can make your way through the park by trekking or in one of the safari vans. The national park houses over 250 species of birds alone, while also having around 2000 species of plants. It also houses rare animal kingdom species like the giant Indian squirrel, lion tailed Macaque, brown mongoose and a wild dog variety known as Dhole. In its vast boundaries, the national park contains hundreds of wild elephants, many dams, a dozen waterfalls, and help centers to track down any lost soul. This well-developed park is must visit for a complete adventure trip.
Best Season to Visit- best to visit in months of October to February
Nearby Attractions- The forest bungalow is a must stay if you want to make the best out of your trip.
3- Guindy National Park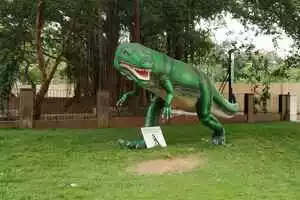 In Chennai but don't have a lot of time to travel anywhere else, then this national park is made just for you. Located within the buzzing city of Chennai, this is comparatively one of the smaller national parks on this list, but offers a wide variety of collection of birds ranging from parrots to woodpeckers and many more. It also contains various animal lives like black buck, spotted deer and various varieties of monkeys. It is especially popular among children as it provides them the chance to be much nearer to colourful species of animal kingdom than any other large scale national park. It is visited by 700,000 people every year, quite a lot for the 8th smallest national park in the country.
Best Season to Visit- Best to visit in the drier season from October to April but remember Tuesday is a holiday.
Nearby Attractions- The Mount shrine, Phoenix market, Anna central Library, Ashtalakshmi Temple.
4- Vedanthangal Bird Sanctuary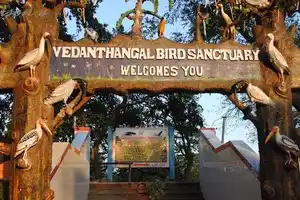 Situated near Chennai, it defines its place among the best as it is the country's oldest water bird sanctuary. Its existence dates way back over 200 years ago. Constituting of a number of large and small lakes, it provides house to a variety of birds like egrets, herons, darters, spoonbills, storks, teals, snake birds, pelicans. To give tourists the best view, there are more than a dozen view points in the form of high towers which allow visitors to enjoy the vast scenery and hear the chirping of birds. Binocular are also available on these viewing stations for better experience.
Best Season to Visit- to be able to see all migratory birds, November to January ending is the best time to visit.
Nearby Attractions- Another bird sanctuary nearby is Karikili Bird Sanctuary.
5- Mukurthi National Park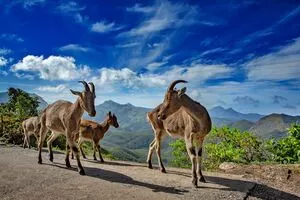 Just like the Mudumalai national park, this national park too is located next to the Nilgiri hill range, but on the other side. Nilgiri Mountains as it was formed solely to protect the local species of Nilgiri Tahr present in the region. It is also known by many as Nilgiri Tahr national park for this reason. It has also been declared as a UNESCO world heritage site, giving it an international status in the region. To enhance the experience of the tourists, the national park authorities allow people to trek and camp in the region. They also provide you with a guide who also acts as a cook, teaching you which are the clean streams to drink from to safe berries to try. He also narrates folk lore and warn you against disturbing local animals. This makes it a unique experience as you get to live closer to the nature.
Best Season to Visit- To make best use of the place October to march is the time to be there.
Nearby Attractions- Pykara water falls, needle rock sunset view point
6- Gulf Of Mannar Marine National Park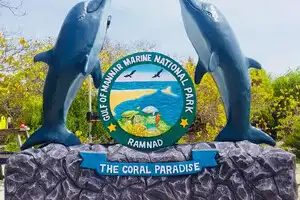 While all the other wildlife sanctuaries on the list are land based, this national park swims its way to sixth. It is part of the Gulf of Mannar bio-reserve and houses a wide variety of species. In order to visit this masterpiece of a national park, you will have to go under water diving through a boat that you can get from the nearby beech. It houses coral reefs, sea weed, sea grasses, salt marshes and mangroves. It also houses various endangered species such as the green turtles of Indian Ocean.
Best Season to Visit- To Experience less boiling water, October to April is the time to be.
Nearby Attractions- Dhanushkodi beach, Pamban Islands and old ruins of church and a station make it a nice combo for history lovers.
7- Koonthankulam Bird Sanctuary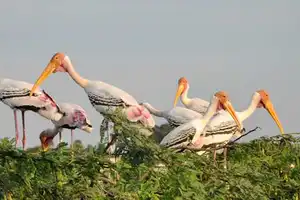 Coming in at 7th on the list, Koonthankulam houses the largest variety of water birds in the entire southern part of the country. Attracting over a lakh of birds around the year, the bird sanctuary is protected by the village communities present nearby the sanctuary. It is provided with fresh supply of water from two extremely large water tanks present in the nearby villages. The sanctuary has been declared protective land since 1994, and has continued to grow since then.
Best Season to Visit- To view the finest quality of flamingos, January to February is the time to be there.
Nearby Attractions- Kuzhupilly beach, Mattancherry palace
8- Anna Zoological Park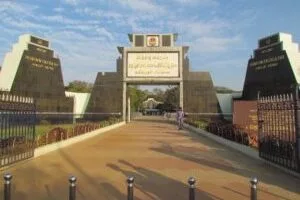 Also known by many as the Vandalur zoo, this zoological park is one of the most scientifically well maintained park in the nation. It was the first public zoo established in India in 1855, it is located in close proximity with the Chennai airport, making it an easy visit for all the air travelers visiting the region. There are about half a century of mammal species present in the park. Other than these it houses much more number of species of birds, about 25 species of reptile and fishes each, half a dozen species of amphibians, and over dozen of species of insects in the park. Quite a few if you think about the fact that it's a zoo and not a wildlife sanctuary. It aims at preserving various types of flora and fauna common to the region.
Best Season to Visit- It's an exotic experience from November to February.
Nearby Attractions- Marina beach, light house, san thome church, parthasarathy temple
9- Point Calimere Wildlife Sanctuary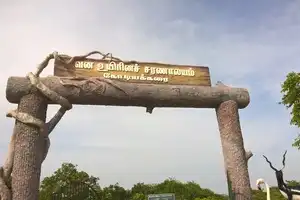 Serving as both a wildlife and bird sanctuary, this sanctuary has had a historical importance as it houses many ancient light houses, temples, palaces have filled the region making it an attractive place to visit as tourists get to see the beauty of the fauna and flora in the region while also providing them with an opportunity to visit monuments that show and reflects about time gone by.
Best Season to Visit- From October to March is the best time to visit.
Nearby Attractions- Devara temple, Ramar Padam
10- Amirthi Zoological Park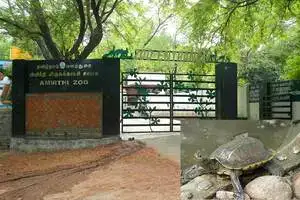 Vellore, a city made famous by its engineering college, you might be surprised to know that is not the only thing that Vellore houses as it is also house to a 25 acre zoological park. Developed at an initial cost of 3.5 crore, it houses crocodiles, elephants, tortoises, wild parrots, rabbits and many more as it attracts large number of students in the region on a daily basis.
Best Season to Visit- any month of the winter season is the best to visit.
Nearby Attractions- Sripuram golden temple, Vellore museum
So what are you waiting for, pack your bags and get on the extravaganza journey to Tamil Nadu this holiday season with your friends and family.