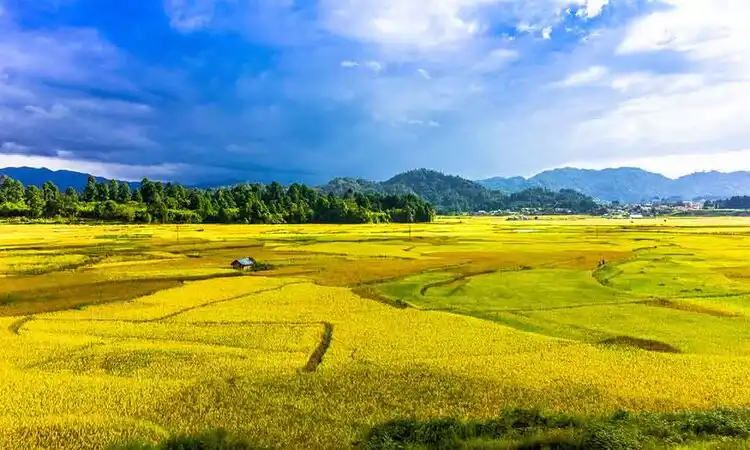 Tour Overview
North East India is known for its picturesque landscapes, untouched natural beauty and a plethora of cultures. People travel from far and wide to experience the grandeur of this enigmatic and diverse land. Our North East India tour package with IRCTC ensures that you get the taste of some of the most charming sites in this part of India. Fall in love with the wilderness and purity of North East India with us.
Trip Highlights
Fun water sports activities at Umiam lake near Shillong
Visit to the iconic living roots bridge in Mawlynnong
Cherrapunji excursion from Shillong
Exciting visit to Kaziranga national park
Guwahati sightseeing experience
IRCTC North East India Tour Itinerary
Day 1 :Arrival in Guwahati – Shillong (99 Kms / 2 Hours 50 Mines)
Once you arrive in Guwahati our tour representative will fetch you and escort you to the bus which will be scheduled to leave for Shillong, which is the capital of Meghalaya. Aptly named as the 'abode of clouds', Meghalaya is the smallest state in India.
En route you will be stopping at the Umiam Lake, which is located at a mere distance of 15km from Shillong. Here you will be treated with some fantastic adventure sports activities like boating, water cycling and kayaking.
Upon your arrival in Shillong, you will immediately be checked in to your hotel where you will be spending the night.
Day 2 :Shillong – Mawlynnong – Shillong
Your today's day will be reserved for a trek to one of the most awe-inspiring destinations of India, which will happen post-breakfast.
Mawlynnong is a 3-hour long car journey which covers around 90km. Streets in Mawlynnong is neatly lined with colorful flowers and extremely lush greenery. This place has not lost its touch with its originality and authenticity. One of the prime centers of attraction here remains the classic 'living root bridge'. The interesting fact about the root bridge is that they are handmade from the aerial roots of the rubber fig trees that are present on the shore. However, nobody knows the actual date of construction for this magnificent piece of artwork.
After taking in the unmatched beauty and creativity of the bridge, you will be driven back to your hotel for an overnight stay.
Day 3 :Shillong – Cherrapunji – Shillong (54 Kms / 1 Hour 45 Mines)
Next day, post-breakfast you will be taken to Cherrapunji, where you will experience some of the most unique and one of a kind works of nature. Your first stop will be the fourth largest waterfall in the world, Nohkalikai Waterfalls.
Situated at a height of 1,115 feet this falls is marked for being the tallest plunge waterfall and is located near the wettest place on Earth, Cherrapunji. The enticing green colored water in the pool of the waterfall attracts numerous tourists to witness the might. The spectacular falls are a must visit for thrill and adventure seekers. People also generally take up the trekking route to the base of this majestic waterfall. You will be taken to a viewing gallery from where you will be able to witness the sheer might and power of the waterfalls.
Next you will be taken to Dainthlen waterfall, which are a popular picnic spot and a relaxation zone for families. The place got named so because it is believed that a large snake (thalen) was killed here who lived inside a hole. However, now the place is a prime tourist spot and sees visitors on an everyday basis who marvel at its wonder.
Your last stop for the day in Cherrapunji will be Arwah caves, which is one of the prime destinations for adventure and thrill seekers. You will explore the narrow, dark caves by climbing up a metal staircase, leading up to its entrance. On entering you will witness a whole plethora of stalagmite formations which are mystical to look at.
After this, you will finally be taken back to Shillong where you will spend the time relaxing after spending an adventurous day.
Day 4 :Shillong – Kaziranga (252 Kms / 5 Hours 25 Mines)
Your trip to Kaziranga will commence early morning the next day after breakfast. Upon your arrival at one of the prime destinations in northeast India, you will be checked in to your hotel. After reaching there, you will be allowed to relax and rejuvenate yourself after a long journey. Your day will end with an overnight stay here and dinner.
Day 5 :Kaziranga – Guwahati (193 Kms / 3 Hours 55 Mines)
On this day you will witness the magnificent wildlife of North East, which will occur after breakfast.
Established in 1908 Kaziranga national park is home to two-thirds of the world's population of great one-horned rhinoceroses. The entire area of this wildlife heritage site is covered in elephant grass, marshland and dense tropical forests. There are numerous small water bodies peppered all over the park which offers relief to the animals and birds present within the national park's premises. You will experience the expansive wildlife biosphere, through a jeep safari, where you will encounter civet cat, wild bear, leopards, and Asiatic buffalo among a whole array of other wild animals.
After witnessing the wonderful wildlife, you will be taken back to your hotel, where you will gather your entire luggage and leave for Guwahati.
Day 6 :Departure from Guwahati
Your morning time will commence, after a hearty breakfast, on a spiritual note, with a visit to the Kamakhya Temple.
Dedicated to the mother goddess Kamakhya, this temple is extremely relevant for Hindus, since it is one of the oldest and ancient Shakti Peeths among the 51. A visit here is considered to be a sacred pilgrimage destination for people following Shaktism as well as Tantric.
After a devotional, you will be escorted back to your hotel from where you will head for your departure point, which can be a railway station, airport or a bus stand, which will be the conclusion of your trip.
Package Includes
Guided sightseeing tour
Pick up and drop off service
Meals as per itinerary
Accommodation as per itinerary
Driver allowance, parking charges, fuel price
Package Excludes
Any expense of personal nature
Extra charges in case of an emergency
Shopping, laundry, tipping, portage
Monument entrance fees, camera charges
Anything not in the inclusions section
Frequently Asked Questions
Q.How far is Umiam lake from shillong?
A. Umiam lake is 15 kms away from shillong?
Q.When is the best time to explore north east india?
A. The summer months are the best time to explore north east india.
Q.How old is the living roots bridge?
A. The living roots bridge is over 500 years old.
Q.When is the best time to spot animals in Kaziranga national park?
A. An elephant safari in the western zone is perfect for animal spotting in Kaziranga national park during the winter or summer months.
Q.What is the road distance between Guwahati and Kaziranga?
A. Kaziranga national park is about 193 kms away from Guwahati.
Tour Description
| | |
| --- | --- |
| Duration | 05 Nights / 06 Days |
| Destinations | Guwahati ➝ Shillong ➝ Mawlynnong ➝ Cherrapunji ➝ KazirangaView More |
| Tour Price | ₹ 24,900 /- |
Chat with our Trip Advisor