Ooty and Madurai with Rameswaram Tour
Home » India » Tamil Nadu » Ooty and Madurai with Rameswaram Tour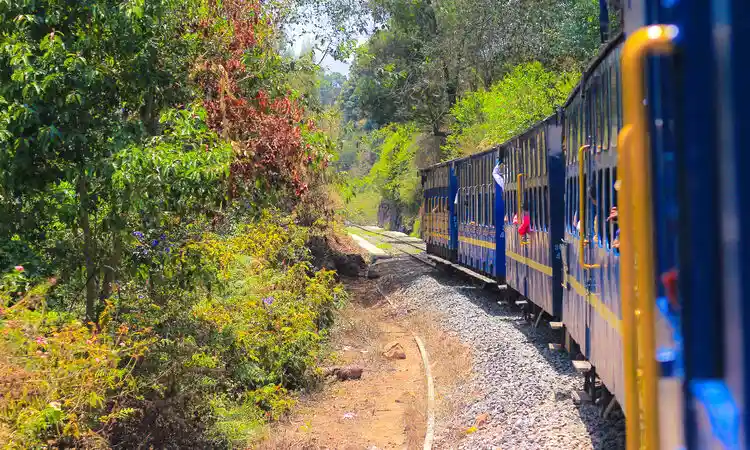 Tour Overview
Visit the mesmerizing South with an Ooty and Madurai with Rameshwaram tour package that will drench you in extreme spirituality and will rejuvenate your mind, body and soul. This refreshing tour with your loved ones will take you across the queen of hill stations (Ooty), Athens of the east (Madurai) and one of the most crucial destinations in the holy Char Dham Yatra circuit. Be a part of this magical 8 days and 7 nights of soul evoking journey.
Best Time to Avail This Package – October to June
Trip Highlights
Boating in Ooty lake
Day excursion to Coonoor from Ooty
Mettupalayam toy train visit (UNESCO world heritage)
Visit to Athens of India i.e. Madurai
Rameswaram, Tanjore and Pondicherry exploration
Ooty Madurai Rameshwaram Tour Itinerary
Ooty, which is also known as the queen of hill stations is one of the most visited and adored hill stations in Southern India. You will be checked in to your hotel upon your arrival and then you will be free to explore the beauty of this admirable town.
You can opt for a visit to the vast 65 acres of shimmering blue lake and go for some relaxing house boating in the calming sea with your family and loved ones. Your next favourite destination can be a spiritual 19th century, crystal white church of St Stephen's Church.
There is so much raw and natural beauty in Ooty that it leaves a lasting impression on the visitors. You will be living in your checked in hotel for the night.
Travel Tip – irrespective of the month or weather, be sure to carry your woolen clothes selection like sweaters and jackets before visiting Ooty since the average temperature during any season remains between 20 degrees Celsius to 9 degree Celsius.
Day 2 :Ooty Sightseeing (along with Coonoor excursion)
You will be witnessing the pure beauty of Ooty and Coonoor by going for a wholesome sightseeing tour. Make sure to wake up early in the morning to witness the famous magical Ooty sunrise from the picturesque tiger hill.
Your sightseeing tour in Ooty will start off from a refreshing visit to the famous Ooty Botanical gardens. Established in 1848 this neatly organized and beautifully decorated garden is adorned with some of the most vibrant and colorful flowers that burst into enigmatic colors in the blooming season of October to June. You have the option of playing Frisbee with your children and relaxing on the green carpeted grass.
Your next stop will be the toy train journey of Ooty to Coonoor. This one-hour train journey will take you through the charming and enchanting lush green valley that lies between Coonoor and Ooty.
You will then reach Coonoor where your sightseeing excursion will commence by a visit to Sim's park which is an oasis and a treasure trove of exquisite plant and trees species. There is also a small lake inside the periphery which not only adds up to the beauty of this park but is also a popular destination for migratory birds.
Your next place to visit in Coonoor will be Dolphin's nose, which will allow you to witness the grandness of the Nilgiri Mountains and the depth of the valley under your nose.
The final spot for visit in Coonoor before you leave for Ooty will be the famous double cascaded and the 2nd highest falls on Nilgiri Mountains (falling from a height of almost 250 feet), Catherine falls.
You will finally come back to Ooty, where you have the option of shopping for some souvenirs like aromatic essential oils, handmade chocolates and sweet treats, fragrant spices like nutmeg and cloves and the famous handmade range of cheese.
Day 3 :Ooty – Coimbatore (85 Kms. 3.5 Hours)
On this day you will be taken to one of the major states in Tamil Nadu, Coimbatore, which is nestled among the Western Ghats and is located on the banks of River Noyyal. You will be taken there with the help of Mettupalayam toy train (UNESCO world heritage) which will take you across 16 tunnels, 208 curves and 250 bridges. This will prove to be a journey to remember since you will be taken through the lush greenery of the surrounding hills that cover every inch of this valley.
Once you arrive in Coimbatore you will be immediately check into your hotel after which you are free to explore the breathtaking city on your own. You can try some of the most delicious local cuisines like, Pallipalayam chicken fry, kollu rasam and chutney, Arisi Paruppu Sadam and sweet Pathaneer Payasam. You can also shop for some local souvenirs and items like, local Coimbatore crafts and arts, Nalli Silk saree and local sweets.
Day 4 :Coimbatore – Madurai (206 Kms / 4 Hours 40 Mines)
In the morning you will be checked out and start your road journey towards the Athens of India, Madurai, which is located on the banks of River Vaigai, and the temperature here remains pleasant throughout the year. For the road journey be sure to wear something comfortable and light in order to make your trip more comfortable.
Once your arrival and check-in procedure is completed you will be assisted on a local sightseeing of this ancient city which date back to as early as 3000BC, starting with a visit to the centre of spirituality, Meenakshi temple. Dedicated to Goddess Parvati, this temple is a grand representation of majestic power and detailed architecture this temple is a must visit for devout Hindus.
Your next destination will be the architectural wonderland site of King Tirumala palace which showcases impressive decorations and unparalleled Indo-Saracenic styles which dates back to 1636. The opulence of this place is represented through its sculptures and murals that adorn the entire white and golden colored palace. Several Bollywood songs and sequences have been shot here.
You will then be guided to Koodal Azhagar mandir, which is dedicated to Lord Vishnu and is 1 of the 108 divya desams in India. Built by the Pandyas in the 16th century this temple till date stands tall and majestically with the delicately Designhed Rajagopuram overlooking the city.
Your day will end with a visit to Vandiyur Mariamman Teppakulam, which is also known as the grand tank of Madurai, and is connected through a smart system of underground channels that lead up to River Vaigai. The centre of the pond is home to a central Mandapam containing a traditional Vinayagar Temple and a quaint garden.
Day 5 :Madurai – Rameshwaram (170 km / 3 hours 30 Mines) – Madurai
Your morning excursion will commence from a visit to one of the holiest temples in India, housing one of the 12 jyotirlingas and a crucial point for the famous char dham yatra, Rameshwaram temple which houses magnanimous halls, towering gopurams and stunning sculptures.
There are holy wells and bathing spots within the temple premises so please keep in mind to carry along your toiletries and an extra set of clothing. Your visit to the famously nicknamed 'Varanasi of South' will be not only spiritual but also refreshing due to being surrounded by the vast, unending and shimmering sea.
You will be made to attend the puja rituals for the presiding deity, Sri Ramanathaswamy, before heading back to your hotel in Madurai.
Day 6 :Madurai – Tanjore (189 Kms / 3 Hours)
You will be taken to the epicenter or the birthplace of South Indian art, culture and heritage, Tanjore (formerly known as Thanjavur).
Once you arrive here you will be taken to your allotted hotel for completing the check-in procedure before heading out for a local sightseeing tour of this ancient city.
Starting on a holy note by visiting one of the most highly revered UNESCO world heritage site and popularly known as the 'great living Chola temples', Brihadeeswara. Built in 11th century and with the use of granite stones, this temple's Vimana tower is among one of the tallest in Southern India. The entire temple complex is adorned with sculptures, murals and ancient paintings dedicated to Lord Shiva and include shrines dedicated to Nandi, Parvati, Kartikeya, Ganesha and Sabhapati among others. During the visit be ready to walk with a pair of walking shoes of sports sneakers for a more comfortable experience.
You will then be escorted to the famous and the highly opulent Thanjavur Maratha palace and museum, which is an eloquent and beautifully styled palace radiating rich heritage and immense royalty. The museum present within the palace complex houses several age old weapons and centuries-old sculptures.
You will then finally be taken back to your hotel where your night will be spent.
Day 7 :Tanjore – Pondicherry (166 Kms / 4 Hours)
You will be headed to the Paris of East, Pondicherry, Post breakfast. It is known for its quaint and charming French influenced lifestyle which is combined with a traditional touch of South India. This coastal town is a massive tourist attraction where people flock to experience the wonders of this city, with colorful houses and brightly painted alleyways.
After reaching and completing your check-in formalities you will be taken on a guided local sightseeing tour of the city starting with a visit to Matrimandir, a spiritual edifice which holds vital importance in the life of yoga practitioners.
You can also gorge on some lip-smacking food that are famous in Pondicherry like, coconut curry, tandoori potato, curried vegetables and stuffed cabbage. The quirky cafes all along the entire town of Pondicherry offer unique and memorable experiences and are special in their own way.
Keeping in mind the limited time restraints you will be taken on relaxing visit to promenade beach, which is a 1.2 km stretch along the Bay of Bengal giving some of the most picturesque views of the unending yet calming horizon. Be sure to carry an extra set of clothing if you plan of taking a dip and cooling off in the cool waters.
After spending some quality time there you will be taken back to your hotel.
Day 8 :Pondicherry Departure
You will be escorted to the choice of your departure point in the morning after breakfast thus ending your trip.
Package Includes
Guided sightseeing tour
Pick up and drop off service
Meals as per itinerary
Accommodation as per itinerary
Driver allowance, parking charges, fuel price
Package Excludes
Any expense of personal nature
Extra charges in case of an emergency
Shopping, laundry, tipping, portage
Monument entrance fees, camera charges
Anything not in the inclusions section
Frequently Asked Questions
Q.How far is Coonoor from Ooty?
A. Coonoor is 45 minutes away from Ooty by road.
Q.When is the best time to explore south india?
A. October to February is the best time to go to south india exploring.
Q.Which god is worshipped in Rameswaram?
A. Shri Ram is worshipped in Rameswaram.
Q.Which is the best beach in Pondicherry?
A. Mahe beach is considered to be the best beach in Pondicherry.
Q.Why is Thanjavur famous?
A. Thanjavur is famous for its ancient temples, culture, architecture and exquisite handicrafts
Tour Description
| | |
| --- | --- |
| Duration | 8 Days / 7 Nights |
| Destinations | Ooty → Coimbatore → Madurai → Rameshwaram → Tanjore → PondicherryRead More |
| Tour Price | ₹ 74,900 /- |
Chat with our Trip Advisor