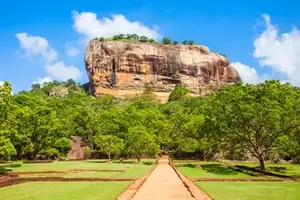 Rising above all tree cover and reaching for the skies is an astounding rock citadel structure in Sri Lanka known as Sigiriya. Normally referred to as the 8th wonder of the world, this is one of the most remarkable landmarks here which is also one of the 8 UNESCO world heritage sites in this island nation. The name literally translates into 'lion rock' and is a majestic rock fortress which holds immense historical and mythological significance. Once you look at the structure towering in front of you, it seems impossible for human beings to have accomplished such an elaborate and extravagant feat of impeccable design and architecture. This ancient red stone fortress city rises almost 200 metres above all the surrounding plain and was once a Buddhist monastery during the 3rd century. Here is everything you need to know about this magnificent and commanding structure.
History
This massive rock structures have always been a centre for fascination among the travellers and sages due to this a lot of settlers used to stay here. During the 3rd century AD the monks started residing inside the caves present here primarily around the base region. Suddenly during the 5th century AD Sigiriya gained immense prominence and importance since king Kassapa had chosen one of the most inaccessible summits as a site for his palace. This gave this rock structure a whole new meaning and relevance as the royal palace complete with pools, gardens, green areas and many more such elements which made it truly a paradise on earth. Several constructions also took place on the rock summit and places around it as a safety measure. Later on, after his defeat in the war where he was killed, the sigiriya rock was again changed back into a Buddhist monastery that functioned till 13th and 14th century.
Architecture
The citadel in itself is an irregular border of broadly elliptical plan with a walled citadel covering an area of around 15 hectares. The sides of this hills are strewn by boulders that are fashioned into different types of terraces and terraced gardens. Rock shelters and pavilions are also incorporated within this rock structure. The western part of the citadel is laid out in a symmetrically planned royal park which was also used as a pleasure garden for leisure activities. It also consists an elaborate water retaining structures and hydraulic systems for further beautification. The design concept and the planning mathematics that went into its making is among one of the most remarkable urban form of planning in Sigiriya.
What to Know Before Visiting?
The stairs that goes through the gardens at the base of the rock structure are very wide and easy to climb however do not let this deceive you into thinking that this will be an easy journey. There are several areas like terraces and platforms available where you can rest and stretch for a bit before commencing the journey for the top.
The 2nd phase of the climb will take you to a metal staircase dangling on the side of the rock face which will be very difficult to cover and it will be so high that it may induce vertigo or even some leg cramps. You will have to brave the shaky stairway and also explore some caves that comes en route.
Remember not to take pictures of the murals on the walls present in sigiriya which is considered an offence here. There are also guards present the entire way to make sure you don't capture a shot of the murals in a sneaky manner.
The final pathway to the top's entrance is guarded by 2 massive sets of claws and reaching up till this point is not a cake walk. The final ascent is also very testing and almost completely steep.
Beware of the wasps. There are several signs present all along the route warning the visitors of the presence of wasp's nest which may get agitated due to loud noises. These are mostly present on the top rock region mostly. To further avoid the risk of getting bitten by wasps make sure to wear clothes that cover your whole arms and legs.
How to Reach:
By Air – There are no direct flights connecting India to Sigiriya however there are regular flights from India to Colombo international airport in Sri Lanka. There are around 19 to 20 flights available from Mumbai, Bangalore, Chennai and New Delhi. From Colombo airport you can take another domestic connecting flight for Sigiriya or even choose from a bus service or book a cab or taxi. The overall distance from Sigiriya to Colombo is 150 km which takes around 2 hours to cover.
By Rail – This has to be one of the most cost effective and scenic ways of getting to Sigiriya from Colombo and the 1st class tickets may cost you around LKR 800 to 1,200. You will get your train from Colombo fort to Habrana which is located at a distance of just 15 kms. Here are the ticket fares: 3rd class – LKR 480 and 2nd class – LKR 600. Every day the train leaves at 6:10 am in the morning and is a journey of around 5 hours. This is the option mostly taken up by budget travellers and solo wanderers.
By Road – If you love driving then going on the winding routes in a rented private car is advised for you. You will be taking the A01 Kandy route to Ambepuss which will go via Kurunegala on the A06. You will be able to reach Sigiriya in a duration of around maximum 3 to 4 hours. You can also opt for the 2nd best route which drives on the Katunayake expressway. The bus journey also follows the same route as the car rental. From Colombo you can get on the bus no. 15 for Anuradhapura or bus no. 48 for Kaduruwela. Habrana is another place from where 3-wheeler transportations are available for Sigiriya.
Getting Around:
If you have a license and a valid ID proof then opt for exploring Sigiriya and some nearby tourist sightseeing places on a bike or a scooter. This may cost you anywhere in between LKR 300-1500 on a per day basis. Hiring a tuk-tuk is another convenient and local ways of getting around in Sigiriya. These 3 wheelers also take you to some close places which may require you to go off track. Sigiriya is a very beautiful and breath-taking holiday destinations with a rich cultural and traditional heritage for people interested in peace and natural beauty.
Where to Eat:
Being one of the most popular places of tourist attractions in Sri Lanka there are numerous eating joints scattered all around sigiriya. The food available is very economical and budget friendly while offering only authentic local food which tastes absolutely delicious. For a budget of around LKR 750/- per person you can have fulfilling food and a variety of delicacies. The cafes and restaurants there are also very quirky and colourful in their appearance which makes it even more inviting. Be sure to try the locally available tea which has garnered world wide popularity.
Places to Visit around Sigiriya:
Dambulla Cave Temple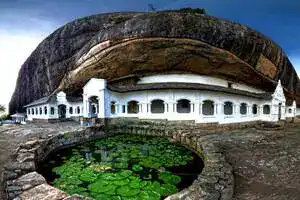 This world heritage site is one of the world's most well preserved and largest cave temple complexes in Sri Lanka. Surrounding the area are 80 different caves that are documented and several others remain undocumented. 5 out of these caves contain elaborate statues and fine paintings that are all related and dedicated to Gautam Buddha and his life. There are also various temples dedicated to gods and goddesses like lord Vishnu and Ganesh along with a range of murals covering an area of about 2,100 square metre. Before the arrival of Buddhism these caves served as residence for prehistoric Sri Lankan local community.
Distance from Sigiriya – 30 minutes
Kandy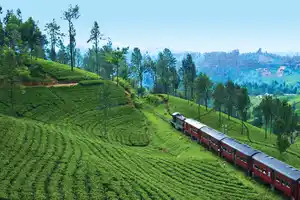 One of the major cities of Sri Lanka and was the last capital of ancient Sri Lankan kings. It is home to several tea plantations and even the iconic temple of tooth relic where the tooth of lord Buddha is stored and worshipped along with being a UNESCO world heritage site. The surrounding beauty here is impeccable and is covered in lush greenery with hints of colonial architecture adorning the entire hill town. This is the perfect getaway with your family, friends and even as a honeymoon destination.
Distance from Sigiriya – 2 hours
Trincomalee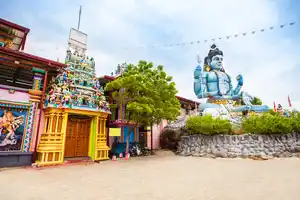 This is one of the most important and breath-taking port cities in Sri Lanka. It is a cultural and a traditional hub of this island nation. The historical relevance of this place is enough to attract travellers from far and wide and being in close proximity to the Sigiriya rock fortress it receives a throng of visitors from across the globe. There are several temples dedicated to various gods and goddesses here making it a very important spiritual place in the eastern province of sri lanka. Visitors indulge in soulful nature walks, eco-tourism and to take some time off from the busy day to day life.
Distance from Sigiriya – 1.5 hours
Minneriya National Park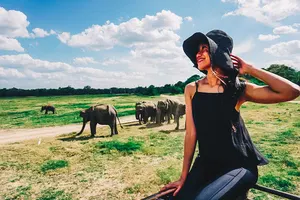 This incredible national park and wildlife sanctuary located in the northern central province of Sri Lanka is a protected catchment area consisting of a tank dating back to 3rd century AD. It holds immense historical importance since it was built by king Mahasen. Going on jeep safaris through the park and greeting the elephants while checking out the rich biodiversity here is something that you must do if you happen to visit Sigiriya. If visited during the post monsoon months you will get the opportunity to witness the wildlife here in full bloom. The open fields and spacious surroundings here make it a great way to spend your day with your family with a promise of thrill and adventure.
Distance from Sigiriya – less than 30 minutes
Kaudulla National Park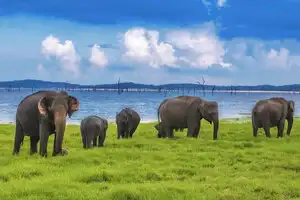 This is another preservation undertaking that was done by king Mahasen who is credited with the building of this place. It serves as a support system for a large variety of plant and animal life along with various mammals, fishes and reptiles. The region receives heavy rainfall during the monsoon season when there is an abundance of food and water for a complete ecosystem to thrive including herbivorous mammals. During the drought period you will witness large groups of elephants moving for the water sources. Animals which can be spotted include wild boar, Sri Lankan leopard etc.
Distance from Sigiriya – 1 hour
Frequently Asked Questions:
What time of the day is the best to visit?
Early in the morning is perfect for visiting Sigiriya. This will be a cool and crowd free time. You can even reach half n hour before they let the people in officially. This also a hack for avoiding being stuck behind a large group of slow-moving people.
How long does it take to climb all the way up?
It takes almost 1 hour to reach the top of sigiriya rock. It may take longer of you stop on your way to take pictures and check out some royal terraced gardens here. but if you are not in a hurry then it will take you a good 2 hours to get to the top.
What is the opening and closing time?
The entrance remains open throughout the year and open up early in the morning at 7 am and shuts down at 5:30 pm in the evening.
How much does it cost to climb up the rock face?
Just like most of the places of tourist attraction in Sri Lanka the entrance fees for locals and foreigners are different. For locals it is Rs. 50/- and for a foreigner it is Rs. 5000/-
Is the rock difficult to climb?
As long as you are able to make it to the rock entry before the day gets too hot then it is a simple climb. The only part where you have to be a little extra careful is while climbing up the final ascent that consists of metal stairs which gets difficult to climb when the rain falls. It is also almost at 90 degrees and one must watch their step while ascending to the top.
How was this rock formed?
The history of this rock dates back to the time when this entire region used to be covered in active volcanoes. The date of the rock has been traced back to 2 billion years ago and this is actually a giant hardened piece of molten magma which has plugged up a volcano. All the volcanoes are now a part of history of Sri Lanka.
Things to Do:
Nature Trails – Sigirya is surrounded by some of the most pristine and untouched naturally thriving beauty where taking a stroll amidst the beauty here is for every peace lover and nature enthusiasts. This is also the perfect way to spend some special time in nature with your kids and family as well. The 2 national parks located in their proximity offers you the opportunity to do so and relax around in the tranquil serenity here which will allow you to have an enjoyable and an entertaining time. feel closer to the natural beauty which will be a very awe-inspiring experience in itself and you will also be creating memories for a lifetime.
Cultural Tours – Most of the beauty and authentic richness of this city can be experienced on its country side where the local people and the tribal communities reside that adds a lot of heritage importance in Sri Lanka. You can indulge in village trails in the nearby places, come in touch with the local village life by interacting with the locals, seeing how organic farming takes place and get some useful as well as insightful tips on it and so much more to do here. this will require you to either hire a jeep service or get yourself a car, scooter or a bike which is all widely available on renting basis.
Hot Air Balloon Ride – If you happen to reach sigiriya on a clear sunny day then you can get yourself a guide and ask him to take you for a hot air balloon ride. In case you arrive early you can even witness the sun rising on the horizon from high up above in the sky from inside a hot air balloon, this will surely be one of those memories that one can never forget. You will be able to float above the lush green flora and fauna below that cover vast acres in this region. This service is run by the local government approved companies only. Remember to reach the sigiriya rock really early in the morning.
Boat Ride – After having spent the entire day exploring the ruins of the majestic sigiriya rock you can indulge in a relaxing and peaceful boat ride on the lake here which is a very good way to end the day. Enjoy the mellow chirping of the birds in a distance, slow moving sound of the water below and an overall feeling of serenity and peace surrounding you. This can be done before you head back to your hotel, where you can ask for massage and spa therapy session to unwind in the best possible manner after a whole day of tiring explorations.