South India Museum Architecture Tour Package
Home » India » Tamil Nadu » South India Museum Architecture Tour Package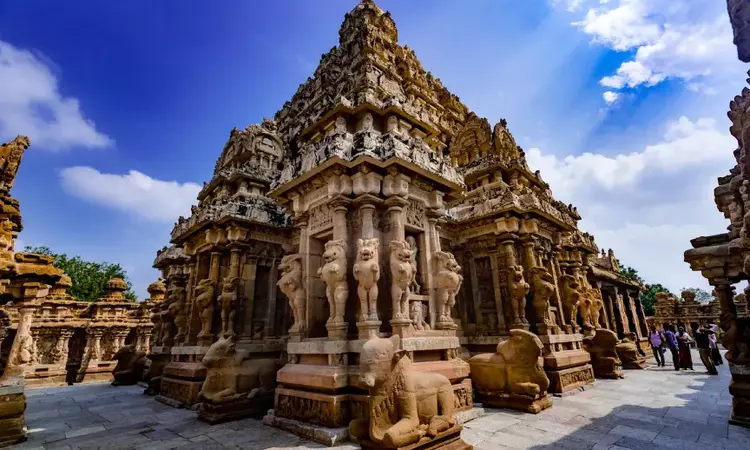 Tour Overview
This South India museum and architecture tour package offers you a glimpse into the rich creativity and age old heritage of architecture that adorns the entire structures of South India. Dravidian architecture is said to have been developed during the reign of Gupta dynasty with the earliest example dating back to 7th century. For duration of 9 days and 8 nights you will be taken across some of the most highly revered museums and impressive structures in this rich Deccan land.
Trip Highlights
Thirumalai Nayak palace, Meenakshi amman temple visit
Chettinad palace and pillaiyar rock cut temple visit
Rock fort and sri ramanathaswamy temple visit
Thanjavur maratha palace and shore temple visit
Chennai and Pondicherry museum visit and sightseeing
South India Museum Architecture Tour Itinerary
Day 1 :Arrival in Madurai (Athens of the East)
On arriving in Madurai (one of the oldest cities in South Asia) you will proceed for some local sightseeing expedition of the city, right after getting checked in.
Your first destination is located in the center of the city, Meenakshi Amman temple, which has been an extremely important site of pilgrimage since ancient times. Built in the form of concentric circles which allows the pilgrims and devotees to enter from all the sides, this temple is known for its 14 towering and brightly coloured gopurams, which serve as royal gateways into different shrines and various Mandapas. The sculptures on the gopurams depict various legendary scenes from holy Hindu texts. Be sure to wear your walking sneakers or sports shoes and also carry a hat, since the temple complex pans up to 14 acres.
Your next stop is 2KM away from the Meenakshi Amman temple, which is the unique Vandiyur Mariamman Teppakulam. This is actually a calm and peaceful pond located near the temple bearing the same name. There are 14 granite stairs on all the four sides of the pond leading into the pond water, there is a beautiful Mandapam in the centre of the tank which is a Vinayagar temple along with a garden amidst tall lush green trees. When the water dries up the resulting green field is used as a cricket ground for the local kids, and the tank is filled back during festival seasons.
Your next architectural marvel will be the palace of Thirumalai Nayak, which houses a museum with several antique artifacts. With intricate engravings, impressive patterns and the classic Dravidian architectural style, this palace has also been the site for several Bollywood movies. You can also offer your prayers at the ancient Meenakshi temple located inside the palace premises. After viewing the interesting sound and light show at 6:30 pm here, your sightseeing expedition will conclude here and you will be headed to your hotel.
Day 2 :Madurai – Chettinad – Madurai (76 Kms / 2 Hours)
This day is reserved for your day of excursion in Chettinad, where you will be headed to post breakfast.
Known for its artistic works of wonder Chettinad is a pristine destination where you will be made to visit the breathtaking Chettinad palace. This wondrous and serene palace is adorned and decorated with embellishments from all across the globe. Built in classical south Indian styles this temple looks like a palace frozen in time with ancient edifices and breathtaking opulence.
Your next destination will be Pillaiyarpatti, which is a majestic and an ancient rock-cut temple dedicated to Lord Ganesha. Built as per the early Pandyan architecture the temple has detailed carvings and historical inscriptions. There is no entry fee charge to witness this miraculous creation.
You will then be taken to one of the jyotirlingas and a crucial part of the char dham yatra Ramanathaswamy temple, which was built in the 10th century and is dedicated to Lord Shiva. The temple roof is made of granite and is adorned with ancient paintings and highly revered inscriptions and the temple walls tower up to a height of 865 feet. It is extremely important to take a dip in the holy water before entering the temple to offer puja rituals to the presiding deity, Lord Shiva.
After these vital visits, be sure to gorge on some of the delicious, local, Chettinad cuisines including the famous, Chettinad chicken curry, mushroom Chettinad, Kozhi Rasam and so much more.
The day will conclude with you making your way back to your hotel in Madurai.
Day 3 :Madurai – Trichy (132 Kms / 2 Hours)
Your morning time will commence with your next destination of Tiruchirapalli or known commonly as, Trichy, in short.
Here you will be taken to Rock Fort the formation of the rocks for this monolithic fort dates back to 3.8 billion years, making it older than the Himalayas. Its naturally fortified structure consists of 344 steps from the base to the top along with an 83-metre high outcrop.
You will then be guided to Sri Ramanathaswamy temple, which is constructed making use of the classical dravidial style and is extremely sacred for being one of the 108 divya desams which is dedicated to Lord Vishnu (the preserver). With 50 shrines, 21 towers and 39 pavilions this temple is also a major economic and charitable centre, which runs a free kitchen along with hospital and education facilities.
Your next location will be a temple dedicated to Lord Shiva, Jambukeswarar temple. There is a massive hall containing 796 pillars along with two magnificent and highly impressive gopurams with the entire temple complex being dotted with tall coconut trees. The temple's operating hours start in the afternoon from 3:00 pm to 8:30 pm, so be wise and plan your trip accordingly.
Your next destination will be the famous Erumbeeswarar temple, which is built on a 60 foot high hill which is only accessible through a flight of steps. There are two temple courtyards, along with two double-tiered gopurams. The temple rituals are performed six times in a day (5:30 am; 8:00 am; 10:00 am; 5:00 pm; 7:00 pm and 8:00 pm).
You will then be lead to your hotel allotted in Trichy.
Day 4 :Trichy – Tanjore – Pondicherry (201 Kms / 3 Hours 30 Mines)
Your journey towards Pondicherry will commence early in the morning, en route stopping at Tanjore which is known for its magnificent architecture and wonderful temple.
You will be taken on a short, local, sightseeing tour of Tanjore, where you will be taken to Brihadeeswarar temple, a Hindu temple dedicated to Lord Shiva. This temple was constructed keeping in mind the axial and symmetrical rules of geometry. The shape of the entire temple complex is rectangular, covering 790 feet. One of its main attractions remains the stone structure of the Nadi bull.
You will then head towards a UNESCO world heritage site of the great living Chola temples which are also known as the 'big temple'. This temple destination is well known for its magnificent architecture and impeccably detailed work of sculptures and edifices. Make it a point to attend the marvelous evening aarti.
Your sightseeing in Tanjore will come to an end with a must visit to Thanjavur Maratha Palace, which also houses a beautiful art gallery. The palace, as well as the museum, has a huge collection of ancient Chola bronze items and a splendid weaponry collection. The classical architectural style is something every visitor marvels at.
You will finally be headed towards the wonderfully quirky town of Pondicherry.
Here you will be spending your night and get ready for the next day of sightseeing expedition.
Day 5 :Pondicherry – Mahabalipuram (100 Kms / 2 Hours)
Your day at this beach town will commence after breakfast by paying a visit to some of the most magnificent locations that adorn this town.
Your local sightseeing will commence with a visit to the famous Sir Aurobindo ashram, which is dedicated to the famous freedom fighter and houses some of his thought-provoking writings. This place is devoid of any phones and loud noises making it the best spot for meditating.
The next location which you will be taken to is the Immaculate Conception cathedral. Built in the European gothic and neo-classical styles it is a haven for architects and creative individuals looking for an inspiration.
You will then be guided to a temple dedicated to Lord Ganesha Arulmigu Manakula Vinayagar Temple, which dates back to the pre-French occupation of Pondicherry, hence, making it a vital Hindu pilgrimage spot. The immaculate and impeccable designs attract visitors from all over the world. Be a part of the darshan where the timings are, 5:45 am – 12:30 pm and 4:00 pm to 9:30 pm.
You will then be headed to the beautiful and pious town of Mahabalipuram, which is an ancient port town known for its stone carvings and quaint temples which evokes a feeling of extreme spirituality. By the time you reach here, it would be late evening so you can explore the nearby areas on foot before clocking out for the day.
Day 6 :Mahabalipuram – Chennai (57.2 Kms / 1 Hour 30 Mines)
The day will be reserved for a local sightseeing tour of Mahabalipuram before heading off to Chennai.
This local expedition will kick start with a visit to the famous shore temple, which is named so because of its magnificent location overlooking the sea. This 8th-century temple is constructed using granite blocks and has been classified as a UNESCO world heritage site. Be sure to carry water bottles and caps since there are only limited shaded areas.
You will then proceed to witness another UNESCO world heritage site here, which is a 7th and 8th-century collection of temples, called group of monuments. Well known all over the world for being the focal point of architectural masterpieces with about 400 monuments in one complex, which includes one of the largest open-air rock reliefs in the world which is the descent of the Ganges or commonly known as Arjuna's penance.
On your way towards Chennai, you will also make a quick stop at Kanchipuram to witness some of the architectural marvels there like, Kanchi Kailasanathar temple.
Built in classical Dravidian architecture, and made with sandstone the temple is famous for its quirky carvings that include images of half-animal deities. It is one of the most prominent tourist spot and contains 58 small shrines dedicated to different forms of Lord Shiva.
Ekambareswarar Temple will be your next destination, which was built in 7th century utilizing the classic Hindu style of architecture. This temple is also home to several legends and is dedicated to Lord Shiva.
You will finally proceed towards Chennai where you will be spending the night in our allotted hotel.
Day 7 :Chennai Sightseeing
Your Chennai exploration day will begin after breakfast where you will be taken across some of the most magnificent monuments and structures that adorn this city.
Your first stop will be at Santhome cathedral, which is a 16th-century structure built by Portuguese explorers. Constructed in a pure neo-gothic style with pointed towers and ceilings complete with big French windows with glass paintings, this cathedral is one of the 12 apostles of Jesus.
You will then be guided towards the holy Kapaleeshwarar temple, which was built in the 7th century in traditional South Indian Dravidian architecture styles and is dedicated to Lord Shiva. The temple's 120 feet, colorful gopuram is one of the main striking features of the temple.
You will then be taken to the National Art Gallery, which is one of the oldest galleries in India and is built using red sandstones in the year 1906 using Indo-Saracenic style. It is home to magnificent paintings from Thanjavur, Rajasthan, Deccan regions and Kangra. It also has some of the most whimsical sandalwood sculptures.
Your final destination for the city of Chennai will be fort st. George, which is the very first English fortress in India and was built in the year 1644 and is one of the 163 crucial megalithic sites in Tamil Nadu. It is currently being used as the official building for Tamil Nadu's legislative assembly.
Your day will conclude by shopping for some local items and souvenirs like, pure mulberry silk sarees, Pandian bangles, locally made hand bags and chunky ornaments.
Day 8 :Departure from Chennai
Your trip concludes today when we transfer you to your preferred location for starting your departure journey to your respective cities.
Package Includes
Guided sightseeing tour
Pick up and drop off service
Meals as per itinerary
Accommodation as per itinerary
Driver allowance, parking charges, fuel price
Package Excludes
Any expense of personal nature
Extra charges in case of an emergency
Shopping, laundry, tipping, portage
Monument entrance fees, camera charges
Anything not in the inclusions section
Frequently Asked Questions
Q.What are the unique features of temples in south india?
A. Traditional south indian temples square chambered sanctuary topped off by a superstructure, towers and spires attached to pillared hall or porch.
Q.Who built the shore temple in Mahabalipuram?
A. Rajasimha is said to have got the shore temples built in the 7th century.
Q.What are the timings for Thirumalai Nayak palace?
A. The temple remains open for visit from 9 am to 5 pm, 7 days a week. The lunch break at the palace is from 1 pm to 1:30 pm.
Q.Who built the Chettinad palace?
A. Dr. Raja Sir Annamalai chettiyar built the palace that took 2 years to build.
Q.What is the special feature of Ramanathaswamy temple?
A. The temple has the longest corridor among all hindu temples in india.
Tour Description
| | |
| --- | --- |
| Duration | 8 Days / 7 Nights |
| Destinations | Madurai → Chettinad → Trichy → Tanjore → Pondicherry → Mahabalipuram → ChennaiRead More |
| Tour Price | ₹ 44,900 /- |
Chat with our Trip Advisor