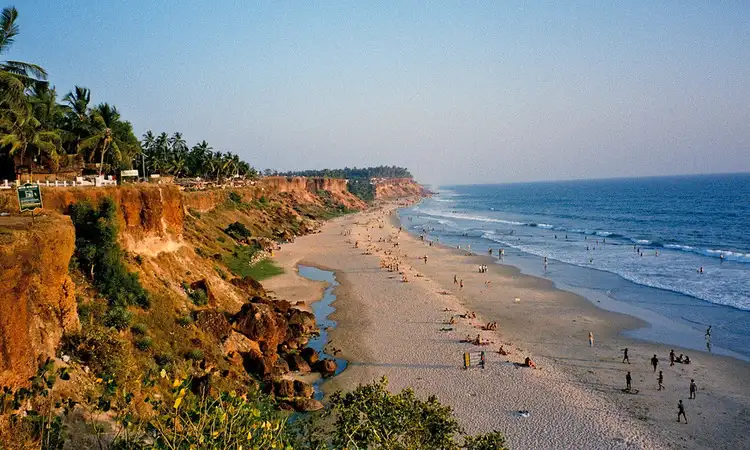 Tour Overview
It is a known fact that South India is already a rich religious and spiritual hub with numerous temples and ashrams. Along with this it is also home to some of the most opulent palaces, rejuvenating beaches and a plethora of wildlife. Our South India palaces and wildlife with beaches tour package panning over 14 days and 13 nights will make sure that you know that there is so much more for the Southern part of India to offer than just temples.
Trip Highlights
Visit to the 100 acre garden - Cubbon park
Bandipur jungle safari
Ooty and Coonoor excursion
Kochi sightseeing
Kovalam, Alleppey and Kanyakumari exploration
South India Wildlife Beaches Tour Itinerary
Day 1 :Arrival in Bangalore
Once you arrive at Bangalore, you will be immediately checked in to your hotel after which your brief sightseeing tour will commence.
You will be made to visit the Cubbon Park to start off with which is located in the lungs area of the city and pans over an area of 100 acres and is filled with lush green plants and green carpet throughout the area. The entire area is extremely well laid out and neatly lined out with walking and running paths. The park remains predominantly covered in greenery and colorful flowers.
You will then be visited to Tipu sultan's summer palace, where the Mysorean ruler Tipu Sultan spent his summer days. The main feature of the entire palace is the usage of teak in its construction and the well-adorned pillars, making it one of the main visiting sites for travelers and visitors.
Your final stop for the day will be the effluent and extremely opulent Bangalore Palace, and pans over a magnificent and sprawling area of 454 acres, this includes an amusement water park and the ground where music concerts take place.
Finally, you will be taken to your hotel and prepare for the next day of adventure.
Day 2 :Bangalore – Mysore (150 Kms / 3 Hours 30 mins)
Early in the morning, you will be driven to Mysore while stopping en route at Srirangapatna, which is one of the most relevant sites for Vaishnavite centres of pilgrimage in Southern India and was built in 9th-century making it a wonderful combination of Vijayanagar and Hoysala architecture styles.
You will finally reach Mysore, which is also popularly nicknamed as the 'city of palaces' and freshen up before heading out for a sightseeing tour which will kick start with a visit to Mysore Palace. This palace has elegantly designed ceiling patterns, magnanimous archways and a magnificent, fairy tale – like vibe.
Next striking palace on the list will be Jaganmohan Palace, which was completed in 1861, employing the usage of traditional Hindu architectural style this palace has always been the centre of culture, creativity and religion with detailed paintings of Lord Vishnu adorning the walls of the palace.
Your local sightseeing tour will come to an end with a visit to the famous and highly revered Chamundeshwari temple which is perched atop Chamundi hills and is one of the most magnificent temples in the South, with a bull structure that appears half way through the temple route.
Finally ending your day on a spiritual note, you will be taken back to your hotel.
Day 3 :Mysore – Shravanabelagola (81 Kms / 2 Hours) – Mysore
You will be escorted to Shravanabelagola, an extremely important tirth or pilgrimage site for Jains, after having a hearty meal in the morning. This holy centre of worship contains a massive 57 foot high Gommateshwara (1st Tirthankara of Jainism) statue and is the place where Chandragupta Maurya had died after converting himself into a Jain ascetic. Since the location is set atop a hill where 600 steps lead up to the entrance, you will be required to do that either bare foot or with just socks on. Be sure to be ready for this with adequate water and sun caps.
After this holy visit which will cover the majority part of your day, you wick be guided back to your hotel in Mysore.
Day 4 :Mysore – Bandipur (73 Kms / 1 Hour 20 mins)
On this day you will be taken on an excursion to the famous forested tiger reserve of Bandipur national park. Upon your arrival at Bandipur you will be taken to your forest resort where you will enjoy a wholesome jungle safari where you can spot various wild animals, birds and plants.
However this will be just a brief insight into the life of animals in the reserve you will be taken for a complete safari the next day.
Day 5 :Bandipur Jungle Safari
Bandipur is highly acclaimed for being a reserve for various animals like tigers, spotted deer, elephants among other endangered species and one could even spot some lesser known flora collection as well. Your Bandipur jeep safari will commence in the morning and end by the evening taking you across some of the known paths of the vast tiger reserve.
Things to keep in mind and etiquettes to follow while visiting an animal reserve:
Do not litter the park, keep a spare poly bag with you to collect all the used wrappers.
No cell phone usage or loud music is allowed within the park premises it scares off the animals and birds minimizing your chances of animal or bird spotting.
It is not advisable for you to enter the park while you have consumed alcohol, it can be a threat to your life.
Please speak softly.
Do not feed or leave food on the trail for the animals of the park.
Abide by the listed out park rules and regulations, they are designed keeping in mind your safety and the animal's wellbeing.
After a complete tour of the reserve you will be taken to your forest reserve where you will prepare for the next day.
Day 6 :Bandipur – Mudumalai – Ooty (42 Kms / 1 Hour 45 mins)
Your journey to the queen of hills (Ooty) will commence today, en route you will be made to visit the famous Mudumalai wildlife sanctuary which is home to 48 precious tigers among other 227 species of birds, 55 species of mammals and 50 different species of fishes. The sanctuary is a must visit for nature lovers, photographers and animal enthusiasts.
After an insightful jeep safari of the sanctuary, you will be guided to your hotel in Ooty.
P.s. remember to follow all the rules and regulations that are laid down by the sanctuary department and not take them lightly as they are for the welfare of you as well as the animals.
Day 7 :Ooty – Coonoor Excursion – Ooty
Today you will be taken to discover the beautiful and lush green hilly land of Ooty which is known for being a paradise for peace seekers and people wanting to take a break from the busy city life.
Starting with a mesmerizing visit to the artificial lake of Ooty, where there are arrangements done for you and your family to have a memorable time. Activities like paddle boating, house boating experiences among others are available.
Your next stop will be the famous botanical garden of Ooty which is home to 650 different species of plants that are colorful and vibrant which bloom during the months of October and June.
After spending some relaxing time on the grounds of the Botanical garden you will be taken for a visit to the final spot of Doddabetta Peak which is the highest mountain in the Nilgiri Hills. There are thick green forests surrounding the area making it extremely calming and picturesque.
Later you will be escorted to the charming town of Coonoor which is located at an elevation of 6,070 feet. Famous for its tea estates and beautiful tourist spots, Coonoor offers its visitors a ravishing view of the valley that is carpeted in every inch with different shades of green.
You will be taken to the beautiful Sim's park, which is built along different levels but each of these level offer equal tranquility. You can take your picnic mat along and spend some quality time with your family and loved ones or take a calming paddle boat ride in the lake present inside the park premises, while witnessing the glorious and pure nature surrounding them.
Later in the evening you will be transferred back to your hotel in Ooty.
Day 8 :Ooty – Coonoor (By Train) – Kochi
Early in the morning you will be taken to Kochi, but first you will be made to reach till Coonoor via a UNESCO Nilgiri Mountain Railway line, which takes you through the lush green valleys and amidst tall trees. Upon debarking from Coonoor railway station, you will be taken to your hotel in Kochi with the help of our tour representative.
You will be taken on a local sightseeing tour of Kochi post breakfast, starting with a visit to the humble Dutch Palace, which is also known as Mattancherry Palace. This entire palace is built in classical Kerala architectural style and is adorned with colorful yet highly detailed murals all over.
Your next stop will be at the famous Kochi spice market, where you will shop for some common yet organic common spices like fennel, fenugreek, curry powder and cinnamon among a whole list of others) which are extremely fragrant and aromatic and cannot be bought anywhere else.
Your next stop will be a religious one at St. Francis Church, which was built in 1503 making it the oldest European church present in India. Built using the gothic architectural styles, this church also once housed the great explorer Vasco da Gama's body after his death in Kochi during his 3rd visit to India, before being transferred to Lisbon.
In evening you can opt for gorging on some delicious local food preparations like, Malabar prawn curry, biryani kayees, Pazham Pori, Appam and Kurukku Kaalan among a whole plethora of others.
Your day will finally come to an end at your hotel.
Day 10 :Kochi – Alleppey (53 Kms / 1 Hour 20 mins)
From Kochi your road journey towards Alleppey will commence where upon your arrival you will be checked into a comfortable houseboat which will take you smoothly along the calming yet exciting backwaters of Kerala.
Keep in mind the following rules before setting foot inside a houseboat:
Make sure not to bring along a lot of plastic items or they will not just make a mess inside the boat but will also prove to be messy inside the water bodies.
Be sure to carry your sun glasses and sunscreen along in case you feel like soaking up some sun on the deck.
Bring along some food with you but again be sure not to throw any of it in the water.
Day 11 :Alleppey – Kovalam (160 Kms / 4 Hours 20 mins)
The houseboat will disembark you at Kovalam. This day will be entirely for your relaxation where you will relax and rejuvenate yourself on the sandy beach. Your hotel will be located right on the beach where you will have a calming time with your loved ones.
Things to keep in mind while on the beach:
Remember not to leave behind any trash on the beach since it is a natural place and even the slightest ignorance will degrade the serenity of the beach. In order to avoid this, be sure to carry a poly bag where you can take the trash back to your hotel where you have the option of dumping them in a dustbin. Please respect nature.
Please do not smoke on the beach, since it may disturb your fellow beach goers.
If there are any warning signs, do not ignore them.
You will finally be taken back to your hotel.
Day 12 :Kovalam Sightseeing
Kovalam is a gorgeous beach town located by Arabian Sea which attracts tourists from all over the world for its raw, natural beauty. Today you will be taken on a beach tour of the city starting with a visit to Pozhikkara Beach, which is one of the most quiet and serene beaches.
You will then be taken to Vizhinjam beach, where you can witness the 8th century rock cut caves and was one of the largest ports in the olden times. This beach is also used by fisherman to catch fishes.
Your next beach stop will be the calming Samudra beach, which is known for its serenity and extreme tranquility. You can opt for one of the famous therapeutic massages in the ayurvedic centres that are located all around the beach.
After spending a relaxing day and beach hopping and before heading on to your hotel, you will be free to enjoy some of the delicacies this city has to offer, including puttu and kadala curry, Malabar chicken biryani, avail among a whole range of others.
Day 13 :Kovalam – Kanyakumari – Kovalam
You will be taken to the Southern tip of India, Kanyakumari, where your city tour will commence kick starting with a visit to Vivekananda rock memorial, which was built in 1970, surrounded by the vast, shimmering seas and contains a meditation hall where visitors can perform meditation and find some peace.
You will then be taken to Thiruvalluvar statue which is a massive 133 tall feet stone sculpture, dedicated to the Tamil poet and philosopher, Thiruvalluvar.
Your next stop will be the refreshing Kanyakumari beach, which is extremely clean, and a point where 3 oceans meet which are Bay of Bengal, Arabian Sea and Indian Ocean. You can finally witness the beautiful sunset before leaving back for Kovalam.
Day 14 :Kovalam Departure
Today will be the day when your trip concludes after out tour representative drops you off on the departure location of your choice.
Package Includes
Guided sightseeing tour
Pick up and drop off service
Meals as per itinerary
Accommodation as per itinerary
Driver allowance, parking charges, fuel price
Package Excludes
Any expense of personal nature
Extra charges in case of an emergency
Shopping, laundry, tipping, portage
Monument entrance fees, camera charges
Anything not in the inclusions section
Frequently Asked Questions
Q.What is Mudumalai sanctuary famous for?
A. Mudumalai national park is famous for being a tiger reserve and is home to several endangered species like indian leopard, indian elephant etc.
Q.How far is Mysore palace from Bangalore?
A. Mysore palace is 160 kms away from Bangalore.
Q.Which tea is best in Ooty?
A. Ooty green tea is the finest tea in the world.
Q.How much does a houseboat in Alleppey cost?
A. A deluxe 2 bedroom houseboat in Alleppey can start from 9K rupees
Q.What is Kanyakumari famous for?
A. Kanyakumari is the only place on earth from where you can see the sunrise and sunset from the ocean.
Tour Description
| | |
| --- | --- |
| Duration | 13 Nights / 14 Days |
| Destinations | Bangalore → Mysore → Shravanabelagola→ Bandipur Jungle Safari → Mudumalai → Ooty → Coonoor → Kochi → Alleppey → Kovalam → KanyakumariRead More |
| Tour Price | ₹ 45,900 /- |
Chat with our Trip Advisor