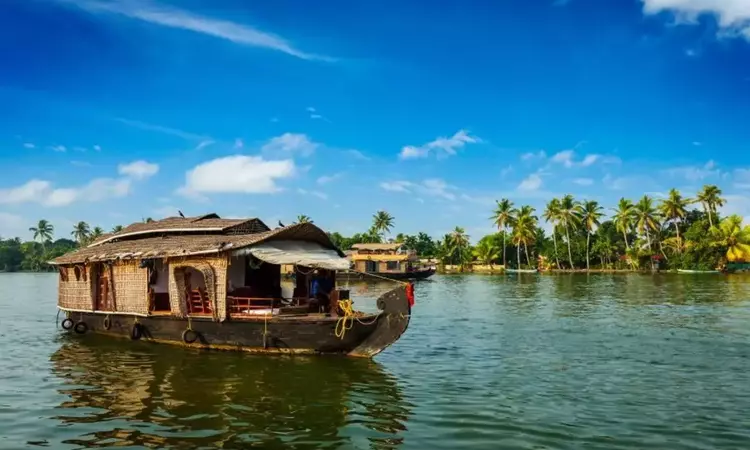 Tour Overview
If its tea estates then the Southern region of India definitely tops the list for being home to number of lush green tea estates which produce some of the most organic and delicious tea. The intention of our South Indian tea estate tour package of 7 days and 6 nights is to make you witness the impressive tea estates that neatly adorn the hills of South India.
Trip Highlights
Kochi city sightseeing tour
Munnar tea estate visit
Munnar national park exploration
Local sightseeing experience in Munnar
Ooty local sightseeing and tea estate visit
Tour Itinerary
- South Indian Tea Estate Tour
Upon arriving at the queen of Arabian Sea, Kochi, you will be taken for a brief sightseeing tour of the city after getting checked in to your hotel. This sightseeing will begin with a visit to one of the prime destinations of the Dutch Palace, which is a Portuguese palace built in classic South Indian architectural styles. You can take a look inside the palace which is adorned with murals and portraits of the various rajas of Kochi. There is also a tiny temple and a green courtyard present within the humble palace's premises.
You will then be taken to the religious site of St. Francis church, which was built in 1516, utilizing the gothic architectural style. This church was the place where the Portuguese explorer Vasco de Gama was laid to rest before his body was sent off to Lisbon, 14 years later.
Your evening will commence by witnessing a soulful traditional Kathakali performance before you head off to your hotel for resting.
Day 2 :Kochi – Munnar (130 Kms / 4 Hours)
Your journey towards the beautiful tea estate strewn city of Munnar will commence early in the morning in order to avoid any sort of delay to reach your final destination of Munnar city.
Upon arriving and getting checked in to your hotel, the refreshing and clean mountain air will not let you get tired. You will head out to spend the evening at Pothamedu viewpoint, where you can view the spectacular sunset amidst the pure, refreshing and lush greenery while gorging on some local and traditional food like, Appam, vegetable stew, Munnar fish, mixed vegetable Thoran and so much more.
Tips to follow while visiting the viewpoint:
Do not litter the point since the hills are highly susceptible to pollution and due to the absence of appropriate waste management, it is up to the visitors to make sure that the beautiful viewpoint remains clean.
Do not carry any plastic materials or carriers to further lessen the pollution. DO NOT be ignorant about throwing chips or any other wrapper casually around.
Day 3 :Munnar Tea State / National Park Sightseeing
The whole day today will be reserved for your tea estate plantation sightseeing among the tea bushes. This leg of the tour will take you through the brightly colored green plant leaves with women working together in unison you will have a rejuvenating experience. Neatly and clearly set on the lap of the mighty mountains you will have a phenomenal view of the surroundings. You will also be taken on a tea processing unit to see how tea is made. You also have the option of spending some time among the green hills, by taking a picnic along.
The best time to visit this valley range between the months of early February or late July. After selecting your packaging of tea you will be headed to your next stop of the first national park to be made in Kerala, Raja Mali / Eravikulam National park, which is also a UNESCO world heritage site. You can trek up the pathways in this national park; witness some unique flora, fauna and avian species before heading back to your hotel.
Things to keep in mind while visiting a national park:
If you come across any animals or birds, remember not to feed them.
Walk lightly and gently along the paths in order to not startle the animals.
Don't bring anything that turns into trash, like plastic wrappers, chips packets, cigarettes etc.
Remember to admire the nature in its undisturbed form and do not try to disturb the natural course of things by causing harm to the wild or interacting with the wild in any manner.
Day 4 :Munnar Local Sightseeing
Today's day is for you to admire the natural beauty of Munnar starting with a visit to a popular eco-tourism spot, Thommankuthu Falls, which is a majestic falls nestled amidst thick forests and aromatic tea plantation estates. You can take pictures of the place and indulge in activities like, rock climbing, bathing, nature walk and more.
Your next whimsical destination will be the rose gardens of Munnar, where one will be welcomed with a burst of colors. The innumerable different types of roses and flowers present here gives it a dream-like look. Be sure to carry along your camera (additional fees will be levied on entry) and avoid the professional photographers present there who will prove to be expensive.
Your next destination will be Blossom Hydel Park, which comprises of colorful plants and flowers and a river stream where people can do some boating and other water related activities like boating and zorbing. The migratory birds also make this park their stoppage point. There is also a pop up eating spot in case you get hungry making it the perfect place to spend some quality time with your family.
After a day filled with exciting and charming views you will be taken back.
Day 5 :Munnar – Ooty (242 Kms / 6 Hours 45 Mines)
You will be driven to the queen of hill stations, Ooty, early in the morning, a place which is known for its unparalleled natural beauty and lush greenery. The entire journey from Munnar to Ooty is extremely breathtaking with driving among the meandering road lined with nothing but green bushes and tea plantations.
After a lengthy and picturesque journey you will be checked in to your hotel in Ooty and the remainder of the evening is free for you to do leisure activities and try some of the traditional delicacies of Ooty like, Avial, Chettinad Chicken, traditional curry and rice among a range of others.
Day 6 :Ooty Local Sightseeing
The whole day today is reserved for you to experience the natural beauty of Ooty, which will commence with a visit to the colorful and beautifully adorned botanical gardens, which is one of the prime tourist destinations for nature lovers as well as peace seekers.
You will then be taken to the famous artificial lake attraction of the shimmering blue Ooty Lake. You and your loved ones can enjoy the boating services here which pans over an area of 65 acres.
Your next local sightseeing destination in Ooty will be Lamb's rock, which is 8 km away from the main town of Ooty and gives its visitors a stunning view of the Coimbatore plains, tea and coffee estates. Be sure to go to this place to have some picturesque and stunning views of the surroundings.
You will finally be taken back to your hotel and the evening is free for you to do some local shopping for souvenirs.
On this day you will be assisted by our tour representative to your designated departure location from where you will be free to head on to your final destination.
Package Includes
Guided sightseeing tour
Pick up and drop off service
Meals as per itinerary
Accommodation as per itinerary
Driver allowance, parking charges, fuel price
Package Excludes
Any expense of personal nature
Extra charges in case of an emergency
Shopping, laundry, tipping, portage
Monument entrance fees, camera charges
Anything not in the inclusions section
Frequently Asked Questions
Q.How can i spend one day in Kochi?
A. In one day visit to Kochi you can cover places like: fort Kochi beach, chinese fishing nets, St. Francis church and other historical buildings.
Q.How can I reach the top station in Munnar?
A. The top station is located 35 kms away from the heart of the city of Munnar and can be reached by taxi or any vehicle.
Q.When is the best time to plan a holiday in south india?
A. The best time to visit and explore south india is from October to February.
Q.What is Ooty famous for?
A. Ooty is famous for its tea plantations. Tea lovers can find any and every type of tea they can think of.
Q.Does Ooty get snowfall?
A. No. Ooty doesn't experience any snowfall.
Tour Description
| | |
| --- | --- |
| Duration | 06 Nights / 07 Days |
| Destinations | Kochi → Munnar → Ooty |
| Tour Price | ₹ 28,900 /- |
Chat with our Trip Advisor