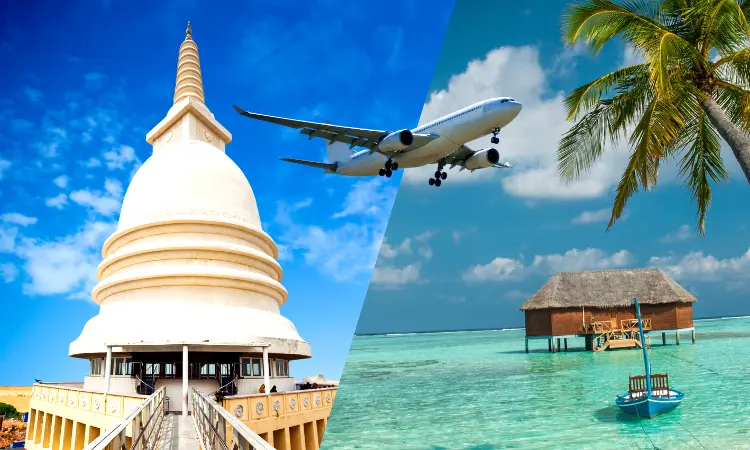 Tour Overview
Tired of the daily routine life and looking for an adventure with the people you love? Then the unique combination package of Sri Lanka and Maldives tour package is the answer to your prayers. The island is famous for being one of the scenic escapes with your family or loved ones whereas on the other hand a Sri Lankan visit will be a culturally and traditionally impressive experience. A 7 days and 6 nights of this wholesome package will enable you to get the best of both worlds through an exciting and enriching experience. Here is everything you need to know about this awesome package.
Trip Highlights
Exploring the beautiful surrounding of Maldives
Try out some fun packed adventure sports in Maldives
Explore the awesome and interesting heritage attractions in Kandy
Sightseeing of the city of Colombo
Sri Lanka with Maldives Tour Itinerary
Day 1 :Arrival in Maldives
On arriving at Maldives our tour representative will meet and greet you and will also transfer you at your luxury resort accommodation via a fun speed boat ride. The remainder of the day will be free for you to spend in leisure. You can go for a romantic stroll in the private beach area and take a refreshing dip in the water followed by a delicious dinner meal. You shall be spending the night in your resort accommodation here.
Day 2 :Sightseeing in Maldives
After having a delicious breakfast in the morning you can spend the day doing various activities like shopping in the nearby market places, you can even go and explore the nearby city of male while also exploring the various culture and traditions of the local male people here which is very unique. This will be a very one of a kind experience finally you shall be made to head back to your luxury resort here.
Day 3 :Leisurely activities in Maldives
After having a hearty breakfast in the morning, the remainder of the day will be spent in leisure. You can relax by the beach or indulge in various water sports activities like parasailing, snorkelling, cruising, scuba diving, surfing etc. this is a way of also exploring the colourful underwater coral life. Finally you shall be headed back to your hotel for an overnight stay.
Day 4 :Maldives – Colombo – Kandy
After having your breakfast in the morning the next leg of your package of will commence. You shall be assisted to the airport from where on you shall be headed for a wonderful visit to Sri Lanka. Upon your arrival at the airport in Colombo you will be greeted by our tour representative. You shall be transferred to Kandy via a road trip journey with en route a visit to Pinnawala elephant orphanage. Later on by the time you reach to your hotel accommodation in Kandy you shall be checked in and also be made a part of the fun cultural show here which will make you realise the rich heritage this place holds.
Day 5 :Sightseeing of Kandy
After having a delicious breakfast in the morning you will be taken on a complete sightseeing tour of Kandy where you will be made to cover some of the most interesting tourist destinations. This will include visit to places like the temple of tooth relic – which contains the tooth relic of Gautam Buddha and the royal botanical garden – displaying a variety of flora collection which cannot be found elsewhere along with some other interesting UNESCO world heritage sites. After this you shall be headed back to your hotel in Kandy for an overnight stay.
After having your breakfast in the morning you will be taken for a complete city tour of the magnificent city of Colombo. After getting checked out you shall be transferred from Kandy to Colombo where on arrival you will immediately be checked in to your allotted hotel for an overnight stay.
After a delicious breakfast in the morning you will be checked out and assisted to your departure location with the help of our tour representative. On dropping off you shall be free to head on to your desired destination. This will mark the end of your dual Sri Lanka and Maldives tour package.
Package Includes
Accommodation, meals as per request and smooth transfers.
Sightseeing of the places mentioned in the itinerary
Tickets connecting sri lanka to maldives
Driver allowance and fuel cost
Guide services (on request)
Package Excludes
Anything not mentioned in the inclusions section
Sightseeing to places not mentioned in the itinerary
Shopping or entrance fees
Adventure sports activities
Any bills or extra charges that has not already been discussed
Frequently Asked Questions
Q.How much does it cost to go to maldives from Sri Lanka?
A. A Sri Lanka with maldives package costs 45K rupees to 75K rupees.
Q.How to reach Maldives from Sri Lanka?
A. Its easy to get to Maldives from Sri Lanka due to the availability of regular direct flights connecting the 2 countries. It takes just 90 minutes of flight to reach Maldives from Sri Lanka.
Q.Is PCR test required for Maldives?
A. As of March 2022, it is not necessary to carry a PCR test to enter Maldives.
Q.Do i need a visa for Maldives?
A. A valid passport and a return ticket is required to get to Maldives. A no-cost visitor visa which is valid for 30 days will be issued to every tourist upon their arrival.
Q.What is Maldives most famous for?
A. Maldives is famous for its pristine beaches, vibrant culture, fascinating landmarks and expansive greenery. People also love to indulge in relaxation as well as water sports activities.
Tour Description
| | |
| --- | --- |
| Duration | 7 Days / 6 Nights |
| Destinations | Maldives → Colombo → Kandy → DepartureRead More |
| Tour Price | ₹ 45,500 /- |
Chat with our Trip Advisor