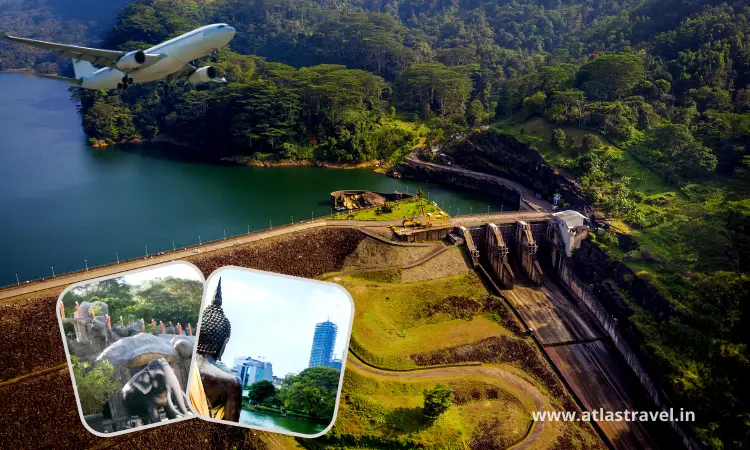 Tour Overview
Sri Lanka is an island country that attracts people who want to travel places which are yet to be commercialized. Filled with some rare places like Bentota, Sri Lankan has everything at one place to explore like exotic mountain trails, beautiful beaches, and world-famous architectural sites. So, if you wish for a vacation where you can connect to nature then, Sri Lanka would be your best pick. With our 5 Days and 4 Nights Sri Lanka tour package from Chennai, explore the popular destination of Sri Lanka and give yourself a delightful journey experience.
Trip Highlights
Learn how elephants are cared at Pinnawala Elephant Orphanage.
Explore some of the famous UNESCO world heritage sites in Kandy.
Watch how tea is actually prepared at tea estates of Nuwara Eliya.
Visit the quiet and scenic beaches of Bentota.
And try various sports activities in Bentota like surfing, boat ride, etc.
Sri Lanka Tour Itinerary from Chennai
Day 1 :Arrival at Chennai
Chennai – picked-up at Colombo Airport – a scenic ride to Kandy
When you will arrive at the Colombo Airport, you will be greeted by our tour representative who will be your guide through the various popular destination of Sri Lanka. When you will be picked-up by the tour guide successfully at the Colombo Airport then, you will be escorted to your first destination – Kandy. En-route to Kandy, you will also enjoy a stopover at the Pinnawala Elephant Orphanage.
Pinnawala Elephant Orphanage is a huge captive ground where wild elephants of Sri Lanka are nursed and nurtured and sometimes, people also come to volunteer at this orphanage to learn the nursing of the elephants. Apart from learning how elephants are being taken care, you can also enjoy the picturesque view that this place offers to its visitor.
After this, you will be asked to proceed towards Kandy and once you reach there, you will first perform some check-in formalities. Later, will enjoy a sightseeing tour of Kandy. You will see places like Tooth Relic Temple – locally called as Sri Dalada Maligawa which is an ancient Buddhist temple where an old relic of the tooth of Buddha is worshipped, Royal Botanic Garden – a royal garden which registers about 2 million people every year, is famous for a home to about 400 species of flower.
And later in the evening, you will be escorted back to your hotel room in Kandy.
Day 2 :Kandy – A scenic ride to Nuwara Eliya
When you will finish your breakfast, you will get ready to resume your journey towards Nuwara Eliya which will be your second destination in Sri Lanka. Nuwara Eliya which is treated as a colonized refuge by the traveler to visit some old colonized infrastructure. Popular for its beautiful trekking trails and greatly stretched tea estates, Nuwara Eliya will offer you a journey of a lifetime.
Upon reaching Nuwara Eliya, you will have to go through some check-in formalities and later, you will proceed towards a sightseeing tour of this city. In Nuwara Eliya, you will see places like Victoria Park – often regarded as a very well-maintained park in all of South Asia and will be good for those who like to enjoy quiet walks, Pedro Tea Estate – which is a popular tea plantation estate for taking its visitor on a guided tour of how Tea is actually made from the start, Gregory Lake – a calming lake where one can row and also have many restaurants where one can savor those Sri Lankan dishes.
During the evening, you will be guided back to your hotel room in Nuwara Eliya where you will enjoy your sleepover.
Day 3 :Nuwara Eliya – Early morning journey to Bentota
As per the schedule of the journey, you will be informed to make an early morning traveling because Bentota is a long distance to cover (about 220 km away). On your ride to Bentota, you can also witness the sunrise from your window and can soak yourself up in the thrill of nature.
Bentota is a small county popularly known for its quiet street walks, scenic beaches and also give you a tasteful experience of seafood delicacies enjoy in front of the silvering beach views. When you will reach Bentota, you will have to perform some check-in formalities and afterwards, you will enjoy some time to refresh yourself from traveling.
Later, the tour guide will ask you to proceed with your Bentota tour and during that, you will see places like Bentota beach – famous for the view of its hugely stretched Indian ocean and how thousands of palm trees line up the beach, Bentota Turtle Hatchery – where you will get to know how turtle lay their eggs and how baby turtles are born, Galapata Vihara – a very famous architectural site which attracts thousands of tourists every day because of its artistic beauty and harboring a secret underground tunnel that connects various other temples in the vicinity, Diyakawa Sport Centre – where you can enjoy various water sports activities like a banana boat ride and only a few kilometers away, you will dine alongside a beach where you will taste various Sri Lankan delicacies.
At night, you will be escorted back to your hotel room in Bentota.
Day 4 :Bentota – Private Ride to Colombo
Today, you will be informed to wake up early because the tour will take you on a walk to have a delightful sunrise experience at Bentota beach. After this, you will enjoy an Indian breakfast at your hotel and later, you will resume your journey towards riding back to Colombo from where this journey started. Upon reaching Colombo, you will check-in to your hotel room and enjoy your last night in Sri Lanka.
Colombo is a city which can take you to places that may have never visited like Galle Face Green – known for its picturesque waterfront filled with various food stalls, Gangaramaya temple – a spiritual abode of Lord Buddha, Viharamahadevi Park – a leisure park where one can enjoy various outdoor activities, Independence Memorial Hall – where many famous scriptures detailing how Independence is achieved in this country is displayed.
Day 5 :Colombo – Departure for Chennai
After breakfast, you will be driven to Colombo Airport from where you will board a flight back to Chennai and on that note, our representative will say goodbye to you.
Package Includes
Round-trip airfare tickets from Chennai Airport.
All three meals will be included.
VISA assistance will also be given but fees will be outside of this package.
Tour of every major landmark in Sri Lanka.
Package Excludes
Extra charges may apply if you choose a different meal plan.
Extra baggage, camera fees, will also be excluded from this package.
Frequently Asked Questions
Q.How can i get to Sri Lanka by train?
A. To reach Sri Lanka from Chennai you will need to reach Bangalore first and then get a flight headed for Sri Lanka international airport.
Q.Can we go to Sri Lanka by train?
A. No. Sri Lanka is a separate island country and due to its in-accessibility reaching there by train is impossible.
Q.Which Indian city is nearest to Sri Lanka?
A. India shares the nearest land border through the coastal town of Dhanushkodi.
Q.Is sri Lanka visible from Tamil Nadu?
A. No. Sri Lanka is not visible from anywhere in india.
Q.What is the ticket price for Sri Lanka from Chennai?
A. The ticket price for Sri Lanka from chennai ranges from 12K rupees to 30K rupees.
Tour Description
| | |
| --- | --- |
| Duration | 5 Days / 4 Nights |
| Destinations | Chennai → Colombo → Kandy → Eliya → Bentota → ColomboRead More |
| Tour Price | ₹ 59,500 /- |
Chat with our Trip Advisor