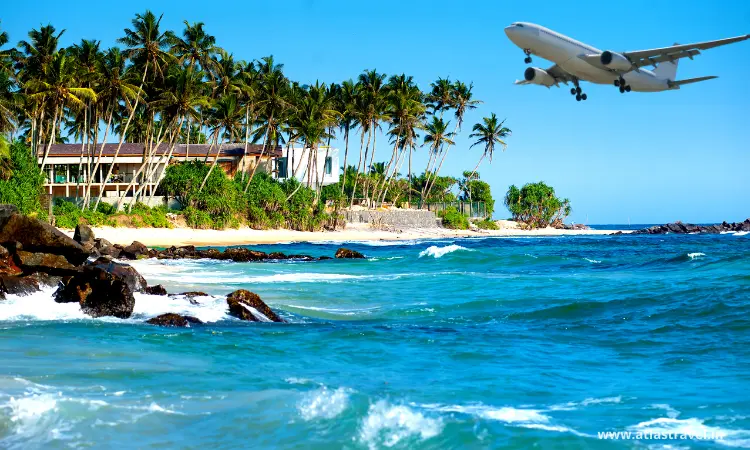 Tour Overview
Sri Lanka is an island country which is located on the South of Mainland India and is regarded as a wilderness refuge by the travelers. A country that has everything at one place to offer like pristine beaches, long mountain trails, a quirky walk through the tea and coffee plantation, mouth-watering seafood cuisines. So, it may be one of the reasons why thousands of people come to enjoy life in this country because maybe, they want to enjoy all these quirks of nature in its most authentic form. With our 5 Days and 4 Nights tour, enjoy a journey filled with a new adventure every day and maybe, in a journey like such realize your self-worth.
Trip Highlights
Learn about animal care at Pinnawala Elephant Orphanage.
Explore the UNESCO world heritage site of Kandy.
Journey to the beautiful tea estate of Nuwara Eliya.
Many fun activities to engage in the city tour of Bentota.
And other many sports activities to enjoy in Bentota like surfing, banana boat ride, etc.
Sri Lanka Tour Itinerary from Delhi
Delhi – Arrival at Colombo – Transfer to Kandy
Upon your arrival at Colombo Airport, you will be greeted a warm welcome by our representative who will guide you on your journey through Sri Lanka. Firstly, you will be transferred to the city of Kandy which will be your first sleepover. En-route to Kandy, you will take a halt at Pinnawala Elephant Orphanage.
Pinnawala Elephant Orphanage is 25 acres captive breeding ground of Wild elephants of Sri Lanka where they are very well nursed and nurtured by the workers and sometimes, by the volunteered people. Apart from seeing an elephant being taken care through different means, you could also fall for the mountains and forests area surrounding this orphanage.
Afterwards, you will leave for Kandy and on reaching there, you will first check-in to your hotel rooms and later, will proceed towards sightseeing tour of Kandy. You will visit places – Tooth Relic Temple – Sri Dalada Maligawa is an ancient Buddhist temple where relics of the tooth of Buddha is worshipped with great fervor, Royal Botanic Garden – a garden which attracts about 2 million people annually is famous for harboring 400 species of flower and more beautifully orchids bloom here.
And later, you will be escorted back to your hotel room in Kandy.
Day 2 :Kandy – Transfer to Nuwara Eliya
After breakfast, get ready for a wildering road trip through the beautiful green terrains of Sri Lanka and enjoy its calming serenity. The city is famously visited because of its English colonial street view as it is largely regarded as "Little England". Famous for its long mountain trails and tea plantation, Nuwara Eliya will give a journey that will remain with you forever.
On reaching Nuwara Eliya, you will first check-in to your hotel room and later, you will enjoy a sightseeing tour of this city. You will visit places like Victoria Park – very well-maintained park in all of South Asia is famous for quiet contemplation, Pedro Tea Estate – Sri Lanka has many tea estates but this one. In particular, is famous for taking its visitor on a supposed tour of how Tea is produced from point zero, Gregory Lake – a beautiful lake where one can enjoy rowing on still water and various street food dishes alongside the calming sanity of this lake.
Afterwards, you will be taken back to your hotel room in Nuwara Eliya where you will enjoy an overnight stay.
Day 3 :Nuwara Eliya – Transfer to Bentota
Today, you will wake for an early morning transfer to Bentota because it is a long journey. Bentota is about 220 km away from Nuwara Eliya so, you will enjoy an early morning transfer and maybe, you will also witness the sunrise from your private vehicle.
Bentota is famous for harboring untraveled beaches and the seafood restaurant where you can enjoy authentic Sri Lankan delicacies. On reaching, you will first do some check-in formalities and later, enjoy a freshen up session in your hotel room in Bentota.
Later, you will be asked to proceed with Bentota sightseeing tour where you will visit places like Bentota beach – famous for overlooking a vast Indian ocean and palm trees lining the beach, Bentota Turtle Hatchery – where you can learn how turtle lay their eggs and how some of them come out of their shell to see life, Galapata Vihar – a very popular artistic structure that attracts thousands because of its posing beauty and an underground tunnel that connect other temples in the area, Diyakawa Sport Centre – where you can enjoy various water sports activities and some kilometers away, you can taste many famous cuisines of Sri Lanka.
Later in the evening, you will be transferred back to your hotel room in Bentota.
Day 4 :Bentota – Back to Colombo
Early in the morning, you will proceed to have a delightful experience of the sunrise at the Bentota beach and afterwards, you will be taken back to your hotel room where you will enjoy breakfast. And later, you will check-out of your hotel room as you will be resuming the journey back to Colombo.
Colombo is about 101 km away from Bentota and on reaching there, you will first check-in to your hotel room. And later, you have the full day to enjoy this unique city on your own. You can check the night market here from where you can buy some souvenir as a token of visiting Sri Lanka.
Day 5 :Colombo – Departure for Delhi
After breakfast, you will be driven to Colombo Airport from where you will board a flight back to Delhi and with this, our representative will say his goodbye to you.
Package Includes
Airfare will be included upon your request.
All three meals will be offered as per Sri Lankan standards.
VISA assistance will also be upon your Airfare request.
Tour to every major landmark of Sri Lanka.
Any diet plan like vegetarian and non-vegetarian will be done upon your request.
Package Excludes
Extra charges may be applied if you choose a different diet plan.
Extra baggage, camera fees, will be handled by yourself.
Frequently Asked Questions
Q.Are there direct flights for Sri Lanka from Delhi?
A. Yes. there are direct flights from Delhi to sri Lanka by indian airline companies such as air india, spice jet and jet airways.
Q.What is the flight duration from Delhi to Sri Lanka?
A. It takes 3.5 hours to 4 hours to reach Sri Lanka from Delhi.
Q.Is sri lanka cheaper than india?
A. Yes. sri lanka is 31% cheaper than india.
Q.How much will a sri lanka package from Delhi cost?
A. A sri lanka package from delhi, on an average, costs 48K rupees to 50K rupees.
Q.Do Indians need a VISA to visit Sri Lanka?
A. Yes. Indians do need a VISA to visit Sri Lanka.
Tour Description
| | |
| --- | --- |
| Duration | 5 Days / 4 Nights |
| Destinations | Delhi → Colombo → Kandy → Eliya→ Bentota → ColomboRead More |
| Tour Price | ₹ 59,500 /- |
Chat with our Trip Advisor