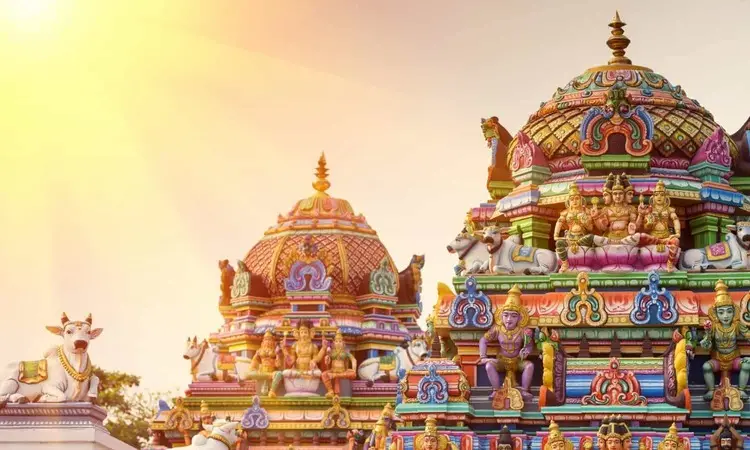 Tour Overview
The Deccan plateau has always been the centre of trade and cultural activities along with being the land that produced some of the most powerful dynasties in the history of India. These dynasties and kingdoms used to showcase their power and might by creating some of the most magnificent and splendid temples in the history of temples. With towering Shikhara, elaborate gopurams and finely designed gateways, each temple in Tamil Nadu stands tall and represents unparalleled architectural styles. With our Tamil Nadu Temple Tour Package you will be taken through one of the most spiritually evoking journeys of your life.
Trip Highlights
Kapaleeswarar temple visit along with visits to parthasarathy temple and cathedral
The great living cholas, airavatesvara temple (UNESCO world heritage site) darshan
Trichy local sightseeing and excursion from Tanjore
Exploring the temple town of Tanjore
Madurai, Rameswaram and Kanyakumari temple exploration
Tamil Nadu Temples Tour Itinerary Package
Day 1 :Arrival in Chennai
You will be arriving in Chennai early in the morning. Our tour representative will escort you from your arrival location to your allotted hotel. After checking in and refreshing up, you will be taken for a temple and church sightseeing tour of the city.
Your temple sightseeing will begin with a visit to the Kapaleeshwar temple, which is dedicated to a form of Lord Shiva's consort, Goddess Parvati. Built around 5th century CE by the ruling Pallavas using the glorious Dravidian architectural style, this temple houses inscriptions dating back to the 12th century. The 120 feet phenomenal Gopuram towers over its visitors and is one of the major tourist sites in Chennai.
After paying your respects to the deity you will be taken to another major site for church-goers and a must visit for everyone. This cathedral was built in the 16th century by Portuguese explorers utilizing the neo-gothic style of architecture. The gleaming white structure radiates peace and serenity. The insides of the church have glass painted windows and is lined with benches where people can go and offer their prayers.
Your next stop will be Parthasarathy temple, which is an 8th-century structure and is dedicated to Lord Krishna. Being one of the oldest structures in Chennai, this temple is a major visitation sites for visitors who are on a temple trip. The Mandapas and gopurams are decorated and adorned with carvings and engravings dating back to the age of Mahabharatas which is a standard feature of the South Indian temple.
Finally, you will be escorted back to your hotel where you will be spending your nighttime post dinner.
Day 2 :Chennai – Tanjore (346 Kms / 6 Hours 15 Mines)
After having your breakfast you will be made to proceed towards Tanjore. Post-arrival, you will be checked in to your hotel where you will relax and freshen up. After relaxing for a bit you will be taken for a sightseeing trip of Tanjore.
Your sightseeing tour will begin with a visit to Brihadeshwara temple, which is also known as the 'great living Chola Temples'. The entire temple is built using granite stone and its Vimana Tower boasts of being the tallest one in the whole of South India. This temple is famed for being one of the most frequented tourist destinations in Tamil Nadu, where visitors come to check out the magnificent sculptures and decorations.
Your next stop will be Airavatesvara temple, which is dedicated to Lord Shiva and is known for its elaborate and extremely detailed temple designs. A UNESCO world heritage site, this temple was built in the 12th century. Apart from this particular temple, there is a collection of 18 other large, medieval temples in Kumbakonam area.
Your final temple stop for the day is the Gangaikonda temple, which is dedicated to Lord Shiva and there are magnificent temple structures within the premises. Surrounded by neat green gardens the complete temple dictates and represents the true aura of the Cholas.
Finally, you will head back to your hotel where you will be served delicious dinner and you will also be spending the night here.
Day 3 :Tanjore – Trichy – Tanjore (59 Kms / 1 Hour 15 Mines)
After having your breakfast, you will be taken to Trichy (Tiruchirappalli) which is located quiet close to Tanjore. Here your day will be spent in the local sightseeing excursion of the city.
Here your trip will start off with a visit to Rock fort temple. The name given to this place owes to its construction on a rock. It is said the temple's creation can be dated to one billion years ago and is one of the major tourist sites in Tamil Nadu. The temple has an interesting an extremely violent past as well. The fort inside the temple perimeter has served a number of kingdoms as a ways of their defense.
Your next stop will be Thiruvanaikaval temple, and just like almost every temple in South India, this temple is also known for its splendid and magnificence. Dedicated to Lord Shiva, this centre of spirituality is one of the major sites of worship with glorious corridors, towering gopurams and impressively made sculptures.
Your final sightseeing destination here will be the famous Vayalur Murugan temple, which, as per the name suggests, is dedicated to the deity Muruga. Built during the reign of the Cholas 1200 years back, this temple has ever since been the prime centre of pilgrimage for Hindu devotes.
After a day of visiting some of the most religious sites in Southern India you will be driven back to Tanjore to your allotted hotel, where you will be spending the night.
Day 4 :Tanjore – Madurai (165 Kms / 4 Hours)
You will proceed towards Madurai after having a delicious breakfast in the morning. Once you arrive in Madurai you will be checked in so that you could freshen up and get ready for a small local sightseeing tour of the prime tourist destinations in this impressive city.
You will be made to visit one of the most important temples in Madurai which is sri Meenakshi temple. This temple is situated on the southern banks of river Vaigai which is dedicated to Lord Shiva's consort, Goddess Parvati. Having being mentioned in Tamil Sangam literature the temple's construction dates back to 6th century. A prime pilgrimage destination for Shaivites the temple also has Vishnu scriptures and narratives present. The temple's massive complex attracts fleets of visitors from across the globe. Within the temple walls there are numerous sculptures depicting Lord Vishnu, Goddess Parvati and Lord Shiva which gives the visitors a fascinating view of the past.
Your next destination here will be Thirumalai Nayak Palace, which is a 17th-century wonder constructed by the king of Madurai's Nayaka dynasty. The design and structural make of this palace is not just magnificent to look at but is also known for having withstood the harsh test of time. The massive columns, elaborately designed archways and the overall construction of the temple represent a beautiful mix of Dravidian and Islamic styles of architecture.
Your final stop for the day will be at the Azhagar Kovil temple, which houses the presiding deity of Sundarabahu Perumal in a standing position. Surrounded by mesmerizing lush greenery and nestled among the pure religious vibrancy of the lord, this temple is a must visit and cannot be opted out from visiting.
Day 5 :Madurai – Rameswaram (169 Kms / 3 Hours 35 Mines)
You will be headed towards Rameswaram post breakfast, where you will reach by afternoon. Post your arrival here you will be taken for sightseeing of some of the most visited tourist attractions, starting with the famous Ramanathaswamy temple.
Considered as one of the best pilgrimage sites for Shaivites, Vaishnavites and Smarthas this temple boasts of housing the longest corridor amongst every Hindu temples in India. Located in the holy pilgrimage site of Rameswaram, this temple is made with stunning and splendid architecture which towers at a height of 640 feet to 400 feet.
Located on the opposite shore of Rameswaram this site is one of the 64 most sacred baths present in Rameswaram, Agniteertham. People come here to take a holy dip in its waters and perform various holy rituals including Purohitams, Yangnya and Tharpanam. Pilgrims and devotees strongly believe that a bath in this holy water will get rid of all your sins and make you pure again.
Your final site for the day is located at the tip of Pamban Island, Dhanushkodi. It is said that due to a violent cyclone the entire settlement was abandoned. Visitors can reach this place via road. This enchanting place will be a one of a kind experience for you.
Finally, you will be taken back to your hotel where your day will conclude.
Day 6 :Rameswaram – Kanyakumari (250 Kms / 6 Hours)
Your morning time will commence in the morning post breakfast, where you will be headed towards Kanyakumari. In the afternoon after you will reach Kanyakumari where you will be checked in to your hotel. After relaxing for a bit you will be taken to witness some of the prime temple destinations in southern part of India.
Your first temple visitation will be, Devi Kanyakumari temple, which is an important pilgrimage sites in India for being one of the 51 Shakti peeths. The temple is also important due to its location on top of the confluence of Bay of Bengal, Arabian Sea and Indian Ocean. This magnificently charming temple sees devout Hindus from everywhere.
Your next destination will be the famous Vivekananda Rock Memorial, which is one of the most popular tourist monuments here. Built in 1970 with an aim of honoring the spiritual teacher Swami Vivekananda, there is a meditation hall present inside where visitors can perform their meditation. The entire design of the temple is a wonderful amalgamation of various architectural styles.
You will then be taken to witness a splendid sunset at the holy Triveni Sangam, which is the confluence point of Bay of Bangal, Arabian Sea and Indian Ocean. This unique feature attracts a number of tourists from across the globe that comes here to check out the grandness. Being an extremely busy tourist spot, this place also offers various fun activities like, swimming, surfing and trekking.
After concluding your day of fun you will be taken back to your hotel for an overnight stay there.
Day 7 :Kanyakumari – Chennai (700 Kms / 10 Hours)
Your final day's journey will start from Kanyakumari, post breakfast and carry on till Chennai. Upon reaching Chennai your journey towards your desired destination will commence.
Package Includes
Guided sightseeing tour
Pick up and drop off service
Meals as per itinerary
Accommodation as per itinerary
Driver allowance, parking charges, fuel price
Package Excludes
Any expense of personal nature
Extra charges in case of an emergency
Shopping, laundry, tipping, portage
Monument entrance fees, camera charges
Anything not in the inclusions section
Frequently Asked Questions
Q.When was the great living cholas temple built?
A. The great living cholas temple was built between 11th and 12th century.
Q.When is the best time to go for a temple tour in Tamil Nadu?
A. The best time to go for a temple tour in Tamil Nadu is from late November to february.
Q.Which is the most famous temple in Tamil Nadu?
A. Meenakshi amman temple is the most famous temple in Tamil Nadu.
Q.How much does it cost to go to Ooty for 2 days?
A. A 2 day Ooty trip can cost up to 10K per person including stay and food.
Q.What is the flight duration of Delhi to Tamil Nadu?
A. The flight duration is 2 hours from Delhi to Tamil Nadu.
Tour Description
| | |
| --- | --- |
| Duration | 7 Days / 6 Nights |
| Destinations | Chennai → Tanjore → Trichy → Madurai → Rameswaram → KanyakumariRead More |
| Tour Price | ₹ 25,700 /- |
Chat with our Trip Advisor