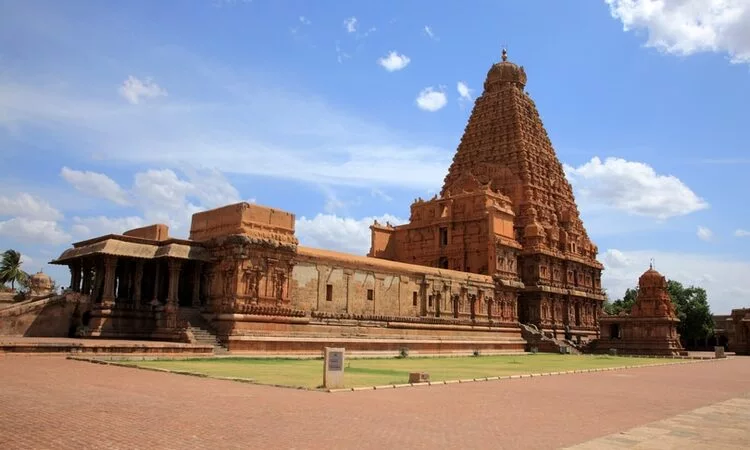 Tour Overview
If its tea estates then the Southern region of India definitely tops the list for being home to number of lush green tea estates which produce some of the most organic and delicious tea. The intention of our South Indian tea estate tour package of 7 days and 6 nights is to make you witness the impressive tea estates that neatly adorn the hills of South India.
Trip Highlights
Kanchipuram excursion from Mahabalipuram
Full day tanjore sightseeing
Kodaikanal exploration with tea estate visit
Kochi sightseeing and temple visit
Mararikulam full day sightseeing
Tour Itinerary
- Tanjore with Mararikulam Tour
Day 1 :Arrival in Chennai
Once you touch down in Chennai you will be escorted by our tour representative to your allotted hotels where you will freshen up. Depending on the time of the day and if you're tired or not you are free to explore the city on your own. You can opt for visiting some of the most well-known shopping destinations here for some souvenirs or a token of visit.
The lanes of Chennai are littered with ethnic treasures of all sorts. From bronze and brass castings, traditional jewellery and metal works to Kanchipuram silk sarees, leaf handicrafts items and aromatic spices, it is an oasis for shopaholics.
You will be spending the night in the hotel and prepare for your sightseeing and journey the next day.
Day 2 :Chennai – Mahabalipuram (Mamallapuram)
You will be required to wake up early in the morning so that your city tour of Chennai city can commence and you reach your final destination for the day, Mahabalipuram, in the scheduled time.
Starting with, a visit to the, architecturally magnificent and spiritually divine destination of San Thome Cathedral. Built in the 16th century, utilizing the neo-gothic architectural design and patterns by the Portuguese explorers this structure till date attracts a number of visitors for its splendor.
Your next stop will be the brilliantly made, sparkling white and the timeless building of Fort St. George which was built in the year 1644 and demonstrates sheer power and might.
You will then be made to proceed towards the government museum which houses various sculptures, relics, paintings and artifacts that date back to centuries ago. This visit will give you an insight into the dynamic history of Chennai. The museum pans over a vast area coverage and you should be ready to walk so be sure to wear sports shoes while visiting.
You will finally be headed towards Mahabalipuram where upon your arrival after being checked in you are free to explore the city on foot by yourself.
Day 3 :Mahabalipuram – Kanchipuram - Mahabalipuram
Your local sightseeing tour of Mahabalipuram will commence with a visit to the famous group of monuments, a temple complex and a UNESCO world heritage site. The construction dates back to the 7th and 8th century and is breathtaking site situated by the Coromandel coast of Bay of Bengal. With 400 magnificent ancient structures and Hindu temples this site is one of the largest open-air collections of rock reliefs in the world.
Your next location for sightseeing will be the breathtaking, UNESCO world heritage site and dedicated to Lord Vishnu and Lord Shiva temples of Shore temple which. Built in 8th century AD and situated by the bellowing seas of Bay of Bengal it gives a wonderful panoramic view of the horizon and the unending ocean.
You will then be taken to Kanchipuram, which is located on the banks of Vegavathi River and is home to some of the most spiritual centres in India and historically it was a centre of learning for not only Hinduism but also Jainism and Buddhism.
Your Kanchipuram local sightseeing will begin with a visit to the oldest temple in the city, Kailasanathar temple which was built in the 6th century. Utilising Dravidian architecture and sand stone, the entire structure houses 58 small shrines and are dedicated to different forms of Lord Shiva.
Then you will head on to an ancient Goddess Kamakshi temple known as Kamakshi Amman temple. The entire towering gopuram is adorned with highly detailed carvings depicting various important events.
You will then be escorted to the 7th-century holy site of Ekambareswarar temple with the presiding deity being Lord Shiva. The everyday rituals here take place between 5:30 am to 10:00 pm making it one of the largest and prominent tourist attractions in the city.
Finally, after a day of insightful and spiritual sightseeing you will be taken back to your hotel in Mahabalipuram.
Day 4 :Mahabalipuram – Tanjore (302.5 Kms / 6 Hours)
Early in the morning, you will be driven to the most vital centre of religion, art and architecture, Tanjore.
It will take you some time to reach Tanjore, so by the time you reach you will be straightaway checked in to your hotel, however, if time and your energy permits you are free to spend your time doing some of your leisurely activities.
Day 5 :Tanjore Sightseeing
Today your day is reserved for a temple tour of the city of Tanjore which will begin with a visit to the Brihadeeswarar temple, which is a UNESCO world heritage site and is also known as the 'great living Chola temples'. It is one of the largest temples in the whole of South India and is a brilliant and outstanding example of classical south Indian architecture.
You will then be guided to the magnificent Airavateswarar temple, which is also a UNESCO world heritage site and one of the most stunning 12th-century creations. People visit here to marvel at the architectural wonderment.
Your next stop here will be another UNESCO world heritage site of Gangaikonda temple, dating back to thousands of years ago and was built by the Chola rulers of that time. The temple has a lot of unique and one of kind elements which can never be replicated.
Your final sightseeing location will be one of the most visited, one of the oldest and quaint temples in Tanjore, thirumananjeri temple. You will be welcomed into this temple dedicated to Lord Shiva, through the classic, towering gopuram. Here you will also experience a truly divine presence.
Finally after a day filled with pure and unadulterated spiritualism you will be headed back to your hotel.
Day 6 :Tanjore – Chettinad (100 Kms / 2 Hours)
On this day, after breakfast, you will be made to head on towards Chettinad and upon your arrival there you will be immediately checked into your hotel. After getting checked in and refreshing for a bit, the remainder of the day is free for you to go on a sightseeing visit of the city.
Some of the popular attractions include, the famous handmade tiles producing village of Athangudi, Chettiar clan temple which was built in 707 AD housing numerous idols of gods and goddesses as well as of local legendary characters and the popular 10th century temple of Athmanathaswamy temple which is dedicated to Lord Shiva and is filled with murals and paintings depicting the life of Saint Manickavasagar.
Day 7 :Chettinad – Kodaikanal (the Princess of Hill Stations)
Upon arriving at Kodaikanal (literally meaning the gift of the forest) you will be tired and will be immediately checked in to your hotel where you will be spending your remaining day in leisure.
Day 8 :Kodaikanal Sightseeing
Your sightseeing day of Kodaikanal will kick start with a serene walk on Coaker's walk, which is a walking path developed by the hillside, behind a lake and covered with low laying mist. The picturesque and rejuvenating walk is bliss for nature lovers.
Your next stop will be the manmade lake called Kodaikanal Lake, where you have the option of doing several varied activities like, paddle boating, cycling on the pathways and even horse riding. Due to the absence of motor boats the beauty of this place which is nestled among the lush greenery, is kept untouched.
You will then be driven to one of the most popular tourist attractions in Kodaikanal, the pillar rocks. The entire structure remains engulfed in misty clouds and the giant, unique naturally created, 400 feet rock structure is surely a sight to behold.
After spending some time there you will be taken to the breathtaking site of Silver Cascade falls, where the water falls vigorously down from a whopping height of 108 feet and is nestled amidst the majestic mountains and lush greenery.
After a productive day of sightseeing you will be escorted back into your hotel.
Day 9 :Kodaikanal – Munnar (162 Kms / 4 Hours 45 Mines)
Today you will be travelling to one of the most breathtaking locations of Munnar, which literally translates to 'three rivers', referring to the site of confluence of 3 rivers, Muthirapuzha, Nallathanni and Kundaly. It is also one of the most popular hill stations in Southern India for its serene and untouched natural beauty, neatly placed tea estates and unmatched greenery.
Upon arriving at Munnar you will be guided and checked in to your hotel where you will be spending the remainder of your day doing your preferred leisurely activities.
You can opt for exploring the beautiful hill station on foot, by strolling down the refreshing, meandering and beautiful lanes that are strewn with tall, green trees.
Day 10 :Munnar Sightseeing
This day will be reserved for your visit to the popular Eravikulam national park, which is home to a variety of flora and fauna and is situated on the foothills of rolling hill plateaus giving the entire location a breathtaking view of the green-carpeted hills and colourful flowers. There are various perennial streams dotted all along the park which only adds to its overall beauty.
Your next breathtaking location will be the Pothamedu viewpoint, where you can trek through the lush green forest only to view the world from a whole new perspective. The greenery that this place has to offer is unmatched and still remains one of the most popular sites in Munnar.
For a spiritual touch, you will be taken to the 2nd largest church in India in terms of members' population, Church of South India. This gothic looking church is located among thick, green and tall trees and is considered to hold immense spiritual significance for Protestant Christians. You will then finally be headed back to your hotel.
Day 11 :Munnar – Kochi (131 Km / 3 Hours 45 Mines)
Today you will head towards the Queen of Arabian Sea, Kochi which is also extremely important city in the state of Kerala for its spice trading networks and commercial and IT appeal.
On reaching Kochi and after the check-in procedure is completed, you will be free to do your leisurely activities like exploring the city and shopping for some unique souvenirs. You have the option of shopping for delicious food items like banana chips, silver/gold jewellery, and silk sarees along with handmade items as well as chunky trinkets pieces.
Day 12 :Kochi Sightseeing
Your Kochi sightseeing expedition will commence on a spiritual note with a visit to the famous and the oldest active Jewish synagogue in the all of Commonwealth nations, Paradesi Synagogue. This beautifully adorned Jewish place of worship is a regular visitation destination for people who visit Kochi.
Next you will be taken to the quaint Dutch palace, which is also known as the Mattancherry Palace and houses paintings and murals depicting the rajas of Kochi. Although built by the Portuguese this palace is built in a typical quadrangular South Indian style making it a must visit site.
After the sightseeing excursion you will be taken to shop for some of the most aromatic and delicious spices in the spice markets of Kochi.
Finally, you will be taken to your final stopover destination of Fort Kochi where you will be made to witness the Chinese fishing nets which will prove to be extremely hypnotic and a new experience. You will then be taken back to your hotel.
Day 13 :Kochi – Mararikulam (40 Kms / 1 Hour)
You will be headed to one of the most exciting destinations yet, Mararikulam. Here upon your arrival and post the completion of your check-in procedure, you will be taken for a refreshing journey on a houseboat where you will experience the rejuvenating backwaters.
The houseboat will take you across the various shades of green trees, lined on the banks of the shore, where you will make way towards Marari Beach. Here you have the option of either indulging in various beach activities or just relaxing on the sandy shores before heading back to your hotel.
Day 14 :Mararikulam Sightseeing
Your entire day is reserved for you to indulge in some of the enigmatic activities that take place here. This peaceful beach town has a lot to offer, from parasailing and surfing to relaxing and spending time with your loved one and family by the beach. You can also have a refreshing stroll by the beach or organize a small picnic for your family making it a memorable day. After enjoying a peaceful sunset, you will be taken back to your hotel.
Day 15 :Mararikulam – Kochi (40 Kms / 1 Hour)
This is the day when your tour comes to an end, where after reaching Kochi you will be transferred to your preferred destination of either an airport or a railways station from where you will carry on your journey ahead.
Package Includes
Guided sightseeing tour
Pick up and drop off service
Meals as per itinerary
Accommodation as per itinerary
Driver allowance, parking charges, fuel price
Package Excludes
Any expense of personal nature
Extra charges in case of an emergency
Shopping, laundry, tipping, portage
Monument entrance fees, camera charges
Anything not in the inclusions section
Frequently Asked Questions
Q.What is famous in Mahabalipuram?
A. Mahabalipuram is famous for its ancient temples, monuments and structures.
Q.What are the temple opening and closing timing for Brihadeeswara temple?
A. The timings for Brihadeeswara temple are: 6 am to 12:30 pm / 4 pm to 8:30pm.
Q.Which months are best for Kodaikanal visit?
A. April to June are the best months for Kodaikanal.
Q.What is the road distance of Munnar to Kochi?
A. Kochi is about 4 hours of road distance away from Munnar.
Q.Which are some of the best cafes / restaurants in Mararikulam?
A. Some of the popular ones are: coffee temple, cafe cloud, palm heaven marari, granma etc.
Tour Description
| | |
| --- | --- |
| Duration | 14 Nights / 15 Days |
| Destinations | Chennai → Mahabalipuram → Kanchipuram→ Tanjore → Chettinad → Kodaikanal → Munnar → Kochi → MararikulamRead More |
| Tour Price | ₹ 42,900 /- |
Chat with our Trip Advisor