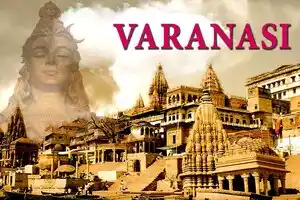 Varanasi, located in the northern Indian state of Uttar Pradesh and along the sacred Ganges is one of the holiest pilgrimage destinations for the Hindus. Varanasi houses the Kashi Vishwanath Jyotirlingam temple of Lord Shiva and that makes Varanasi receive scores of pilgrims. Pilgrims also make sure to perform the last rites or Pind Daan ceremonies of their deceased ancestors on the Ghats of Varanasi because it is believed that last rites performed at Varanasi can give salvation to the soul of the deceased. Apart from Kashi Vishwanath temple, there are some popular temples of Varanasi. In fact, each lane of this ancient city is adorned with temples.
List of 10 Popular Temples in Varanasi are listed below-
01. Kashi Vishwanath Temple
Kashi Vishwanath Temple belongs to Lord Vishweshwara or Vishwanath who is none other than Lord Shiva. This is a Jyotirlingam shrine of Lord Shiva constructed around 1780 by Indore Maratha queen Maharani Ahilyabai Holkar. The temple is often differently referred to as 'golden temple' as it has three prominent gold plated domes. Two domes of the temple were plated with gold under the initiative of Ranjit Singh; king of Punjab. The third remaining dome was later plated with gold under the initiative of UP Ministry of cultures and religious affairs.
02. Sankat Mochan Temple
Sankat Mochan temple of Varanasi located along River Assi belongs to Lord Hanuman who is believed to offer one with freedom from troubles. The current temple structure came into being around the 1900's under the initiative of the famous freedom fighter plus educationist; Madan Mohan Malaviya. The idol of Hanuman ji enshrined here most uniquely faces that of Lord Rama; the lord of Hanuman ji. The idol is adorned beautifully with marigold flower and a special Prasad; the lip-smacking 'Besan ke Ladoos' are served at the temple. On the occasion of Hanuman Jayanti, the temple ambience livens up with pompous festivities.
03. Kanaka Durga Temple
Durga Mandir of Varanasi belongs to Goddess Durga and was constructed around the 18th century under the initiative of a Maharani from Bengal. The temple represents the Nagara style of architecture and is adorned with multi-layered spires. It is a common belief that the idol of the Goddess enshrined was not placed by anyone but appeared all by itself. The temple is coated with ochre and red color symbolizes the power of Shakti. The temple has a rectangular pond within its premises and this pond is referred to as Durga Kund.
04. Tulsi Manas Temple
Tulsi Manas temple stands on Varanasi's Sankat Mochan Road. The temple is steeped in cultural as well as historical significance. The temple is said to have been set up exactly on the place where the famed saint-poet Tulsi Das had composed the epic Ramcharitmanas around the 16th century. In the year 1964, Tulsi Manas temple was constructed at this spot under the initiative of Birla family. The temple is built out of white marble and its walls are adorned with various verses as well as pictorials from the epic.
05. Bharat Mata Temple
Bharat Mata temple belongs to Mother India or Bharat Mata. The campus of Mahatma Gandhi Kashi Vidyapith has the Bharat Mata temple. The temple was set up around 1936 by Babu Shiv Prasad Gupta; a freedom fighter. Mahatma Gandhi; the father of the nation had inaugurated this temple. The temple enshrines a beautiful marble stone map depicting the undivided India.
06. Mrityunjay Mahadev Temple
Mrityunjay Mahadev Temple is a lord Shiva temple situated in Varanasi's Daranagar. Lord Shiva enshrined here is believed to be potent enough to safeguard his devotees from unnatural, untimely death. The temple premises come with an ancient well the waters of which are said to possess miraculous healing power.
07. Shri Tilbhandeshwar Mahadev Mandir
Tilbhandeshwar temple belongs to lord Shiva and stands in vicinity to Varanasi's Bengal Tola inter college. The temple enshrines a Swayambhu Shiva lingam. It is a common belief that the lingam enshrined in this temple grows each year by a certain length. The temple presents a unique admixture of Benarasi and Malayali culture traditions.
08. Kaal Bhairav Temple
Kaal Bhairav temple in Varanasi's Visheshwar Ganj is dedicated to the Kaal Bhairav form of Lord Shiva; a truly fierce form adorned with a skull garland. The idol enshrined in the temple's sanctum sanctorum is silver faced, sits on a dog; his 'Vahan' and holds a powerful trident in his hand. Kaal Bhairav temple is the most ancient Lord Shiva temples of Varanasi. It is believed that even death is scared of Lord Kaal Bhairav. Also, it is believed that if anyone wishes to reside in Varanasi, he or she has to seek Lord Kaal Bhairav's permission as he is the 'city's Kotwal'. The temple is said to have been constructed around the middle of 17th century though no concrete proof of this above fact is available.
09. Nepali Temple
Nepali Temple also referred to as Kathwala temple belongs to Lord Shiva and stands on Varanasi's Lalita Ghat. The temple was set up around the 19th century by Rana Bahadur Shah, King of Nepal. The temple presents a beautiful pagoda style Nepali architecture which quite replicates Nepal's Pashupatinath temple and is adorned with sculptures that resemble the famous Khajuraho temple sculptures. Thus, Nepali temple is also differently referred to as 'Mini Khajuraho'. Wood and terracotta are the key materials that have been used to construct this temple.
10. Annapurna Devi Mandir
Annapurna Devi Mandir falls on Varanasi's Dasaswamedh road and in vicinity to the Kashi Vishwanath temple. The temple belongs to Ma Annapurna who is considered to be the Goddess of nourishment and food. Ma Annapurna is a manifestation of Goddess Parvati. Each year during the Annakoot festival, the temple livens up with a real carnival spirit. Coins are meted out to the pilgrims during this festival and it is said that one who worships these coins devotedly can attain peace and prosperity in life. The temple enshrines a golden image of Ma Annapurna who is said to protect entire Kashi from food crisis.