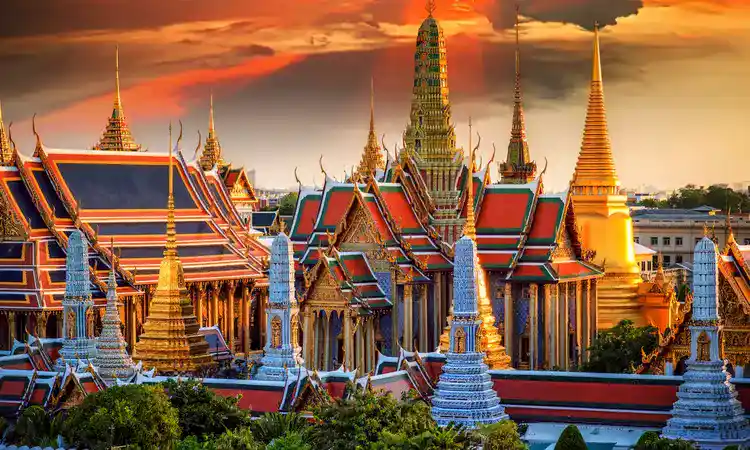 Tour Overview
Thailand is a country with which India correlates on many levels like spirituality, cultural, and religion. Many of South Indian believes that their art forms and cultural celebration sometimes finds a deep connection with that of Thailand. And, it is now evolving as a new vacay destination for many Indians who would want to explore their tropical beaches, royal palaces, ancient monuments, and the richly ornate temple where mostly Lord Buddha is worshipped.
Trip Highlights
Alcazar show in Pattaya
Coral island sightseeing tour
Local sightseeing in Bangkok
Full day of excursion in safari world
Shopping experience in Bangkok
Tour Itinerary
- Thailand IRCTC Tour Package
Day 1 :Kolkata to Bangkok
The tour planner will ask you to gather at the Kolkata Airport on a scheduled time and once you get assembled, you will be first taught about the do's and don'ts of Thailand. After 3 hrs. and 15 minutes overnight flight journey, you will reach Bangkok Airport where you go through some formalities and join the queue for VISA on arrival stamp.
Then, you will head for breakfast and later, you will depart for Pattaya. On reaching Pattaya, you will perform some check-in formalities and after a quick refreshment, you will head for Alcazar show. Alcazar show is a theatre performance where many colorful stage acts are shown for the interest of their visitor.
When you will enjoy the dinner, you will head back to your hotel room for an overnight stay.
Day 2 :Coral Island Sightseeing Tour
When you will finish your breakfast, you will resume your Thailand journey and today's schedule involve sightseeing in Coral Island on a speed boat.
Coral Island is the most visited island in Thailand because of its turquoise water and being formed mostly from coral detritus. The island proudly boasts about its formation from the organic material. So, it will be fun to explore this beautiful island and connect with nature. And don't forget about the beach activities that you get to enjoy here.
In the evening, you will return back to Pattaya where you will first enjoy cuisines at a famous Indian restaurant. And afterwards a relaxing overnight stay.
After having breakfast, you will resume with the plan of cruising back to Bangkok. On reaching Bangkok, you will, as usual, go through some formalities and enjoy a quick freshen up session.
Then, you will head for a local sightseeing tour of Golden Buddha and Marble Buddha. Golden Buddha is a marvelous stupa where stands a gold ornated Buddha statue which weighs about 5.5 tones so, here you can admire the architectural creativity of Thailand. And, next will be Marble Buddha, which is also known as Wat Benchamabophit Dusit Vanaram and it majorly attracts thousands of tourists every day.
Next, you will enjoy your lunch in a quiet environment and afterwards, you are free to have a shopping experience in Bangkok.
Day 4 :Safari World Tour Excursion
Once you finish breakfast, today will be an adventurous day ahead for you. Safari world is 500 acres of park which distributed as 480 acres of an open zoo and 108 acres of a bird sanctuary. So today, you will be enjoying the wildlife experience in Bangkok and connect deeply with nature.
After this short excursion, you will enjoy dinner at an Indian restaurant and will be transferred back to Bangkok Airport from where you will board flight back to Kolkata.
Day 5 :Arrival back in Kolkata
After an overnight flight, you will arrive in Kolkata in the morning. And with this, the tour operator will say his goodbyes to you.
Package Exclusions
Airfare return tickets for the Kolkata-Bangkok-Kolkata journey.
Hotel accommodation will be on twin sharing planning.
All three meals I.e. Breakfast, Lunch, Dinner.
Coral Island tour on a speed boat.
Alcazar show with dinner at an Indian restaurant.
Travel Insurance fees.
Package Excludes:
VISA on arrival fees.
Any personal expense will be excluded from this package.
Frequently Asked Questions
A. Pattaya is famous for its beautiful beaches, delicious seafood, local shopping and fun island activities.
Q.How much will a 5 days Thailand tour package cost?
A. A 5 days and 4 nights Thailand tour package can cost up to 35K rupees.
Q.From which cities can travellers take flight to Thailand?
A. Flights to Thailand can be secured from New Delhi, Kolkata, Mumbai and Chennai.
Q.When is the best time to visit Phuket?
A. November to February is the best time to plan a holiday in Phuket.
Q.How many days is appropriate to explore Thailand?
A. 10 days to 2 weeks is enough to explore Thailand.
Tour Description
| | |
| --- | --- |
| Duration | 5 Days / 4 Nights |
| Destinations | Kolkata → Bangkok→ Coral Island → Safari WorldRead More |
| Tour Price | ₹ 22,500 /- |
Chat with our Trip Advisor