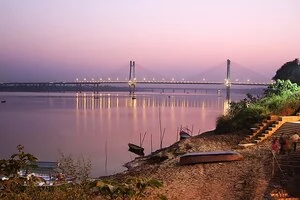 Whether you are planning to travel with kids, family or alone, Allahabad is the best travel destination. Try this place between the months of January-April or October-December.
And when it comes to the best places to visit, there are more than 40 places to visit in Allahabad though this article speaks about only 15. If you are interested in sight-seeing then ensure that you stay in this place for at least 3-5 days to cover as many places as possible.
The food and the climate of this place are lovable and here are some of the best places to visit if you are in Allahabad. This place was formerly known as Prayag and is a very important destination for all Hindus. This place got its relevance as three rivers Ganga, Saraswati and Yamuna meet here. That's why it is known as Triveni Sangam. Now, let us discuss 15 tourist places in Allahabad.
List of 15 Tourist Places near Allahabad
01. Triveni Sangam
Without seeing Triveni Sangam, your trip to Allahabad isn't complete. So, mark it as your first place to visit. As said earlier, you will be able to see the meeting point of three rivers in one place. The colours of the waters of the 3 rivers are distinct indicating their own identities. This place is famous because of Kumbh Mela too.
02. Khusro Bagh
This place is near the railway station of Allahabad. The tomb of Khusro has historical significance as he was the son of Jahangir who was a famous emperor. Even the tombs of his mother and sister are in the same place and travelers who visit Allahabad make it a point to see this place.
03. Allahabad Fort
Do you know that this fort is considered as the largest that was built by the great emperor Akbar? Well, historians say that King Ashoka built it first but Akbar played a role in its renovation and repairs. Make sure you see this place for sure.
04. Allahabad Museum
This museum was inaugurated By Nehru in the year 1947. There are many artifacts, art works and archeological findings for display in this museum. If you are visiting Allahabad along with your kids, it would be a good idea to take them to the museum to show the art gallery that creates awe in anyone.
05. All Saints Cathedral
This church which is 31 meters tall proudly portrays the architecture of the 13th century. This building which endured even the times of colonial rule is around 1250 square meters in its area. This magnificent structure is a must-watch if you are visiting Allahabad for the first time.
06. Minto Park
Its name is changed and is now known as Madan Mohan Malviya Park. As Lord Minto is said to have laid its foundation stone in the year 1910, it is known as Minto Park. Add it to your list of places to visit for sure.
07. Alfred Park
This park is among the largest parks of Allahabad. You can see statues of Victoria and George in this park. When India was fighting for freedom, the famous freedom fighter Chandra Shekhar Azad was said to have fought bravely against the British in this place. He lost his life there and that was the reason why the park was renamed after him later.
08. Sri Lalita Devi Temple
Situated at Naimisaranya, this temple is also a good area which is in the list of sightseeing areas of Allahabad. There are temples for Lord Hanuman and Lord Shiva in the same complex. Even Chakra Theertham and Panch Prayag are located nearby.
09. Alopi Devi Temple
This temple doesn't have any deity's idol and is quite near to the Sangam. Pilgrims also worship a wooden swing installed on a platform of this temple. If you like being in ancient temples, don't forget to visit this place.
10. Kalyani Devi
This temple is among the 'Shaktipeeth' temples. The idol inside is said to be more than a 1000 years old. In fact, that timeless feel you get when you step into ancient structures has to be experienced once. Navratri is celebrated both in October and March in this temple during the Hindu months of Ashwin and Chaitra.
11. Hanuman Mandir
This unique temple is situated quite close to the Allahabad Fort. So, if you are planning to visit the Fort, include this temple in your list. The idol of the powerful god Hanuman is more than 8 feet in its width and is over 20 feet tall. Devotees feel blessed in the ambiance of this temple.
12. ISKCON Temple
The beautiful idols of this temple will amaze any pilgrim. Even a Goshala is maintained here to allow the travelers to pay respect to the cows. Many visitors agree that this place is an awesome location to sit, meditate and spend some peaceful time.
13. Beni Madhav Temple
It is located near the Prayag Ghat. It is also known as Lakshmi Narayan temple as both of their idols are worshipped here. Don't miss this place if you are going to Allahabad.
14. Shivkoti Mahadev Temple
This temple is quite close to Triveni and contains the deity of Someshwar Mahadev. Mondays are the best to visit this place which has the deity of Shiva in his Rudra form. If you visit Allahabad during the time of annual fair that is conducted near this temple, you will have a beautiful experience!
15. Ashoka Pillar
This pillar belongs to the 16th century. It is said to be constructed by Akbar and contains inscriptions of Ashoka, Samudragupta and even Jahangir. It is a favorite place for those who are interested in peeping into the history of this country.