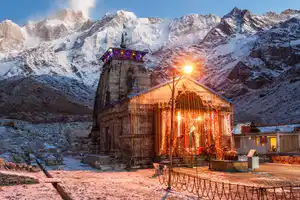 The Hindu Lord Shiva temple of Kedarnath is nestled peacefully among the Garhwal Himalayan ranges by the banks of the holy river Mandakini. Apart from being a vital char dham destination, it is also an extremely important one of the jyotirlingas of India. The location of the temple enables the tourists to savor on some of the most picturesque and breathtaking sites. Encapsulated with serene views and an extremely tranquil environment Kedarnath is one of the most idyllic destination not only for pilgrims and devotees but also for adventure sports enthusiasts.
There are numerous hidden gems to visit from Kedarnath Dham like:
01. Gandhi Sarovar / Chorabari Tal:
Located at an elevation of 3,900 metres above sea level, Gandhi Sarovar is a small glimmering lake which holds crystal clear water. It is also popularly known as Chorabari Tal due to its location in close proximity to the mouth of the Chorabari Bamak Glacier. Sitting on the foot of the legendary Kedarnath and Kirti Stambh Peak, the lake is named after Mahatma Gandhi since his ashes were dispersed in this lake. The lake is set amidst the tall and inviting deodar tree forests and cascading waterfalls which offers its visitors some of the most picturesque views of the surroundings. The lake can be reached after covering a scenic trek of 14 kms from Gaurikund via an iron bridge of Kedarnath which guides you to the Sarovar. The route for Gandhi Sarovar is in the form of a neatly paved way which takes you across some of the most mesmerizing and breathtaking views.
02. Bhairavnath Temple:
Located right behind the main temple structure at a mere distance of just 500 metres this holy site faces towards the northern end of the temple. After visiting Kedarnath temple pilgrims and devotees make it a point to visit this holy site which makes it the second most visited temple in Kedarnath valley. As the name suggests this temple is dedicated to Lord Bhairav who is believed to be the main Gana of Lord Shiva whose weapon is identified to be as a Trishul and whose Vahan is believed to be a dog. The presiding deity of the temple is believed to be the protector and a shield for the main dham shrine when the temple shuts down for darshan during the winter months. Apart from being an extremely religious site this temple is also known for offering magnificent views of the valley below.
03. Phata:
Nestled among the rolling green hills and unmatched natural beauty is a hidden gem of Uttarakhand, Phata. Untouched by the ever-changing modern age this village has gracefully maintained its beauty and serenity. Located at a distance of almost 14 kms from Guptkashi and 30 kms from Kedarnath Phata is famous for its helipad which caters to helicopter services to Kedarnath. The village has been strategically developed around the commercially viable road of Gopeshwar and Gaurikund. The helipad is located ahead from Agastmuni and has a network of well linked roads leading up to Kedarnath. During off seasons the local population of this quaint hamlet utilizes this helipad as a ground for indulging in some fun sports activities. As a part of your spiritual journey you can also choose to spend some time at this village and take some time off to rejuvenate yourself.
04. Sonprayag:
Located between the holy towns of Guptkashi and Gaurikund and at a distance of just 20 kms from the main shrine of Kedarnath dham, Sonprayag is an ideal destination for pilgrims and devotees looking to spend some time away from the maddening bustle of the temple crowd. As the name suggests Sonprayag holds immense religious significance due to the fact that it is located right on the confluence of two holy rivers of Basuki and Mandakini. As per the ideal Hindu beliefs, taking a dip at a prayag or a confluence is also one of the ways of attaining moksha or Salvation from the cruel cycle of birth and rebirth. Located at an elevation of 1,829 metres above sea level, the lush green valley is also popular for its closeness to the holy village of Triyugi which is home to the iconic and ancient Triyuginarayan temple.
05. Gaurikund:
Nestled amidst the thriving green forests and breathtaking views of the surroundings, Gaurikund marks the starting point for the trek to the main dham shrine of Kedarnath. The quaint little hamlet has been named after the natural hot water spring which used to be here but has been covered and washed away after the 2013 flash floods of Uttarakhand, which had caused massive devastation. However what survives here is a small stream of hot water where people still visit to offer their prayer. As the name suggests the place has been named after goddess Parvati and legend has it that this was the exact place where the goddess used to perform her yoga and perform penance to Lord Shiva. Another belief is that it was here that the lord had agreed to marry Parvati which later on took place in the legendary Triyuginarayan temple.
06. Mayali Pass:
Situated at a mere distance of 15 kms from Kedarnath this pass is a popular destination among high altitude trekking enthusiasts. Sitting at a whopping elevation of 5,300 metres above sea level in the valley of Bhilangana this place offers invigorating views of the snowcapped peaks, lush green valleys and untouched beauty which also gives you a view into the Himalayan biosphere. This place is generally famed for offering awe-inspiring views of the iconic Thalay Sagar, kedar dome and other such majestic peaks of the Gangotri region. People generally choose to trek from Ghuttu Village to Gaurikund which is a moderately difficult trek but the results will be incredibly unmatched. You will be able to feel the pure Himalayan chill after covering an overall trekking journey of 9 to 10 days.
07. Vasuki Tal:
Sitting at an altitude of 4,329 metres above sea level and amidst the scenic valley complete with a backdrop of the mighty snow clad peaks, Vasuki Tal is one of the most magnificent high glacial lake. Not only it is an ideal and a regular place to be visited by trekkers and adventure enthusiasts but it is also frequented by devotees and pilgrims. This is so, because as per the Hindu mythology during the auspicious occasion of Rakshabandhan, it is believed that Lord Vishnu himself descends down from heaven to the earthly realm and takes a bath in this very lake, hence the name. Another interesting feature about this lake is the fact that the entire perimeter of the lake is surrounded by the rare Himalayan flower called Brahma Kamal.
08. Adi Shankaracharya Samadhi:
Just like the temple of Bhairavnath, the Samadhi dedicated to Adi Shankaracharya is also located right behind the main temple of Kedarnath. Situated at a trekking distance of 16 kms from Gaurikund, this Samadhi was created to mark the place where this important seer and sage took his Mahasamadhi. Adi Shankaracharya took it to his charge to revive a feeling of devotion in the hearts of the Indian population and bind them as one through religion and the philosophy of Advaita. He is known for going all across the Indian subcontinent with an aim of propagating and expanding this knowledge to as many people as possible. In an attempt to do this established a number of Math's and dhams where pilgrimage and yatras have become a common occurrence these days.
09. Ukhimath:
Situated in the Rudraprayag district and sitting at an elevation of 1317 metres above sea level Ukhimath is an extremely important pilgrimage and yatra site which remains flocked with devotional individuals and pilgrims throughout the year. The prime importance of this place lies in the fact that during the harsh winter months of November to April when the entire region of Kedarnath gets buried in snow, making darshan impossible, the presiding deity of Lord Shiva is then shifted to the Omkareshwar temple in Ukhimath where pilgrims continue to visit and offer their prayer to the lord. This idyllic town is also an important vantage location for individuals trekking to Deoria Tal, Madhyamaheshwar and Tungnath.
10. Deoria Tal:
Located at a distance of 16 kms from Ukhimath Deoria Tal is a magnificent high Altitude lake which is situated close to the quaint hamlet of Sari Village. Sitting at an altitude of 2,438 metres above sea level after covering an uphill trekking distance of 3 kms from Sari, you will be greeted with a glimmering, crystal clear lake which is set amidst the Nanda Devi Biodiversity Park. It is frequented by trekking enthusiasts and outdoor adventure lover who visit this place for it unmatched natural beauty and a tranquil environment. Nestled amongst the towering and overlooking Chaukhamba Peak, Bandarpunch Peak, kedar range and Kalanag ranges this lake is believed to be the place where the Pandavas encountered Yaksha who had asked them a number of wise questions, making it an incredibly holy site.
Kedarnath is replete with innumerable places to visit and gives you an opportunity to create lifelong memories. there are a number of hidden gems in the Kedar valley which are as awe-inspiring and breathtaking as the other. we hope that this information will come in handy during your next holiday plans. we believe in consistently evolving ourselves so if you have any feedback, doubts or just want to share some good wishes feel free to contact us at Atlas Travel.