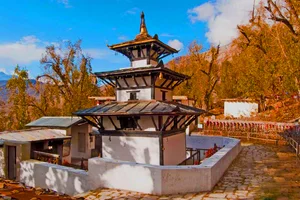 Everybody knows about the glories that the ancient and humble Temple of Muktinath beholds. It is located in one of the most surreally beautiful surrounding that Nepal has to offer. Surrounded by Leh / Ladakh – like cold grey desert valley of Mustang, this temple is dedicated to lord Vishnu's avatar of justice giver. However there is a lot more to this place than just the temple. One can indulge in a lot of fun activities and visit a number of points of interest around Muktinath temple. Do not be ignorant of the opportunities that await around the temple, some of the must visit places are:
Jwala Mai Temple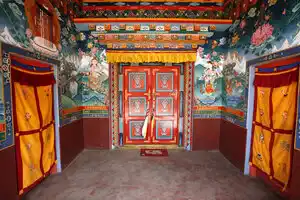 The Jwala Mai Temple falls southward of the main Muktinath shrine. The temple site features a spring and three eternally burning flames, out of which two are still active. Pilgrims come to the site to pay their tribute to Jwala Mai, the flame goddess who makes her presence felt by burning as eternal flames. Soil, rock and water are the 3 different sources of the 3 different flames respectively. As per myths Lord Brahma had lit up these eternal flames at this spot. Buddhist pilgrims refer to the site as Dhola Mebar and pour in large numbers to pay their tribute.
Muktidhara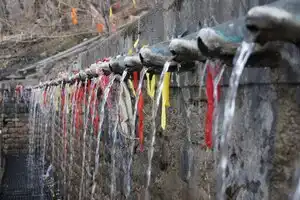 Muktidhara is the name given to the 108 spouts of water flowing out of unique bull's mouth-shaped faucets, all arranged successively in a semi-circular pattern and each spout is set one foot apart from each other. This collective fountain of Muktidhara is also located on the temple's hind side. The waters from Gandaki River flow incessantly from out of the faucets and pilgrims make sure to bathe in this Muktidhara streams in order to free their mind and body of the bad impact of negative deeds prior to entering the Muktinath shrine. However, one requires immense piety and determination to bathe in these streams as the water is freezing cold.
Jomsom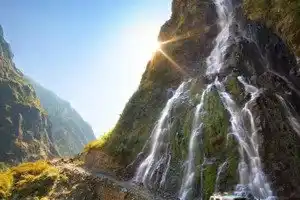 Jomsom, which is one name that keeps coming up during the Mukti Dham Yatra is not only a highly revered tourist destination but is also one of the most well-known places for exploring the wilderness amidst the pristine beauty of the mustang valley. It is located in close proximity to the temple and visiting here will definitely make you believe that there is more to Muktinath than just a temple. You can pay a visit to the mystical Dhumba Lake and leopard along with get in touch with the traditional Thakali culture making your visit here extremely wholesome.
Pokhara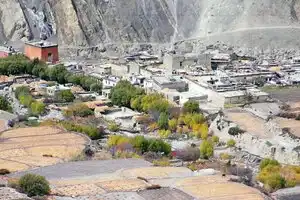 This place is another starting point for the Mutkinath Dham which is often visited after people have completed their Dham Yatra. This city sits on the banks of the lake phewa adorning the central region of Nepal and is known to the adventurers as the gateway to the adrenaline pumping Annapurna circuit. There are various quirky cafes available that are lakeside along with being one of the primes destinations for ashrams and yoga centres. Make sure to visit places like Davis Falls, Begnas Lake and Mahendra cave here.
Marpha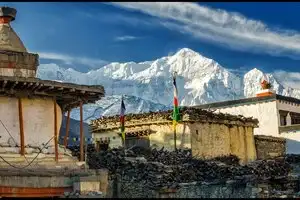 The name of this humble village in mustang valley near Muktinath temple literally translates into 'mar' meaning hard working and 'pha' meaning people. This is a great place if you are interested in experiencing village tourism activities. The cobblestone streets and narrow alleyways seem like you have stepped into Rome or Italy and paints a wonderfully scenic picture making it one of the best places for every photography enthusiast. Although being a small village in the valley it has its own charm and a sense of wonderment.
Lamthang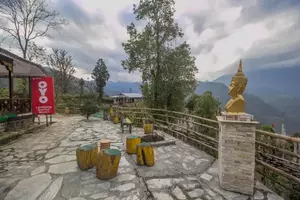 Situated in close proximity to the beautiful and devotional temple of Muktinath Dham this place is truly a relief from the huge throng of devotees that visit this place for offering their prayer to lord Vishnu here. The Thubchen Gompa here is the primary attraction among the tourists here and apart from this people often love interacting with the local population here while cycling their way through the valley. It is one of the most preferred places around mustang valley for a quick getaway amongst surreal beauty.
Kagbeni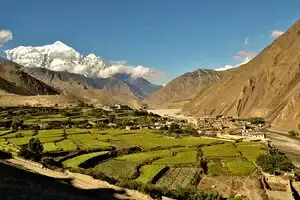 This tiny village hamlet is tucked on the upper region of the Mustang valley by the banks of Kali Gandaki River. There are a limited number of people residing in the village here and falls on the trail from Jomsom to Muktinath. Some patches of green vegetation can be seen around here and this perfectly blends with the grey loose rocks of the cold desert that engulf the senses in every way possible. One can come here to clear your mind and rejuvenate you from the inside and help you in finding inner peace.
Tatopani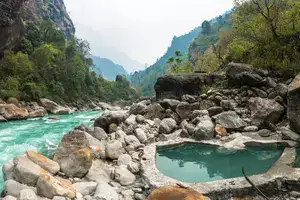 This quaint hamlet also falls on your way to Muktinath and cannot be avoided so if it falls in your itinerary then it is a must visit. The ethnicity of the people here are Sherpas and Tamang who make the eco and village tourism here extremely worth it. One can witness the surrounding panoramic snow clad views from all sides making every step of the way here as awe inspiring as the other. A prime tourist attraction here is the naturally occurring hot water spring that is believed to get rid of all types of skin and joint related problems and leave you deeply rejuvenated.
Tilicho Lake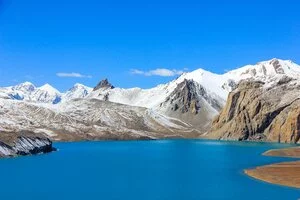 Perched on an altitude of 4,919 metres above sea level within the Manang district this high glacial lake is surrounded by amazing beauty of the hills. Visiting this blue green coloured crystal clear lake is among one of the most top destinations of the hiking adventure in Annapurna trekking circuit. There are cheap and pocket friendly accommodation and lodges present that offer a humble stay option making your visit here totally worth every penny. This lake has been the site for the highest ever altitude scuba diving as well.
Tansen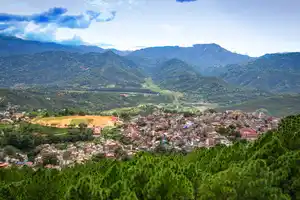 This is probably one of the most rare places around Muktinath that has some amount of lush greenery and is placed on the crest region of the lesser Himalayan region. This amazing place overlooks the kali Gandaki River which you will keep you company for all the other places you visit in and around Muktinath Dham. Some points of interests here include places like Rani Mahal, Naran Temple, Sitalpati, Bhairav Temple, Guffa Dada Dumre, Rishikeshv Temple etc. the best part about this place is that no matter what time of the year you visit you will be welcomed with pleasant weather conditions.
Sarangkot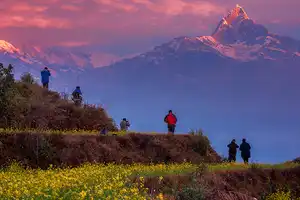 Situated around the Pokhara region this place is truly a wonderful oasis for a getaway during your Muktinath Dham Yatra. The view of the Annapurna Himalayas surrounding this place is absolutely magnificent and is teamed up with a deeply religious experience. The sweeping and panoramic views of the surrounding Himalayas are truly breath taking and cannot be compared to anywhere else. The sun rise and sun set here is nothing short of a breath taking moment. You can go there and indulge in some outdoor activities like hiking and trekking and sometimes even camping. Apart from the city sightseeing tour and village tourism you can even go for paragliding activities. The grassy patches here draws a lot of attention and makes this visit here extremely worth every effort you make.