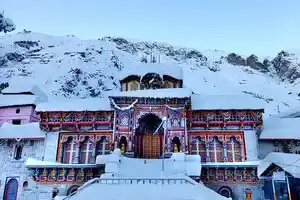 Situated at a high elevation of 3,293 metres above sea level and in the lap of the Garhwal Himalayan mountain ranges, Yamunotri is famous for its bountiful and breathtaking sites which are replete with scenic beauty. There are numerous cascading waterfalls and Rolling Meadows which is set against the majestic backdrop of the snow-clad, mighty mountain peaks. People from all walks of life visit this holy destination as a part of their Chota Char Dham Yatra Package however; it is also an attraction for travel enthusiasts and nature lovers alike who are looking to have a taste of the Himalayan adventure.
Here are a few places which you can visit during your trip to Yamunotri:
01. Janki Chatti:
Sitting at an altitude of 2,700 metres above sea level Janki Chatti is believed to be twin sister of Hanuman Chatti. This place serves as an alternative base camp for further treks onwards from Yamunotri. The natural thermal hot water spring is one of the major attractions here which is surrounded by tall, lush green peaks on all sides. People pay a visit here as a ways of offering their homage to the lord as well as for relaxing their tired nerves by immersing their legs in the hot waters of the kund. The months of April to October are considered to be the best time to visit this pristine destination when the dham yatra is opened up for the season and the temperatures are bearable. Initially the starting point for the trek to Yamunotri dham used to be Hanuman Chatti however nowadays the jeeps are available up till Janki Chatti which has helped in shortening the distance by 7 kms.
02. Hanuman Chatti:
There are two popular Hanuman Chattis in Uttarakhand one is in Yamunotri while the other is in Badrinath. The site of Hanuman Chatti serves as one of the most ideal locations for individuals on a trekking journey to higher Himalayan regions. Perched at an altitude of 2,400 metres above sea level this site is located right at the confluence of Hanuman Ganga and River Yamuna. Popular for its scenic beauty and a 360-degree view of picturesque vistas that surround the place inspires a number of adventure seekers to trek on further to places like Dodital and Darwa top. It is an ideal place for people seeking for some relaxation and some time off from the maddening city crowd. This quaint hamlet falls en route the Yamunotri Dham yatra and serves as a rest stop for people on the holy pilgrimage yatra.
03. Saptarishi Kund:
Sitting comfortably at a distance of 10 kms from the main dham shrine of Yamunotri temple Saptarishi kund is a popular trekking spot among outdoor adventure travelers. This high altitude glacial lake is almost half a km in diameter which is accompanied with eerily beautiful and enchanting surroundings. the trekking journey to Saptarishi Kund is famed for being one of the most difficult treks of the Himalayan region since the entire route is covered with ice making the journey even more strenuous. In order to complete the entire journey, you will need the help of an experienced guide. The tranquil and clear blue water of this magnificent lake is also home to the beautiful Brahma Kamal that grows here all around the perimeter of the lake. It is a widely held belief that the Saptarishis had performed their penance there during the ancient ages.
04. Divya Shila:
Sitting at an elevation of 3,000 metres above sea level right next to Surya Kund is the holy rock pillar structure of Divya Shila. It is another famed and one of the most popular tourist attractions of Yamunotri dham. This 'slab of divine light' is frequented by the pilgrims and devotees right before entering the main temple shrine. This procedure has been a popular religious ritual ever since the temple has been established. This seat of goddess Yamuna is an interesting place since the story of this divine slab goes back to the ancient times.
05. Barkot:
Sitting right next to the holy river of Yamuna is a scenic town of Barkot. Perched at an elevation of 1,220 metres above sea level this small hill town is a quiet escapade from the hustle and bustle of the city life. You can have some of the most awe-inspiring view of the surrounding snowcapped peaks of Bandar pooch and other equally magnificent views. This safe haven is filled with opportunities for landscape photographers to capture some of the most fascinating moments and share peace in unmatched tranquility. It is an ideal holiday spot for people and families looking to beat the heat or get away from the city crowd and achieve some peace of mind. You can savour some organic and freshly grown glistening apples from large acres of orchards. All this put together will allow you to experience the ultimate spiritual bliss.
06. Kharsali:
Snuggled among the mighty snow peaked mountains and adorned with traditionally quaint houses, the scenic village of Kharsali is located at a distance of 6 kms from Yamunotri. Perched at an elevation of 2,675 metres above sea level Kharsali is popular for being the winter home of the presiding deity of Yamunotri, Goddess Yamuna. Travelers visit Kharsali with an aim of soaking in the pure, clean and picturesque locations along with their families and loved ones. There are a number of charming picnic spots and places to visit in this pleasant village where you will also encounter a piece of mythological historical due to the presence of Shani Dev Temple. Encounter some impressive spiritual vitality among the lush greenery and rolling hills.
07. Bali Pass Trek:
If you are looking to spend your adventure holiday in a more secluded trail and come in touch with nature then a wholesome Bali Pass trek will definitely do the job for you. Situated at a distance of 9 kms from Yamunotri, this trek is a hidden gem of a trail which to this day remains leas explored. It connects the popular and scenic Har ki Dun valley which offers some of the most breathtaking views of the surroundings. This trail is situated at an elevation of 4,800 metres above sea level among the snow-clad region of the Garhwal Himalayas the pass is the most approachable during the monsoon months when the snow melts away and the lush greenery and blooms springs to life. The beauty of this place lies in the fact that it is surrounded by various fascinating snow-clad peaks of Kalanag, Bandarpoonch and Ruinsara which was brought to light by a school teacher called Jack Gibson during the 1940s.
Weekend Getaways from Yamunotri:
08. Devprayag:
Situated in the Tehri Garhwal district of Uttarakhand this place is known to be the location where the two of the holiest rivers of India, Bhagirathi and Alaknanda converge to form the pious river of Ganga. Being a part of the holy panch prayag yatra taking a dip in its holy waters will grant you with moksha or salvation. Located at a distance of 8 hours and 45 mines this is one of the most loved holiday weekend getaway destinations from Yamunotri.
09. Harsil:
Sitting at an elevation of 2,620 metres above sea level right inside the Gangotri national park and at a distance of 6 hours and 30 mines, the scenic destination of Harsil offers some of the most panoramic and breathtaking views of the surroundings. Sitting on the lap of the mighty Himalayas, this place is a scenic treasure trove for nature lovers and spiritual seekers.
10. Kausani:
Situated in Bageshwar district the quaint and charming village of Kausani is situated amongst the 360-degree panoramic views of the snowcapped Himalayan peaks. Mahatma Gandhi is Sai to have visited this place and called it 'the Switzerland of India' due to its similarity in landscape which is complete with rolling, lush green meadows, clear blue skies and picturesque vistas.
Best Time to Visit:
Summer – It is advised for you to plan your trip to Yamunotri be sure you plan keeping in mind the temperature conditions of the place. During the months of April to July the temperature does not go beyond 20 degree Celsius. While the summertime commences the snow melts away and makes way for visitors and pilgrims looking to complete their char dham yatra pilgrimage and for outdoor adventure enthusiasts.
Monsoon – From July to September the monsoon time is at its peak and the entire region remains susceptible and is at high risk of unexpected landslides and torrential rains or even in some cases disastrous floods due to cloud bursts. The temperature remains pleasant through this time accompanied with some humidity.
Winter – The winter months falls between the months of October to March and during this time the entire Himalayan region experiences freezing cold and an overall chilly weather conditions. The journey to Yamunotri dham is suspended and the kapat doors are shut down for darshan with the presiding deity shifted to its winter abode at Kharsali. Throughout this period the temperature stays between 4 and 6 degree Celsius while sometimes even slipping below zero.