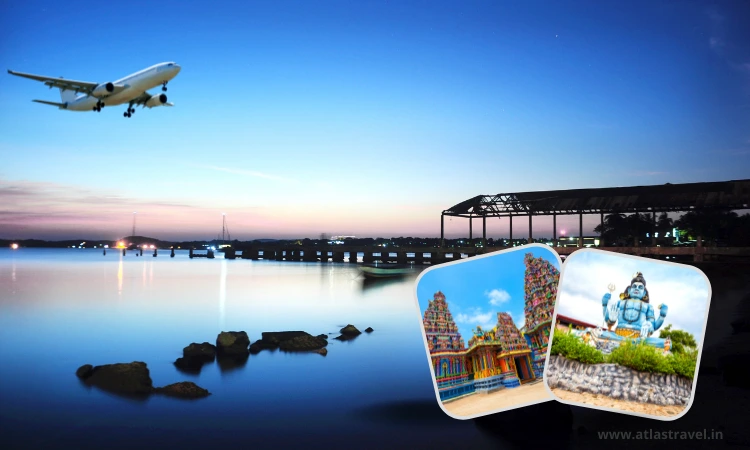 Tour Overview
Trincomalee is the finest deep-water harbor on the Northeast coast of Sri Lanka and is popularly visited by thousands of tourists every year. The small port is home to many surreal beaches where anyone can enjoy a laid-back life for days. Apart from turquoise beach lines, Trincomalee is home to many Buddhist ruined sights where one can follow spirituality. So, Trincomalee will give a journey of both spirituality and powerful scenic sights. With our one-day Trincomalee city sightseeing tour, visit the beaches like Nilaveli, Uppuveli and also witness the ruined beauty of Fort Fredrick constructed by a Portuguese Colonist.
Trip Highlights
Enjoy lunch in a popular restaurant in Trincomalee.
A spiritual visit to Koneswaram temple.
Explore the Portuguese architecture of Fort Fredrick.
Learn history and view scenes of the bay from the Maritime and Naval Museum.
A nice walk on the Nilaveli Beach.
Trincomalee Sightseeing Tour Itinerary
Day 01 : Trincomalee City Sightseeing Tour
You will be picked up from your hotel room and will enjoy a one-day city tour of Trincomalee. You will have to adhere to some guidelines during this journey. You will also enjoy lunch in a popular restaurant in Trincomalee and will savor the specialty of Sri Lankan cuisine.
Places you will Visit
1) Koneswaram Temple
Koneswaram Temple is the most revered temple in Trincomalee which is located on a cliff inside the Fort Fredrick. The spiritual abode is also counted among the five most spiritual temples of Lord Shiva in the world and the temple admiringly resembles the architecture of the old-Dravidian style. The solitude inside the fort makes it a wonderful attraction and here, you can just meditate in silent about life and prosperity.
2) Fort Fredrick
As you will pay your spiritual dues at Koneswaram temple which is inside Fort Fredrick so, you will also explore this Portuguese beauty next. Although the fort is under the consumption of Sri Lankan military peeps, you can do explore this beautiful historical architecture of Trincomalee. Here, you can also spot deer wandering in the minimal wilderness of this place. The fort also has some stall from where you can buy trinkets or other related objects.
3) Maritime and Naval History Museum
Maritime and Naval History Museum is another beautiful and knowledgeable charm of Trincomalee located in a 17th-century Dutch restored Mansion. The ground floor exhibits the artefacts describing the naval scenes and a video representation of it. The first floor exhibits the ecosystem informing about the life of various flora and fauna of the East Coast. The Museum will also offer you some spectacular views of the bay.
4) Nilaveli Beach
Nilaveli is one of the most visited beaches of Trincomalee which is beautifully lined-up by the palm trees. Trincomalee has two famous beaches but this one is the bigger one with less bustle of the mob. So, it will be a good place to relax down and enjoy the warmth of the shimmering sun. You can also check the café lined-up on this beach and can enjoy a sip of smoothie while enjoying the pristine view of this beach.
5) Pigeon Island National Park
Off the coast of Nilaveli beach, you will walk up to this Island which is famous for its national park where many endangered species breathe life. Apart from its vibrant marine life to check-out, the Island is also comprised of a small beach where you can enjoy snorkeling types of sports activities. The turquoise water of the beach will surely soothe your mind.
Package Includes
Pick-up and drop will be from your hotel room.
A lunch with a taste of local cuisines.
All the transfer in and around the city will be via a privately shared vehicle.
Package Excludes
Any personal expense like camera fee, baggage fee, etc.
Any type of partake in activity at these places.
Frequently Asked Questions
Q.Why is trincomalee famous?
A. Trincomalee city is famous for the holy Koneswaram temple. The town is also home to historical monuments and a cultural vibe.
Q.Is trincomalee worth visiting?
A. Definitely! Trincomalee is a relaxed coastal town with beachy vibes along with spiritual vibes due to the presence of several holy temples.
Q.What are some special places in Trincomalee?
A. Here are the tourist attractions in trincomalee: fort frederick, pigeon island national park, velgam vehera, koneswaram temple.
Q.Which is the cheapest way to reach Trincomalee from Colombo?
A. The cheapest way to reach Trincomalee from Colombo is by train which costs 100 rupees to 200 rupees and takes 8 hours to reach.
Q.What is the price range of the hotels in Trincomalee?
A. The price range of Trincomalee hotels range from 1K rupees to 7K rupees.
Tour Description
| | |
| --- | --- |
| Duration | 1 Day → Full Day |
| Destinations | Koneswaram Temple → Fort Fredrick → Museums → Nilaveli Beach → Pigeon Island National ParkRead More |
| Tour Price | ₹ 18,500 /- |
Chat with our Trip Advisor