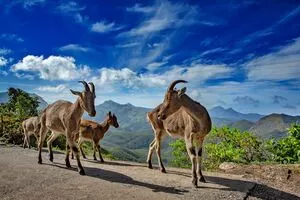 The lavishly spread out and expansive national park is located on the southern coast of the Sri Lankan landmass. Some parts of the park reaches out and touches the unending Indian ocean. The features of this place this park somewhat resembles the national parks of Africa but unlike them Yala is relatively undiscovered and holds a large number of flora and fauna collection. The jeep safari here will definitely be a memorable experience which makes it one of the most sought-after experiences for families. Come to Yala for the sun, serenity, peace, wilderness experience and for spending some quality time with your loved ones. In case you are travelling to Sri Lanka then plan a trip for this amazing experience. Go through the travel guide for Yala national park and make your vacation plans even more exciting.
What to Expect?
The entire national park is divided into 5 zones out of these 2 of them are open for public and tourist visitation which are zone 1 and 5. The remaining zones are reserved only for the purpose of researchers and documentary filmmaking. This also serves the purpose of preserving the natural habitat conditions for the animals and plants living here without constant intrusions and disturbances caused by jeep safaris. A majority of the drives takes the visitors through zone 1 and this also allows you to expect a large number of animal sightings. The entire trail is lined with tall green trees in zone 1 while in zone 5 the landscape views are broader and wider in outlook. You will be encountering large groups of elephants. Buffalos, birds, majestic cats among other local animals.
Best Time to Visit
This is the best part, the national park is visited throughout the year and it doesn't matter when you visit you will still be treated with animal sightings. The peak season for visit is during the months of February, March, April, May and September to December. But is you plan on witnessing some animals then rainy season can also be the right time for you to visit that falls during the months of July to September.
How to Reach
By Air – On reaching Sri Lanka the quickest way of getting to Yala is by air. You are advised to book a flight for Hambantota which will be a flight journey of around 45 minutes and then from here you can hire a taxi, car rental to reach the national park.
By Train – By train the journey from Colombo will take around 9 hours. The train can be boarded from Colombo fort station for Haputale which runs on a daily basis at 9:45 am in the morning and at 8 pm at night. Per ticket costs between 95 to 320 LKR depending on which class ticket you book between 1st and 3rd class. Once you reach Haputale you can reach Yala by covering a 1.5 hour drive.
By Road – The park is located at a distance of around 300 km from the airport at Colombo. The roads are in top notch condition here and travellers can pre-arrange a private car service which is undoubtedly one of the most convenient ways of getting around. You can even go on a bus which you can board from Colombo Bastian Mawatha bus terminal to reach at Kataragama. This is a journey of around 8 hours and from Kataragama it is just 30 minutes. The cost of per person ticket will be LKR 100 – 230.
Entrance Fee
The entry fee for foreigners in Yala is 13$
The entry fee for foreign children is 7$, including VAT for a single day's visit.
The overnight entrance fee for an adult visitor is 30$
Whereas the overnight entrance fee for a foreign child is 16$
You can choose to either go on a day trip for Yala or opt for an overnight stay here. For an overnight stay you must check out the southern part which is filled with a lot of beaches, stunning vistas and tons of accommodation options. There are some immaculate 5 star properties here offering a luxury stay. There are also some tented accommodation facilities available.
Total Tour Cost
The half day tour cost of the national park is 40$
The full day tour cost for the national park is 75$
A guided full day tour cost of the national park that lasts for 12 hours is 90$
Depending on the choice of operator your tour cost will vary. Most of the tour lasts between 6 to 8 hours which takes place during the day time. Some tours also include lunch, puck up, drop off and other such facilities. One full day tour lasts between 8 to 14 hours. In some cases BBQ and lunch meals are also arranged inside the jungle. If you opt for a 1 day of luxury camping tour including the leopard safari costs up to 125$.
The leopard safari tour takes place for a duration of around 5 to 14 hours and costs 55$. Several private safari tour services also offer this service at the same rates. You may even choose the luxury jeep safari tour that costs around 54$ and takes you closer into the national park to the wildlife. During this you may even spot animals like leopards, sloth bears, peacocks, jackals etc.
Tips to Remember while Visiting Yala National Park
Remember to carry along your camera since a visit to this park is a once in a lifetime opportunity and you will find good opportunities to capture moments to remember. You can even go for a good quality camera or even rent lenses.
Do carry along a good quality sunscreen since the jeeps which will transfer you during the safari is not covered. You can even carry caps and sunglasses for extra protection from the sun.
If your jeep safari is to take place early in the morning then you must remember to carry a light sweater or a jacket since the weather is kind of cool in the morning.
Remember not to drink too much liquid before you leave for the safari since there are not toilets available inside the park limits and there are only a few legal spots where you can just dash quickly into the bushes.
You can skip the luxury camping option in case you don't have kids or back related problems. Since there is not much of a difference and costs a lot more.
Places to Visit around Yala
Buduruwagala
Apart from the national park this is probably the biggest attraction in Yala. This intricately carved out Buddha figures are believed to be around 1,000 years old. The structure is very massive and stands tall at a height of 15 metres and is the highest Buddha structure on the island. The adjoining sides of the structure are adorned with smaller Buddhist carvings which are equally beautifully done. You can even choose to hire a guide who will give you more in-depth information about it.
Okanda Devalaya
This is one of the holiest place of worship in Yala and is held at a very high pedestal by the rural communities here. According to belief Lord Skanda was the 1st one who is said to have sailed into Sri Lanka with the help of a golden boat that later on turned into a rock. It then became a pilgrim destination and serves as a point of rest before entering the Kumana National Park.
Kebiliththa
Situated on the 4th block of the Yala National Park this place is another incredibly religious and sacred destinations here. This place is so religious that the visitors are not allowed to consume meat or alcohol even a day before visiting the place. This place is also the meditation spot of Lord Kataragama and Skanda Purana which makes the people believe that the lord resides here.
Magul Maha Viharaya
Located on the southern end of Sithulpawwa is the site where the nuptial for King Kaban Tissa to Vihara Maha Devi took place. This ancient temple dedicated to Buddha is situated inside the premises of Yala National Park and checking out the ruins here is something of an experience. The sites here are really breathtaking and you must definitely make it a point to visit this amazing place.