There is a difference between a tourist and a traveller. While a tourist visits a place just to live in the moment and enjoy the services and experience he paid for, a traveller always learns a thing or two about the place and especially the people that they are visiting. If you are a tourist, then it's about time to switch categories and become a traveler for your next trip to Tamil Nadu. Here is a list of festivals that you need to know about to understand more about the rich cultural heritage Tamil Nadu has.
Pongal
The extreme north has Lohri, the mid region has Makar Sankranti and the south has Pongal. The main purpose of all these festivals is the same, to thank the gods for a good harvest season. Having original roots among the farmers of the region, this is among one of the largest festivals celebrated in the state and lasts for over 4 days. It is dedicated to the sun god and has different names for the different days it has. The first day is named Bhogi Pongal and represents the day we get rid of old things and celebrate the bringing of new possessions. The second day is named Surya Pongal and is dedicated entirely to the worship of the sun god through various ways of rituals. The third day is named Mattu Pongal and is dedicated to the worship of cattle especially cow and buffalo as they are considered sacred in Hindu mythology. The final day is called Kaanum Pongal.
When it Happens- Falling in the month of January, expect to see a lot of celebrations, festivities and fireworks too, as people spend this day like that across the nation.
What to Expect- On this day, social organizations organize festivities to strengthen communal bonds in the society and among its various sections.
Where to Celebrate- It is a state wide festival and you can enjoy it at any corner of the state, especially in the more modern and bigger cities.
Puthandu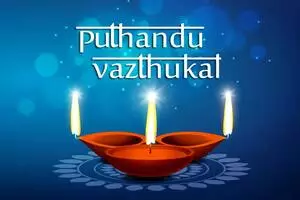 This festival is the New Year for the entire Tamil community. Various varieties of food and sweets are made, as people spend time at home with their family, cheering their way into a new and prosperous new year. It is very auspicious and a tradition for the people for many centuries. It's celebrated with making of various varieties of food and sweet dishes that people eat and enjoy as they celebrate their new year's eve.
When it Happens- It falls in mid of April and marks the beginning of the first month of Tamil Calendar.
What to Expect- The entrance to homes are decorated with rangoli's and garlands. The people usually take a bath early in the morning and visit temples.
Where to Celebrate- Though it is a state wide event, it is celebrated more in the semi-urban and rural areas.
Thaipusam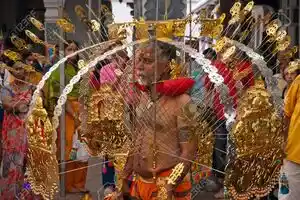 Named after the month of Thai in Tamil calender it is celebrated as the birthday of Lord Subramanium, who is portrayed as the younger form of Lord Shiva. This is celebrated as the day of apologies, as people apologize to the gods for their sins by giving themselves various forms of punishments as a show of their guilt and sorry. They often visit temples wearing various forms of heavy metal, hanging from various body parts that can be very painful for people who are not accustomed to seeing it.
When it Happens- Falling in the month of January or February, it is also celebrated in nations like Malaysia making it a very much international festival as that of the Tamil Community.
What to Expect- People bearing rods, utensils of heavy weight on their body heading towards temples and people going in groups towards temples.
Where to Celebrate- It is celebrated primarily celebrated in smaller towns as bigger cities have seen a fall in the celebration of this festival.
Mahamaham Festival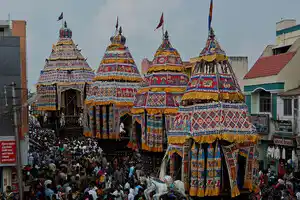 It is celebrated specifically in a small town of Kumbakonam, once in every 12 years. It is specially organized in the same city as the tank located in the place is surrounded by Shiva temples and is sad to be the place where most of the Indian river goddesses like Ganga, Narmada, Godavari etc come to take a bath and rejuvenate once in every 12 years. Taking a bath there on the day of the festival is considered tirth by the Hindu community. It is celebrated in the month of February and lasts for over 10 days. In the time period between these 12 years, the festival being held is called Masi-Maham.
When it Happens- If you want to be part of this historic festival, clear your February and be ready for the event of 12 years.
What to Expect- Be prepared to handle a lot of crowd with people going crazy as it is the biggest festival their can be, as it happens only once in 12 years.
Where to Celebrate- There is only one place to celebrate this, Kumbakonam, nowhere else, nowhere.
Kaarthigai Deepam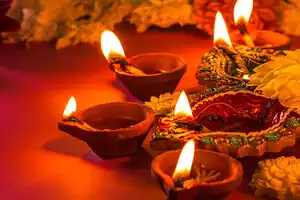 Celebrated as the festival of light in the state of Tamil Nadu, Sri Lanka and Kerala. Celebrated between the mid November and mid-December. It falls on the same day as Kartik Purnima observed in North India. Much similar to Diwali, oil diyas are lit across homes, as streets and roofs are covered with such Oil Diyas. Observed on a full moon, it is believed to be the day Kartikeya was made by lord Shiva and Parvati. People also burn and enjoy homemade fireworks and in many ways, the festival mirrors the festival of Diwali celebrated in the northern and central region of India.
When it Happens- Falling in the month of November, this festival is all about living your life to the fullest and celebrate it out loud with friends and family.
What to Expect- If you are from the northern side of India, then the simplest definition for this festival is that it is Diwali.
Where to Celebrate- Celebrate this festival in the streets, with other families and friends that you know and can celebrate with.
Hanumath Jayanthi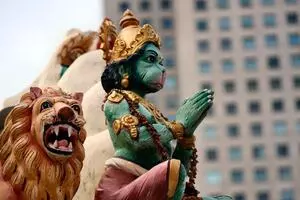 Famous among the northern part of India as Hanuman Jayanti, this is the day god Hanuman was said to have been born. The day is auspicious to all the Hindus as people often prefer going to the temples devoted to lord Hanuman and worshiping monkeys as well, as Lord Hanuman was also called Vanara God, as he was born in the form of a monkey and is regarded as the top follower of Lord Ram in Hindu mythology.
When it Happens- It coincides with Amavasya of Hindu calender and falls in the month of January or December.
What to Expect- Expect to see monkeys with garlands and Ticas, dressed up, as this day belongs to them and them alone.
Where to Celebrate- It is celebrated primarily in smaller towns and is not much of a festive thing.
Chitra Purnima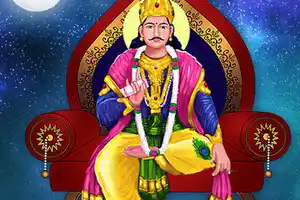 Named after the Tamil Month of Chaitra, it is a day dedicated to God Chitragupta, who according to Hindu mythology writes the good and bad deeds of people which leads to the decision if someone is going to heaven or hell. Also celebrated popularly in the neighbouring state of Kerala, expect people to be taking bath in rivers as it is believed that it helps in removing all the bad sins from yourself.
When it Happens- It is celebrated in a very rule bond manner, so better not do anything stupid when this festival arrives in the month of April or May.
What to Expect- Expect people in traditional clothing visiting bathing places like pounds and lakes.
Where to Celebrate- Just take a dip in one of the lakes which is popularly visited by the locals.
Avani Avittam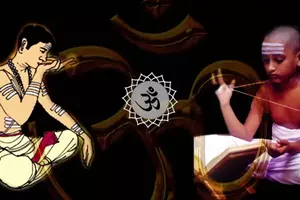 it is one of the most highly regarded festivals of Tamil culture, as it is a festival dedicated to the learning. And not just any form of learning, but the learning of the most knowledge full books present, the Vedas and the Upanishads. Marking the day offering prayers and gratitude to the gods and the mortals involved in writing them, different Pandits take up different Upanishad or Veda to study, so the name of the festival varies depending upon the kind of book you follow and so is very important to the formal elite class or the Brahmins. Don't expect to see your Brahmin friends on this day, as this day is very dedicated and important for them.
When it Happens- Falling in the month of July or august depending upon moon and sun location.
What to Expect- People restricted inside their homes, busy reading a book or the other.
Where to Celebrate- It's not a festival for you if you don't read a Veda, but you can still visit libraries to spend the time reading books, which is what this festival is about.
Panguni Uthiram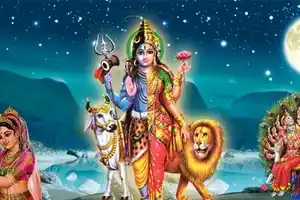 Named after the month it is celebrated in, this festival is celebrated in the last month of Tamil calendar. This day is coinciding of a full moon, it marks the day of marriage of goddess Parvati and Lord Shiva. It is also marked as the birthday of goddess Mahalakshmi, as she was incarnated during the churning of the milky ocean. It is an important day in the Tamil culture with people often using the day to venture into new things, from marriage to business openings.
When it Happens- It falls in the month of April and is considered to bring good luck with it for everyone who follows the Tamil Hindu culture.
What to Expect- The day is dedicated to Goddess Mahalakshmi and is filled with Puja's and festivities devoted to her.
Where to Celebrate- It is celebrated traditionally by people in their own homes, but visiting a temple dedicated to Mahalakshmi can be a different experience for you.
Kedar Gauri Vrat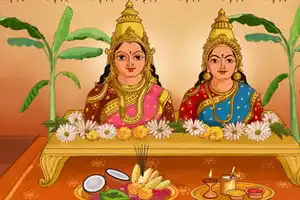 It is 21 day fast, ending on the day of Deepavali. It is dedicated to Lord Shiva. It is based on a legend in the Hindu mythology that goddess Gauri observed a 21 day fast to please Lord shiva. Impressed by the dedication of Goddess Gauri, Lord Shiva gave left half of his body to Shakti. It is a long and hard fast and is an extremely difficult process to go through, for the ladies who choose this path.
When it Happens- Falling in the month of November and has a huge build-up for the auspicious day of Deepavali.
What to Expect- Expect to see only Fasting food in homes during this time as many males too have started fasting with the female members of the family.
Where to Celebrate- While no celebrations are done during the fasting itself, festivities are organized on the final day to mark the end of the hard festival.
With this article, you are now ready to be not a tourist but a traveller, so what are you waiting for, it's time to get your bags packed and ready to go.