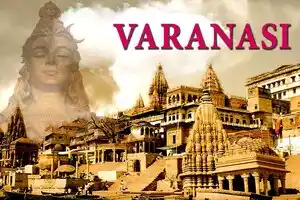 Varanasi is one of the oldest living cities in the World, more than 3000 years old. It has a special religious significance for Hindus, considered as one of the seven sacred sites. Jain and Buddhist religions too consider Varanasi as being of special importance, making it all the more special from a spiritual viewpoint.
Location
Varanasi is located on the banks of the River Ganga in Uttar Pradesh. It is situated about 121 kilometers east of Allahabad and about 320 kilometers to the south-east of Lucknow along National Highway 2. It is well connected by this Highway to Kolkata, Agra and Delhi besides being a railhead.
Origins
Known history may trace the roots of Varanasi, or Kashi as it is known, to 3000 years but it is believed to be timeless. There are several myths and legends about the origins of this city. It is believed that Shiva and Parvati created the original ground, which is Varanasi, on which they first set feet at the start of time. The Vamana Purana states that the Assi and Varuna Rivers originated from the body of Adi Purush or the supreme person. Lord Krishna is one manifestation of Adi Purush. The land between the two rivers thus became holy and it is none other than Varanasi. There is some archaeological evidence to show the city was in existence as far back as 20th century BC. The Atharvaveda of this period mentions that this land was inhabited by local tribes and later on by Vedic people.
History
In olden times the city was called Kashi or the city of Light, being a centre of pilgrimage, a centre of trade and commerce and a centre for learning, one of the few cities in the world to enjoy that distinction. It is also referred to as Avimukta or "never forsaken), Anandvana or forest of bliss, Rudravasa or the abode of Shiva and Kasika or "shining one". Ramayana mentions Kashi and how the Lord of Kashi, believed to be a direct descendant of Lord Shiva, was involved with Lord Rama, Hanuman and the sage Vishwamitri. Varanasi finds mention in Atharvaveda dating back to 18th century BC. Atharvaveda relates to procedures for everyday life, which means a highly developed civilization. Even in those days Varanasi was famed for its fine muslin and silk fabrics, sculpture and ivory not to mention dozens of temples. Sometime during the 4th and 6th century BC, Lord Buddha attained enlightenment and taught as well as founded Buddhism in Sarnath, close to Varanasi. It is a moot point whether latter day Kashi rulers were descendants of the Lord of Kashi who worshipped Lord Rama but there is no doubt that they are old. Even today, during Shivratri, it is Kashi Naresh who is the officiating priest in the Kashi Vishwanath Mandir.
During the Middle Ages Varanasi became a centre of learning even as it prospered when ruled by the Mauryans and, before them, the Gahadavala dynasty during the 1st century AD. With the advent of Muslims the city was ruled at various times by Zamindars on behalf of the Mughal rulers. As the hold of Mughals weakened the Zamindars declared themselves as Maharajas during the 1700s. The British took over the region around 1775 and declared Banaras as they called it as a family dominion. Varanasi was acquired by Mansa Ram, a Zamindar and established the Kingdom of Benaras. The line of Maharajas ended with Vibhuti Narayan Singh when India gained independence. However, he continued as Kashi Naresh of the Kashi Vishwanath Temple. The Kashi Naresh rulers established Ramnagar Fort near Varanasi in the 18th century.
While rulers came and went, Varanasi flourished since even the Muslim rulers recognized its importance as a centre of trade and learning. Regardless of the rulers, Varanasi always thrived as one of the holiest pilgrimage sites with specific significance.
Significance
Lord Shiva and Parvati are believed to have created the first land and stood on the revered spot now known as Varanasi. Today Varanasi and the Kashi Vishwanath Temple are the home of Shaivism. That alone gives Varanasi top spot for pilgrimage to Shiv Bhakts. If that is important so is the fact that it is the land flanked by Assi and Varuna rivers that spouted from the body of Adi Purush in ancient times. When Ganga descended to Earth through the matted locks of Lord Shiva she chose to flow by the side of Varanasi, making it even more important for Hindus as a sacred site. Varanasi is the holy city that was home to Tulsidas, Kabir and Ravidas. Tulsidas is said to have penned the Ram Charit Manas in this city and the best version of Manusmriti was written by Kulluka Bhatta in Varanasi in the 15th century. Adi Shankaracharya established Varanasi as the Shaivism centre of India in or around the 8th century. Lord Buddha founded Buddhism at Sarnath, not far away, around 520 BC. Guru Nanak visited the city in 1507 and was inspired to found Sikhism.
Even more important to Hindus is the belief that anyone who visits this city, bathes in the Ganges and prays in the temples is freed of his sins and is relieved of the eternal cycle of life and death. To die and be cremated in Varanasi means one ascends straight to Heaven.
The city has been home to illustrious literary figures like Bharatendu Harishchandra and Vidya Niwas Mishra. As an ancient centre of learning, Varanasi was unparalleled with scholars making a beeline to this city from across the world.
Silks of Varanasi are still in demand. The art of fine fabric creation such as muslin and silk, is thousands of years old and Varanasi muslins were in demand as far away as Europe.  Today, other industries have overtaken silk but Banarasi saris still give pride of ownership with their rich gold and silver thread brocades.
Varanasi is a living legend. Visiting it once, even if it is not for the purpose of pilgrimage, imbues you with the history of Man.