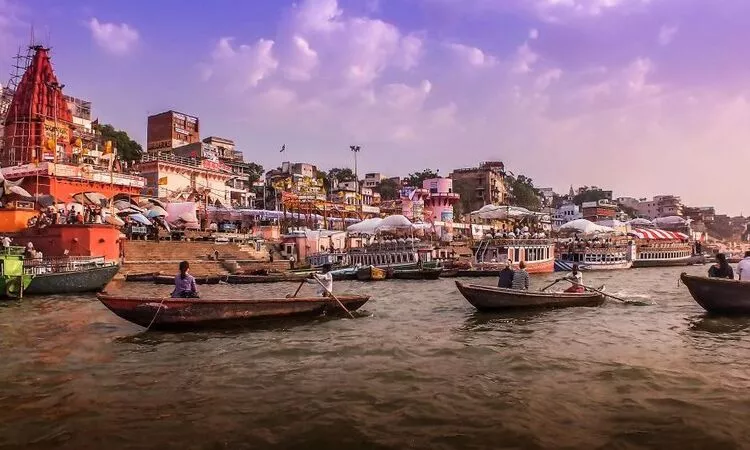 Tour Overview
Sometimes to beat the city life and refresh your mood all you will need is a spiritually evoking journey to the Sangam Darshan. Being one of the oldest living cities in India it holds immense importance and is among one of the best places to visit if you are looking to experience India in a spiritual light. With age-old temples, vibrant ghats and colorful bazaars, you will witness history in its full glory and see why this place is one of a kind.
Trip Highlights
Mahabodhi temple visit in Bodhgaya
Vishnupad mandir visit near Falgu river
Kashi vishwanath temple visit and darshan
Sarnath museum visit and excursion
Tulsi manas mandir visit
Varanasi Bodhgaya Allahabad Tour Itinerary
Day 1 :Arrival in Varanasi – Bodhgaya
After your arrival in Varanasi via train or flight, you will be greeted by our tour representative who will then straight away escort you to Bodhgaya, which is at a distance of 250kms and 6 hours. Upon your arrival in Bodhgaya, you will be taken to your hotel for a wholesome dinner and an overnight stay.
Day 2 :Bodhgaya Excursion – Varanasi
Early in the morning after having a hearty breakfast you will be headed towards your very first destination.
Vishnupad Mandir:
Located alongside Falgu River this place is considered as one of the holiest Vishnu Mandir. It houses the 40cm footprint of Lord Vishnu which is incised into a block of basalt. It is also said that Lord Rama along with Goddess Sita had visited this place. There a numerous small temples around the said temple which holds equal importance. A visit here will definitely be a sensory treat and will evoke the feeling of extreme spirituality.
Bodhi Tree:
This is the tree where Lord Buddha is said have achieved enlightenment. The bodhi tree can be recognized by its heart-shaped leaves and they are very prominently displayed. This tree is frequented by pilgrims and is one of the most sacred and holy sites for Buddhists.
You will then be taken back to Varanasi for a wholesome dinner and an overnight stay.
Day 3 :Varanasi Local Sightseeing – Allahabad
Your morning will start off on a positive note with witnessing a sunrise on a boat ride.
After that you will be given a fulfilling breakfast meal then head on to your destination location.
Kashi Vishwanath Mandir:
Counted among one of the most famous Hindu temples it stands gracefully on the bank of River Ganga. This temple has been referred to in Hindu scriptures as a central part of worship that is contained in the Shaiva philosophy. This temple has gone through numerous destruction and reconstruction and it still holds immense relevance.
Tulsi Manas Mandir:
Considered as one of the most famous temples in Varanasi, this temple spells out culture, tradition and generations of historical importance. This is the place where Ramcharitmanas was originally written by the poet and preacher Tulsidas in the 16th century. The walls are decorated with paintings and engravings on the walls, depicting, Ramcharitmanas and is a threat to the eyes of the visitors.
After offering your prayers to the deity and having a wholesome lunch meal, you will be headed to a different location.
Sarnath Museum:
This is the oldest site museum as declared by the Archeological survey of India and houses 6,832 artifacts and sculptures. The galleries are filled with numerous edifices and artwork which is related to Lord Buddha. A trip here will definitely freshen up your mind and bring peace to your soul. One of the most famous exhibits here is the Lion Capital of Ashoka which people come here to witness from far and wide.
Finally, you will be taken back to your hotel in Allahabad for dinner and an overnight stay.
Later on you shall be made to head back to your accommodation in Varanasi for an overnight stay.
Day 4 :Allahabad Local Sightseeing – Departure
Early in the morning, you will be taken for a sacred dip in the point of confluence of the three rivers, Ganga, Yamuna and Saraswati, which is known as the Triveni Sangam. After a holy dip, you will be then taken to a different location.
Ananda Bhawan:
A historic house museum dedicated to the Nehru family was built by Motilal Nehru during the 1930s and served as the residence for the Nehru family. It was later transformed into the Indian National Congress's headquarters and holds immense political importance.
Finally, you will be taken to your airport or railway station from where you will head on to your destination location.
Package Includes
Guided sightseeing tour
Pick up and drop off service
Meals as per itinerary
Accommodation as per itinerary
Driver allowance, parking charges, fuel price
Package Excludes
Any expense of personal nature
Extra charges in case of an emergency
Shopping, laundry, tipping, portage
Monument entrance fees, camera charges
Anything not in the inclusions section
Frequently Asked Questions
Q.When was the Mahabodhi temple built?
A. The mahabodhi temple was built in 260 BC.
Q.How far is Varanasi from Bodhgaya?
A. Varanasi is about 5.5 to 6 hours of road journey away from Bodhgaya.
Q.Why is Vishnupad mandir important?
A. The Vishnupad temple is built on the spot where Lord Vishnu had killed the demon Gayasur by stomping on him. This footprint is retained in a rock.
Q.Does Allahabad have an airport?
A. Yes. The Allahabad airport is located 12 kms away from the main city centre.
Q.Which is the oldest ghat in Varanasi?
A. The Manikarnika ghat in Varanasi is the oldest one.
Tour Description
| | |
| --- | --- |
| Duration | 4 Days / 3 Nights |
| Destinations | Varanasi → Allahabad → Bodh Gaya Read More |
| Tour Price | ₹ 22,500 /- |
Chat with our Trip Advisor