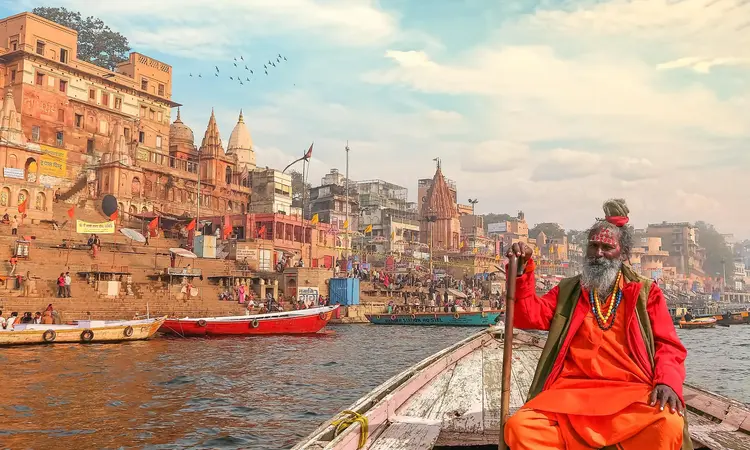 Tour Overview
This 8 days trip will take you through some of the oldest and mystical places in India. From experiencing the vibrancy of the oldest living city to witnessing the River Ganga in it full vigour you will be taken on the journey of a lifetime. The spirituality and pious vibe that you will witness in these cities is unparalleled. The old temples, detailed rituals, age-old traditions, mesmerizing atmosphere and ancient structures will make you keep coming back for more. Experience the cultural, religious and sacred hubs in a new light with our Varanasi, Bodhgaya Chitrakoot Tour Package and take away a lifetime of memories.
Trip Highlights
Full day varanasi sightseeing with temple darshans
Bodh gaya with Gaya exploration
Triveni sangam and allahabad fort visit
Chitrakoot excursion from Allahabad
Lucknow with naimisharanya sightseeing
Varanasi Bodhgaya Chitrakoot Tour Itinerary
Day 1 :Arrival in Varanasi
As per your instructions, our tour representative will be present at the airport or railway station to greet you and guide you to the hotel for a comfortable check-in process. After a hassle-free transfer to your hotel, healthy breakfast and post freshening up you will be taken for a visit to one of the most visited and famous temples in Old Banaras, the old Vishwanath Mandir.
Kashi Vishwanath Temple: Also known as the 'golden temple', the Kashi Vishwanath Mandir is one of the 12 jyotirlingas and is considered to be holiest of all the existing Shiva temples. This temple has a history of continuously being destroyed and rebuilt over generations hence giving it an ancient feel. Hindus from across the globe make it a point to visit this temple at least once in their lifetime. The elaborate and detailed designs on the temple are something to marvel at.
Durga Temple: After this experience, you will be taken for a visit to the 18th century Durga Mandir, which houses Goddess Durga. Revered as being one of the most important temples among Hindus one can witness elaborate carvings, engraved stones and an unmatched feeling of spirituality. The temple sees thousands of visitors on a daily basis.
Mana Temple: Your next stop will be Mana Mandir, the same place where the Hindu epic Ramcharitmanas was written by poet and saint Goswami Tulsidas during the 16th century. The whole temple has verses and scenes from Ramcharitmanas engraved on the marble walls of the temple. You will witness pictorials on the walls and get to see the story through these detailed paintings.
You will then be served some refreshing and wholesome lunch before heading to a different location.
Sankat Mochan Temple: Next, you will be escorted to the Sankat Mochan Mandir, which is dedicated to Lord Hanuman. The temple was established by the famous Hindu preacher Tulsidas during the early 1500s on the bank of Assi River. The face of Lord Hanuman present anywhere in the temple is always facing towards Lord Rama showcasing his selfless love and devotion to Rama.
Dashashwamedh Ghat: As evening draws near you will be taken to the Dashashwamedh Ghat for a spiritually evoking aarti experience. Thousands of visitors and pilgrims witness this spectacle of worshipping River Ganga.
Finally, you will be taken to you hotel for a fulfilling dinner and an overnight stay.
Day 2 :Varanasi – Bodhgaya (250 km / 5 Hours)
Early in the morning, you will be taken on a refreshing boat ride experience on River Ganga. The shimmering Ganga River along with the rising sun is the perfect way of starting your day on a positive note.
After a hearty breakfast meal, you will be taken to Bodhgaya. Here our tour representative will help you with checking you in to the hotel. Then you will be taken on a temple visit to Mahabodhi mandir.
Mahabodhi Temple: A UNESCO world heritage site, this ancient temple marks the location near which Buddha is said to have achieved enlightenment. This is one of the most important pilgrimage destinations for Buddhists since centuries. The temple has elaborate engravings on the walls along with detailed designs, making it a must visit site.
You will also be shown some of the neighboring sites which hold high value for Buddhist people.
Finally, after a day of wonderment, you will be taken back to your hotel for an overnight stay and a fulfilling dinner.
Day 3 :Bodhgaya – Gaya (16 km / 45 mines) – Varanasi
Early in the morning, you will be taken to Gaya, which lies 14km ahead from Bodhgaya. Your first stop in this sacred city will be the Vishnupad mandir.
Vishnupad Mandir: Located along the Falgu River this temple houses the 40 cm footprint mark of Lord Vishnu which is incised into a basalt block. A visit to this place is thought-provoking and considered to be extremely spiritual for the visitors. The original construction date is unknown making it one of the ancient and oldest temples in the area.
You will then be served with a wholesome lunch meal.
Post lunch you will be escorted back to Varanasi, which will take almost 6 hours. After your arrival in Varanasi, you will be comfortably checked into a hotel along with a wholesome dinner and overnight stay.
Day 4 :Varanasi – Vindhyachal (64 km / 2 Hours) – Allahabad
Early in the morning, post breakfast, your journey towards Allahabad via Vindhyachal will begin.
Vindhyachal: Vindhyachal is one of the several Hindu pilgrimage sites which are home to the temple of Vindhyavasini. Located on the banks of River Ganga this temple is one of the highly revered siddha peeths of the deity. The temple sees numerous visitors on a daily basis and on festivals like Navratri, Chaitra and Ashwin making it one of the most visited temples in India.
On your arrival in Ahmedabad, you will be checked into your assigned hotel. After freshening up and having a wholesome meal you will then proceed for a day of sightseeing in the oldest living city in India.
Triveni Sangam: Your first stop will be the Triveni Sangam, which is the confluence of three holy rivers, Saraswati, Ganga and Yamuna. This point is considered as one of the most holy and a sacred spot in India since it is said that a holy dip here will rid you of the karmic cycle of birth and rebirth and wash away all your sins.
After offering you pooja and a holy dip you will then proceed towards the local half-day sightseeing excursion of the beautiful city of Allahabad starting with a visit to the Allahabad Fort.
Allahabad Fort: Built by the Mughal emperor Akbar, the fort sits on the bank of River Yamuna and near the confluence of Ganga River. Recognized by the Archeological Survey of India for being a monument of national importance, the fort is marvel in itself. The majestic Mughal architecture is shown here in its full glory.
After spending some quality time in the fort, you will then be served with a fulfilling lunch meal.
Anand Bhawan: Post lunch you will be taken to Anand Bhawan, a historic house museum focused on the life of Nehru family. During the 1930s this place served as the residence place for them. Constructed by Motilal Nehru, the structure tells the dynamic tale of one of the most controversial political family in India.
Swaraj Bhawan: You will then be escorted to Swaraj Bhawan, a quaint residential complex made with impressive styles. It houses several memorabilia including Mahatma Gandhi's famous charkha and photographs from the Indian movement for freedom.
You will finally be taken back to your hotel for an overnight stay and a hearty dinner meal.
Day 5 :Allahabad – Chitrakoot – Allahabad (131 km / 3.5 Hours)
In the morning, after having a hearty breakfast meal, you will be taken for a memorable trip to Chitrakoot.
Ram Ghat: Upon your arrival in Chitrakoot, you will be taken straight for a site visit to the famous Ramghat. Situated on the banks of River Mandakini this ghat is the place where Ram, Sita and Lakshman appeared in front of poet and preacher Tulsidas. A complete and fulfilling treat, for all your senses.
Kamadgiri: Next stop will be the lush green forested hill of Kamadgiri which is surrounded by numerous Hindu temples. The name is derived from kamadnathji, which is a different name for Lord Rama and offering your prayers here is said to fulfill your wishes.
There are numerous hotels around this hilly forested area making the next to the famous Bharat Milap mandir. This is the spot where all the four brothers met during Lord Rama's exile, making this place extremely sacred and a must visit for every traveler.
You will then be served a fulfilling lunch.
Janki Kund: Post lunch you will pay a visit to Janki Kund. Located along the bank of River Mandakini, this is considered to be the very same river where goddess Sita used to bathe during the exile period. The visitors can also see the footprints which are believed to be hers, on the riverside. After the darshan and offering your prayers you will be taken back to Allahabad.
You will finally be served a complete dinner meal along with an overnight stay.
Day 6 :Allahabad – Ayodhya (168 km / 5 hours) – Lucknow
After a hearty breakfast in the morning, you will be taken to Ayodhya, also known as the Ram Janmabhoomi.
Hanumangarhi: Upon your arrival in Ayodhya, you will be taken to Hanuman Garhi. A temple dedicated to Lord Hanuman, which could be reached after climbing 70 steps. It is a common custom that before visiting Lord Rama's temple one should always pay a visit to Lord Hanuman's temple. Built by the Nawab of Awadh it is a must-visit site for all Ram and Hanuman devotees.
Dashrath Bhawan: Located in the heart of the city of Ayodhya, this palace is believed to be made in the exact spot where the father of Lord Ram, Dashrath palace existed. It is also said that Ram and his siblings spent their childhood in this very area. Experience history frozen in time.
You will then be served a hearty lunch meal after which you will be taken to the city of nawabs, Lucknow.
Upon your arrival in Lucknow, you will be taken straight to your hotel for a wholesome dinner meal and an overnight stay.
Day 7 :Lucknow – Naimisaranya (91 km / 2 Hours) – Lucknow
After a fulfilling breakfast in the morning, you will be taken to Naimisaranya, which is also known as 'Neemsar".
Neemsar: This Hindu temple is dedicated to Lord Vishnu and is believed to be extremely significant among Hindus. It is located on the bank of River Gomti, where the shrines dedicated to Chakrayana, Ganesh, Rama and Lakshman are present. A dip here is said to be extremely sacred. After a dip here and pooja offerings, you will be taken to Lucknow.
You will then finally be driven back to Lucknow for a hearty dinner meal and an overnight stay.
Day 8 :Lucknow Sightseeing Departure
After an early morning breakfast, you will be taken for a local sightseeing tour within Allahabad.
Bara Imambara: Constructed in 1784 by the Nawab of Awadh, this is one of the grandest buildings in Lucknow. The building houses a mosque within it and a stepwell containing running water. The imposing structures and the elaborate architecture will make you marvel at it with awe. The Nawab is said to have spent thousands of rupees on its decorations annually. It is a spectacle to witness this work of art.
Rumi Darwaza: One of the grandest representations of Awadhi architecture, this gateway was built by Asaf-ud-Daula in the year 1784. It has successfully become the logo for the city of Lucknow and stands majestically over the neighboring buildings and complexes. This place is flanked by tourists throughout the year who marvel at the remarkable architecture.
Lucknow Museum: Initially housing a collection of Awadhi arts and several contemporary objects, it has since been expanded in its composition. It is also home to multiple excavated antiquities from nearby places of Lucknow including the place where Buddha grew up. One can literally go through the whole history of Lucknow by paying a visit to this place.
You will then be taken for a fulfilling lunch in the afternoon.
Post lunch you will be taken back to your designated railway station or airport from where you can head onwards to your destination.
Package Includes
Guided sightseeing tour
Pick up and drop off service
Meals as per itinerary
Accommodation as per itinerary
Driver allowance, parking charges, fuel price
Package Excludes
Any expense of personal nature
Extra charges in case of an emergency
Shopping, laundry, tipping, portage
Monument entrance fees, camera charges
Anything not in the inclusions section
Frequently Asked Questions
A. Varanasi is one of the oldest living cities in the world which is about 2500 years old.
Q.Is gaya and bodh gaya the same thing?
A. Yes. Gaya is a small town near the town centre of bodh gaya.
Q.Why is bodh gaya famous?
A. Gaya is the place where Gautam Buddha had attained enlightenment.
Q.How many days are enough to explore Chitrakoot?
A. 2 days are enough to explore Chitrakoot.
Q.Is there an international airport at Lucknow?
A. Yes. Lucknow has an international airport called chaudhary charan singh airport which is also one of the largest airports of Uttar Pradesh.
Tour Description
| | |
| --- | --- |
| Duration | 8 Days / 7 Nights |
| Destinations | Allahabad → Varanasi → Bodhgaya → Gaya → Vindhyachal → Chitrakoot → Ayodhya → Lucknow → NaimisaranyaRead More |
| Tour Price | ₹ 22,500 /- |
Chat with our Trip Advisor